NRCM Conservation Leadership Awards
Maine is known and loved for its beautiful lands, lakes, rivers, and coastline—and we owe a lot to the individuals who have helped protect these natural resources. Each year, the Natural Resources Council of Maine recognizes several of those who have made significant, lasting contributions to safeguarding Maine's environment by presenting them with a Conservation Leadership Award. As part of our Conservation Leadership Awards, we include an award that is given to a person or people who are nominated and voted on by NRCM members and the public, our People's Choice Award.
The 2021 Conservation Leadership Awards were presented virtually on Tuesday, October 26, 2021. Watch a recording of the full event below.
Read a Bangor Daily News story about NRCM's 2021 awardees.
This year's award recipients were:
University of Maine Professor Ivan Fernandez of Orono received a Conservation Leadership Award for his leadership as one of Maine's top climate scientists, providing policy-makers and the public with cutting-edge information about our changing climate, including by serving as a member of the Maine Climate Council. Read Ivan's remarks.
Small business owner Laura Marston of South Portland received a Conservation Leadership Award for advocating for and pioneering new ways to reduce waste and encourage reuse through her business, throughout her community, and across Maine. Read Laura's remarks.
John Banks of Orono received a Lifetime Achievement Award for his countless contributions to the protection of natural resources on behalf of the Penobscot Nation, with a special focus on restoring water quality, fisheries, and connections among people and nature.
Sam Saltonstall of Brunswick received the 2021 People's Choice Award for almost two decades of tireless advocacy for energy efficiency, renewable energy, and climate change mitigation. Read Sam's remarks.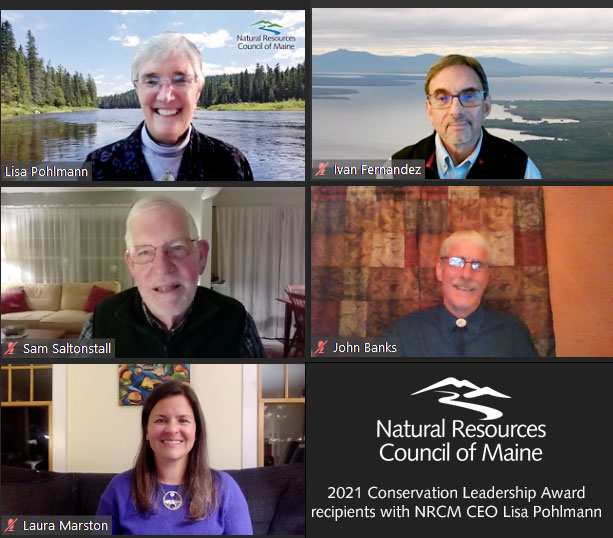 Past Conservation Leadership Awards
Banner photo: Fall colors on the Penobscot by Pam Wells