NRCM Conservation Leadership Awards
Maine is known and loved for its beautiful lands, lakes, rivers, and coastline—and we owe a lot to the individuals who have helped protect these natural resources. Each year, the Natural Resources Council of Maine recognizes several of those who have made significant, lasting contributions to safeguarding Maine's environment by presenting them with a Conservation Leadership Award. As part of our Conservation Leadership Awards, we include an award that is given to a person or people who are nominated and voted on by NRCM members and the public, our People's Choice Award.
The 2021 Conservation Leadership Awards were presented virtually on Tuesday, October 26, 2021. Watch a recording of the full event below.
Read a Bangor Daily News story about NRCM's 2021 awardees.
This year's award recipients were:
University of Maine Professor Ivan Fernandez of Orono received a Conservation Leadership Award for his leadership as one of Maine's top climate scientists, providing policy-makers and the public with cutting-edge information about our changing climate, including by serving as a member of the Maine Climate Council. Read Ivan's remarks.
Small business owner Laura Marston of South Portland received a Conservation Leadership Award for advocating for and pioneering new ways to reduce waste and encourage reuse through her business, throughout her community, and across Maine. Read Laura's remarks.
John Banks of Orono received a Lifetime Achievement Award for his countless contributions to the protection of natural resources on behalf of the Penobscot Nation, with a special focus on restoring water quality, fisheries, and connections among people and nature.
Sam Saltonstall of Brunswick received the 2021 People's Choice Award for almost two decades of tireless advocacy for energy efficiency, renewable energy, and climate change mitigation. Read Sam's remarks.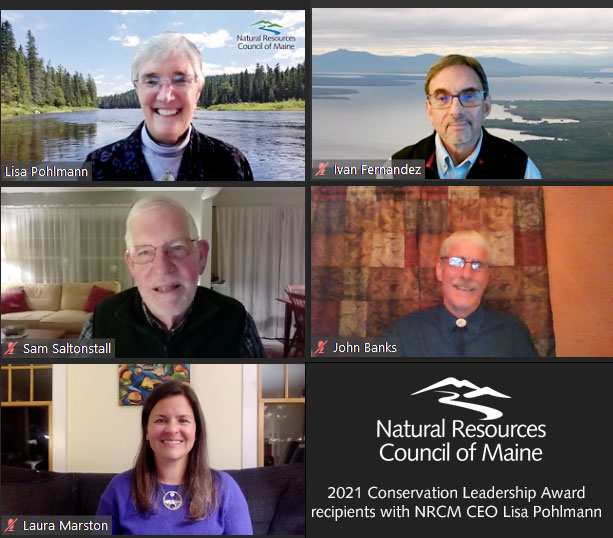 Past Conservation Leadership Awards
NRCM Conservation Leadership (formerly "Environmental") Awards from 1987-2010
2010
Representative Hannah Pingree, for her extraordinary leadership in passing bold new laws that protect the health of Maine people, environment, and wildlife.
Vera Francis, People's Choice Award, for serving as a leader in a true citizens' movement in her efforts to protect Passamaquoddy Bay from a proposed LNG terminal.
2009
Russell Pierce, Esq. of Norman, Hanson, and DeTroy LLC, for extraordinary efforts to defend the Moosehead Lake region from speculative, poorly sited development.
PPL Maine, Dick Fennelly, and Scott Hall, for extraordinary leadership and collaboration in creating the historic agreement to restore fish passage on the Penobscot River.
Evelyn Dunphy, People's Choice Award, for her exceptional efforts in protecting Katahdin Lake from development.
2008
Verrill Dana LLP (Nora Healy and Bill Harwood) and Wiley Rein (Charles O. Verrill), for tireless work and unwavering determination resulting in removal of the Fort Halifax Dam.
Dustin Ramsay, for his exceptional efforts in raising environmental awareness throughout your school and to other Maine schools.
Elisa Boxer, for her extraordinary efforts in helping to pass the kid-safe products bill during the 2008 legislative session.
Willy Ritch, People's Choice Award, for exceptional leadership in mobilizing the citizens of Wiscasset to defeat plans for a coal gasification facility in their town.
2007
Friends of the Presumpscot River, for their tireless efforts in the restoration of the Presumpscot River.
Jeff Pidot, Lifetime Achievement
Neil McCubbin, for his extraordinary work as a true and honorable advocate for the Androscoggin River
Maggie Shannon, People's Choice Award Winner for her dedication to the work of the Congress of Lake Associations and the inspiration she provides to others
2006
Sally Jacobs, for providing extraordinary leadership in the protection of land in the Bangor-Orono region.
Dudley Greeley, for his work as an advocate for greener, more energy-efficient buildings.
Androscoggin River Alliance, for its unwavering efforts to ensure clean-up of the Androscoggin River.
Eric Brown, for starting Gang Green, an environmentally focused group of teachers and students at Lawrence High School. Note: Eric was the winner of our first annual People's Choice Award. 
2005
Adam Lee, for reducing air and greenhouse gas pollution by ensuring that cleaner, more efficient cars are available in Maine.
Kent Olsen, for his pivotal role in securing lasting protection for Maine's special places.
Irvin "Buzz" Caverly, for protecting the wilderness character of Baxter State Park.
Jenna Shue, for moving the Maine Legislature to address gaps in monitoring and managing emissions from waste-to-energy incinerator plants.
2004
Peter Brann and Ben Lund, for their efforts to defend Maine's environment in the courts
Harry Dwyer and Andy Irish, for their contributions to the state's actions to stop liquidation harvesting of Maine's forests.
 2003
Dan Amory, for his extraordinary efforts to create permanent protections for Maine's environment
BACORD, for its courage and tenacity in the fight to protect Penjajawoc Marsh
Kennebec Valley Trout Unlimited, for its relentless advocacy of the Kennebec River system
Bob Kimber, who has been a constant voice and strong presence in the ongoing fight to protect wilderness in Maine
2002
John Cole, Lifetime Achievement Award, a naturalist, environmental reporter, and long-time crusader for Maine's waters, wilderness, and wildlife
Bill Houston, for his effort to protect wild areas of Maine
Evan Richert, for his efforts to restore Maine's rivers
Molly Saunders, advocate for a healthy Androscoggin Lake
2001
HELP (Dr. David Adams, Carol Bass, Sue Hammerland DeSmith, and Ed Simmons), for community organizing to clean up Wyman Station
Nancy Galland and Richard Stander, for mercury pollution prevention and clean up at HoltraChem in Orrington
Steve Keith and Dave Tobey, for protection of the Down East Lakes region
Doug Watts, for advocacy of healthy, free-flowing rivers
2000
Ed Baum, protecting Maine's wild Atlantic salmon
Sheila Bennett and Linda Koski, protecting the Allagash
Paul Blouin, championing Cleaner Car Incentives Pilot Program
Jon Eaton, Warren Sanitary District's pollution of the St. George estuary
Chellie Pingree and Steve Rowe, for leadership of the $50 million land bond
1999
Jim Glavine, conservation of Maine's remote forest lands
Bart Hague, petitioning the Department of Environmental Protection to reconsider CMP's permit along the Crooked River
Sue Hammerland DeSmith, leading citizen effort to stop pollution from Wyman Station
George Neavoll, Community Service Award
Bill Townsend, Lifetime Achievement Award
1998
Janet McMahon, ecological reserves and biodiversity
Ron Kreisman, Edwards Dam
Steve Brooke, Edwards Dam
Dean Bennett, protecting Allagash Wilderness Waterway
Dave Hubley, protecting Allagash Wilderness Waterway
Jon Luoma, protecting Allagash Wilderness Waterway
1997
Joan Benoit Samuelson, air activist
Beverly Paigen, dioxin
Garrett and Alexandra Conover, North Woods protection
1996
Jane Karker, dioxin-free paper
George Nilson, general environmental support
Lani Graham and Bob Frakes, public health, mercury, dioxin
1995
Edward "Ned" Rendall, general environmental support
Jeff Barnum, North Woods, anti-takings
Karin Tilberg, general environmental support
Joe Kott, responsible transportation and land use
Kevin Gildart, anti-takings
1994
Reed Coles, general environmental support
1993
Nancy Haviland, mining
Cherie Mason, champion activist
William Jellin, environmentally responsible business
Scott Williams, lakes protection
1992
Cheryl Barden, solid waste
Peter Troast, land bond, socially responsible business, turnpike
Bonnie Lounsbury, lawyer/activist
1991
Edward Rendall, citizen activist, former BEP
Alan Houston – Marine Resource Warden, Brunswick/West Bath
1990
Senator George Mitchell
Larry Pritchett, Georges River Tidewater Assn. activist
Alan Brodie, Quoddy Regional Land Trust
1989
Michael Deland, Region I EPA
Phyllis Austin, Maine Times
Citizens of Yarmouth, local land acquisition bond
David Moskovitz, energy planner
1988
State Rep. Mike Michaud
Portland Working Waterfront Coalition
Town of Brunswick Recycling Program
1987
Sam Zaitlin, Board of Environmental Protection
Beedy Parker, citizen activist
Jeanne Hollingsworth, citizen activist
Orono Land Trust
Spirit of Opposition to US DOE's high-level radioactive waste dump
Banner photo: Fall colors on the Penobscot by Pam Wells