Delays to Maine's Plastic Bag and Foam Bans Not Based in Science
The Maine Department of Environmental Protection (DEP) has announced that it will delay enforcement of a new law aimed at reducing plastic pollution by limiting the use of single-use plastic shopping bags. DEP also decided to delay enforcement of a new law to prohibit foam food containers. Both bans will now be enforced beginning July 1, 2021.
The Natural Resources Council of Maine released a statement from Sustainable Maine Director Sarah Nichols in response to DEP's delays, saying in part, "We do not believe this delay is necessary or based on the best available science. We would encourage businesses to implement these measures to reduce plastic pollution as called for in Maine law because it is the right thing to do for our environment..." Read the full statement.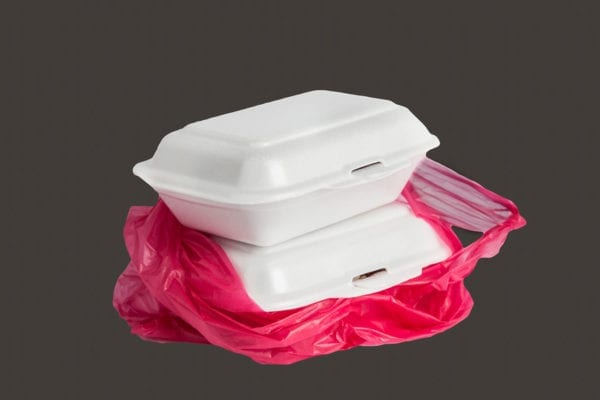 Maine Bans Foam Food Containers & Single-use Plastic Bags in 2019
In 2019, Maine Governor Janet Mills and the Legislature passed two significant bills into law that target two top sources of plastic pollution: expanded polystyrene (EPS) foam food ware and single-use plastic bags. There have been a lot of questions about how the new laws will be implemented, so to help Maine residents, towns, and businesses better understand what it means to them, our Sustainable ME team created this handy summary:
Enforcement began: July 1, 2021
Applies to: Restaurants, markets, nursing homes, and food trucks. No eating establishment may serve food in containers made in whole or in part from EPS foam products.
Does Not Apply to: Food packaged out of state and sold in Maine. Maine consumers may still see meat, fish, or eggs packaged in foam.
Does Not Pre-empt Any Existing Local Policy: This means that if your town has adopted a more restrictive ordinance regarding foam, then the affected business will have to comply with both laws—whichever is more restrictive.
Goes into effect: April 22, 2020 (Earth Day)*
*Please note that the effective date of Maine's ban on single-use plastic bags has been delayed until July 1, 2021, as part of a package of measures to respond to COVID-19.
Applies to: All grocery stores, retail stores, restaurants, and any seasonal or temporary stores or markets. No retail establishment may distribute a single-use plastic shopping bag.
Retail Establishments May:

provide a recyclable paper bag or reusable plastic bag for a minimum of five cents. BUT large paper bags must contain a minimum of 20% post-consumer recycled content.
continue to provide plastic produce bags. Plastic bags may also still be used to wrap newspapers, dry cleaning, or tires. BUT stores that provide exempted single-use plastic bags must offer recycling stations within 20 feet of the store's entrance and must make sure that those products are in fact recycled.
still sell plastic trash bags for people to use at home.

Exemption: Restaurants and small local community shops that do not sell food will not have to charge a fee for a paper or reusable plastic bag.
Pre-empts All Local Ordinances that Regulate Plastic Shopping Bags On the effective date all impacted businesses in Maine must follow the state law only. The new law is stronger than any local ordinance that has been adopted to date.
What is Plastic Pollution?
Plastic pollution is a more devastating problem than you may think. Plastic is present throughout the environment everywhere on earth. Maine is no exception. Plastic is polluting our waterways, coastlines, forests, and open spaces, choking wildlife, and making its way into the food web. The sources of this pollution are unnervingly diverse, and the flow of plastic into the environment is showing no signs of slowing down. In fact, it is increasing. The amount of plastic litter we can see is astounding, but even more worrisome is the staggering amount of plastic pollution we cannot see—so-called microplastic. A growing body of evidence is revealing plastic pollution's devastating impact on our health and  the environment.
We have created 8.3 billion metric tons of plastic since 1950 (imagine the weight of 45.3 million 747 airplanes)–strikingly, roughly half of that was created in the last 13 years. Despite well intentioned recovery efforts around the world, only 9% is recycled. Some 12% is destroyed through incineration, and 79% is either in our landfills or polluting our natural environment. The weight of all plastic currently on earth already is 29 times as much as all humans put together. If we continue on this disturbing trend then there will be 12 billion metric tons of plastic in our landfills and natural environment by 2050—and plastic will outweigh fish in the ocean.
How Can You Help Reduce Plastic Pollution in Maine?
NRCM is working hard to bring plastic pollution solutions to Maine. Together, we can reduce Maine's impact on this catastrophic global problem and provide inspiration for others around the world.
We need to change the way we use plastics. Nothing we use for fleeting moments (like carrying groceries to the car) should be made of a material that lasts forever. There are several ways to approach these changes.
Top 10 actions that you can take every day to change your relationship with plastic:
Refuse disposable plastics every chance you get.
Use reusable shopping bags, preferably made of a durable and washable material.
Avoid buying packaged food; if you must buy something in a package, look for glass jars or cardboard boxes instead of plastic.
Avoid buying beverages in plastic bottles.
Keep a reusable mug and water bottle with you.
Just say no to plastic straws.
Bring your own container for take-out or leftovers.
If you are hosting a party, avoid disposable plastic cutlery, cups, and plates—and don't bother with the compostable kind unless you intend to send them to a compost facility.
Avoid using balloons for decorations or event, taking special care not to release them into the air. Use reusable or paper decorations instead; and blow bubbles if you want the look of a balloon release except without the accompanying litter.
Avoid clothing made from synthetic materials, and research ways to prevent microfibers from leaving your washing machine. There are filters, special washing bags, and other innovative microfiber collectors coming on the market all the time.
And, as with all of our work, you can stay informed with NRCM. Join NRCM's online Action Network and we'll alert you when you will have the chance to let your voice be heard.
How Does Plastic Pollution Get into the Environment?
When plastic enters the water, it is carried all over the world by streams, rivers, and ocean currents. The United Nations Joint Group of Experts on the Scientific Aspects of Marine Pollution estimates that land-based sources account for up to 80% of the world's marine pollution and that anywhere from 60% to 95% of ocean debris is made of plastic. The sources of land-based plastic pollution are extremely diverse—but the majority enters as large pieces of plastic trash such as bottles and caps, bags, containers, and packaging. And the smaller pieces, called micro plastics, come from many sources including synthetic textiles, personal care products, and vehicle tire dust.
Plastic never goes away, even biodegradable plastic. Rather, it breaks down into smaller and smaller pieces through exposure to the elements. It's the smaller pieces and micro plastics that may pose the most risk to wildlife as they are easily mistaken for food by fish and birds. Researchers in Australia estimate that nearly all seabirds have eaten plastic at some point.
Plastic Pollution in Maine's Environment
Scientists at Maine's Marine & Environmental Research Institute (MERI) are pioneers in the study of micro plastics. Off Maine's coast, they've found an average of 17 pieces of micro plastic per liter of seawater. Shockingly, MERI also found the average Maine oyster and mussel contains 177 plastic particles per animal!
And if you think this is only an oceanic problem, think again. It's estimated that 83% of tap water samples from around the world contain plastic particles. The US had the highest concentration rate at 94 percent. A micro plastic study of the Great Lakes tributaries by United States Geological Survey and State University of New York, Fredonia identified that the majority (71%) of micro plastics there were plastic fibers from sources like synthetic clothing and cigarette butts.
Plastic Pollution and Your Health
You may be wondering what plastic pollution means for your health. The short answer is that we still do not yet know the full extent, but what we do know is very bad. For starters, chemicals used to make plastics hard (bisphenol-A or BPA) or bendable (phthalates) are found in the micro plastics that humans and other living creatures are ingesting. BPA and phthalates have been shown to lead to reproductive and neurological disorders, and pose the most risk to developing children.
So, 80% of the plastic we've ever created still exists. The production of plastic and resulting plastic pollution is speeding up. Humans and wildlife are ingesting toxic plastic. We must act. But how?
Here are more ways you can join NRCM in the fight against plastic pollution:
Join us and other Maine communities by introducing a ban or fee on plastic bags in your town.
Join us and other Maine communities by introducing a policy eliminating foam food containers in your town.
Reach out to us and we can help you adopt programs aimed at preventing cigarette butt litter in your town or business.
Urge your town to provide recycling bins with lids to prevent windswept litter.
Pressure your town to find ways to collect all forms of plastic (#1-#7) for recycling.
Introduce a policy in your town to restrict the use of un-encapsulated polystyrene foam docks.
Join NRCM's online Action Network so your voice can be heard when plastic litter reducing polices are up for debate at the Legislature.
Join NRCM in the #breakfreefromplastic movement.
Work with NRCM to host a film screening in your town to educate your friends and neighbors about plastic pollution. Ideas include: A Plastic Ocean, The Smog of the Sea, and Bag It!
Organize a local litter clean up event with NRCM. Here is some information about the international coastal clean-up week.
Explore these simple guides from the Plastics Pollution Coalition to help you avoid disposable plastic in schools, towns, events, and eateries.
Stay informed and vigilant! Be sure to refer back this page as a reminder of why this is important!