Plastic pollution is a major threat to our natural environment, climate, and public health. Plastic waste is littering our waters, forests, and open spaces, choking wildlife, and making its way into the food web. A growing body of scientific research shows that plastic breaks down into hard-to-detect microplastics, and the toxic chemicals used to make plastic have harmful human health impacts. To make matters worse, the production of plastic creates greenhouse gas emissions that are fueling the climate crisis. 
Maine has led the nation in tackling plastic pollution, with bans on single-use plastic bags and foam food containers, and a new law that will force big corporations to design more environmentally responsible packaging materials. But our work is not nearly done, read on to learn more about how we will continue to tackle the problem of plastic pollution.
How Does Plastic Pollution Get into the Environment?
The United Nations Joint Group of Experts on the Scientific Aspects of Marine Pollution estimates that land-based sources account for up to 80% of the world's marine pollution and that anywhere from 60% to 95% of ocean debris is made of plastic.1 The sources of land-based plastic pollution are extremely diverse—but the majority enters as large pieces of single-use plastic trash such as bottles and caps, bags, containers, and packaging. And the smaller pieces, called micro plastics, come from many sources including synthetic textiles, personal care products, and vehicle tire dust. 
Plastic never goes away, even "biodegradable" plastic. Rather, it breaks down into smaller and smaller pieces through exposure to the elements. It's the smaller pieces and micro plastics that may pose the most risk to wildlife as they are easily mistaken for food by fish and birds. Researchers in Australia estimate that nearly all seabirds have eaten plastic at some point.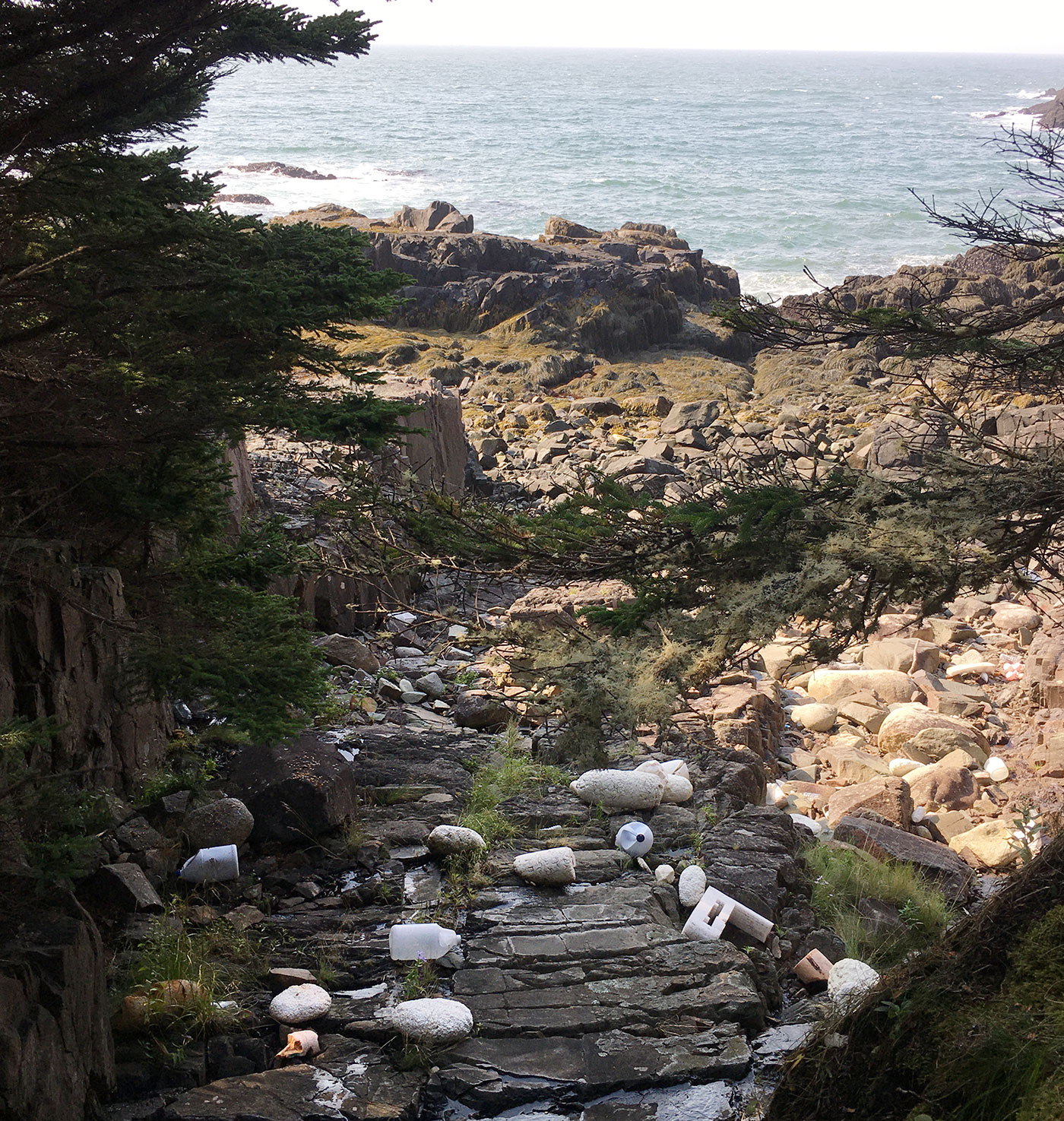 Facts about Plastic Pollution
Industry has created 8.3 billion metric tons of plastic since 1950 (equal to 45.3 million 747 airplanes)

2

 

Despite well-intentioned recovery efforts around the world, only 9% is recycled. Some 12% is destroyed through incineration, and 79% is either in our landfills or polluting our natural environment

.3

 

If we continue on this disturbing trend then there will be 12 billion metric tons of plastic in our landfills and natural environment by 2050—and plastic will outweigh fish in the ocean

.4

 

Scientists at the Shaw Institute in Blue Hill, Maine, are studying microplastics in Maine's coastal waters. They've found an average of 

17 pieces of micro plastic per liter of seawater

. Shockingly, they also found the average Maine oyster and mussel contains 177 plastic particles per animal! 

 

It's estimated that 83% of tap water samples from around the world contain plastic particles

. The US had the highest concentration rate at 94%.

 

A micro plastic study of the Great Lakes tributaries by 

United States Geological Survey

 and State University of New York, Fredonia, identified that the majority (71%) of micro plastics there were 

plastic fibers from sources like synthetic clothing and cigarette butts.

 

Microplastics are so pervasive that researchers found we are eating about a credit card's worth of plastic every week

5

 and plastic has been found in babies' very first stool.

6

 

 
"Plastic is the New Coal"
The U.S. plastics industry's contribution to climate change is on track to exceed that of coal-fired power in this country by 2030.7 
The fossil fuel companies that manufacture plastics have worked hard to make it almost impossible for us to live without plastic. They have also worked hard for decades to convince the public that plastic is recyclable and that when consumers put plastic into a recycling bin, it does in fact, get recycled. And just like the coal industry, the plastic industry's dirty and toxic processing plants are tragically destroying the health of the communities in which they've located.
The fossil fuel industry knows that demand is decreasing because we are decarbonizing our energy sector, so they are focused on increasing the production of single-use plastics to protect their profits. NRCM works to hold corporations accountable for the messes they make, and this includes the plastic industry.  
How Mainers Can Help Stop Plastic Pollution
Speak Up for Policy Change
Join NRCM's online Action Network so your voice can be heard when it's time to pass state or federal policies that shift the responsibility of plastic pollution cleanup from you and me, onto the fossil fuel industry and big corporations causing the problem.  
At the Grocery Store
Shop for plastic-free and refillable personal and home care products at specialty stores like 

Go Go Refill

in South Portland and Brunswick,

We Fill Good

in Kittery, and Goodpost in Wayne.

 

Bring reusable produce bags. Ask grocery stores to carry them for sale.

 

Select unpackaged produce that is plastic free. Hint: farmers markets are great places to get high-quality and plastic-free food.

 

Buy dry goods in bulk; bring and fill your reusable bulk containers.

 

Prioritize packaged foods that are in cans, cardboard, and glass.

 

If you have to purchase something in flexible/film plastic packaging, make sure you bring it back to the grocery store for recycling later.

 

Rethink gatherings and events. Avoid purchasing disposable party cups, cutlery, and plates, and opt for 

real dishes

 (not compostables; read "5 Reasons We're Not Crazy About Compostables"). Your guests will thank you!

 

Skip the plastic bathroom trash bags. You can put waste directly in the bin without a liner and wash it out. If liners are a must for you, go for paper. 

 

Most often the plastic-free choice is the healthy choice. Reduce and eliminate your consumption of all packaged foods, especially sugar-sweetened beverages, sweets, candy, snacks, frozen fast food, tobacco products, and

chewing gum

 to reduce your plastic. 

 

Purchase toilet paper wrapped in paper. Skip paper towels wrapped in plastic and use washable rags for cleaning.

 
At Work and School
Bring a reusable water bottle or mug. Love carbonation? Fund raise for an office Soda Stream.

 

If your office or school is using bottled water, ask them to install a bubbler.

 

If your office uses a wasteful Keurig, purchase refillable pods.

For events and parties, use real dishes and silverware. Skip balloons and use natural fiber ribbons and reusable decorations.

Bring a reusable takeout container to fill up at the cafeteria.

Pack a zero waste lunch for your child and ask the school cafeteria to switch to reusables (and save the school money).

 

When going out to lunch, pick spots that serve food on real dishes.

Say no to straws, stirrers, and plastic coffee tops when taking a coffee break.

Hire green cleaners, caterers, and other subcontractors who create little or no waste.

Educate colleagues who smoke that cigarette butts are plastic, and they should dispose of them properly. Same is true for chewing gum! Both products are plastic and should be thrown in the trash, not on the sidewalk.

 
At Home
Make "Reduce" a priority. Seriously. Recycling plastic only delays the problem of plastic pollution because most plastics can only be recycled once or twice before they end up as waste.

 

Break up with plastic sandwich bags and plastic wrap and switch to reusable silicone or waxed cloth baggies and covers.

Invest in reusable toothbrushes and razors that allow you to replace just the head.

Switch to reusable feminine hygiene products like cloth pads and silicone cups.

Use bar soaps and shampoos.

Take advantage of Maine's refill stores to fill up glass jars, bottles, and tins with liquid lotions, detergents, soaps, deodorant, toothpaste, all-purpose cleaners, shampoo, conditioner, and beauty products.

 

Set rules with kids and family to eliminate plastic toys.

Stop buying bottled water and switch to a bubbler or filtrating pitcher.

 

Wear natural fiber clothes.

When you have the choice, shop online at retailers that will ship in 

returnable packages

.

 
At the Local Level
Add more food wares like straws, coffee lids, and to-go containers to your local polystyrene foam ordinances.

Urge your town to provide recycling bins with lids to prevent windswept litter.

 

Tell your town to 

sign up for alerts

about Maine's Extended Producer Responsibility law.

 

Introduce a policy in your town to restrict the use of un-encapsulated polystyrene foam docks.

 

Reach out to us! We can help you adopt programs aimed at preventing cigarette butt litter in your town or business.

 

Join NRCM in the 

#breakfreefromplastic

 movement.

 

Work with NRCM to host a film screening in your town to educate your friends and neighbors about plastic pollution. Ideas include: 

The Story of Plastic

, 

The Smog of the Sea

, and 

Plastic Wars

.

 

Organize a local litter clean up event with NRCM. 

Here is some information

 about the international coastal clean-up week.