NRCM's Katahdin Circle is a community of philanthropic leaders
invested in Maine's environmental future.
Join a community united by a vision of clean air, healthy waters, wild spaces, and sustainable living in Maine. With an annual gift of $1,000 more, you will be recognized as a steadfast partner and enjoy special benefits that give you an inside look into how your investment is working to safeguard Maine's environment.   
Collectively, more than 300 Katahdin Circle members contribute more than $1 million each year to NRCM, a significant portion of our $2.7 million budget. It is the generosity and personal commitment of our Katahdin Circle members that ensures NRCM can serve as an effective voice for Maine's woods, waters, and wildlife.
Please consider a gift of $1,000 or more to join the Katahdin Circle. You can also renew your support online.
"I believe that NRCM is the most effective voice that we have in the Legislature to protect the Maine environment from a multitude of threats."
— John Brower, NRCM member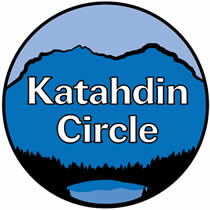 Katahdin Circle Benefits
As a Katahdin Circle member, you will receive special reports from the CEO, opportunities to directly interact with top issue area experts, network with fellow Katahdin Circle members and NRCM Leadership, and invitations to special events that offer you a chance to experience what makes Manie special with NRCM. 
Other Ways to Give
Please contact us to find out how you can support our mission with a gift of stock, by including NRCM in your will, or making a gift now and in exchange receiving lifetime income.
Gifts to NRCM are tax deductible as allowed by law, and depending on the type of gift, you may enjoy other tax benefits as well.  
"Katahdin in all its glory, forever shall remain the mountain of the people of Maine." — Percival Baxter
Banner photo: View of Katahdin from Abol Bridge, by NRCM member David Preston