Clean Water is In Style!
April is Aveda Earth Month*, and in 2021 we are once again teamed with Maine salons to spread the word about the importance of protecting Maine's clean, beautiful waters. Thanks to all who are involved. Please visit these salons throughout Earth Month and all year long to show your support!
Aveda Earth Month 2021 Events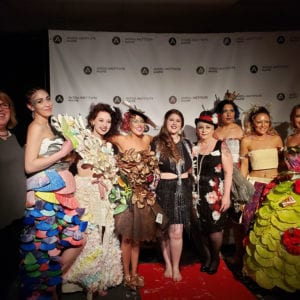 Thursday, April 22, 2021 Aveda Institute Virtual "Trashion Show" for Clean Water Thank you to all of the students and staff of the Aveda Institute for another incredible fashion show of outfits made from recycled items! Online guests heard from NRCM Communications Manager Beth Comeau before the show, and then enjoyed the creativity and talent of Aveda students!
Celebrate Aveda Earth Month
Support Our Work Protecting Maine's Clean, Beautiful Waters
Throughout April — Earth Month — Aveda salons in Maine promote NRCM's work protecting Maine's lakes, rivers, streams, and coastal waters. In past years, participating Aveda salons have hosted clean-ups of local riverfronts, beaches, parks, and other public areas to raise awareness and funds in support of NRCM's work for clean water. They have also held raffles, done "round up for charity" events, hosted cut-a-thons, and more. All funds raised from clean-up events were donated to NRCM in support of our work for clean water.
Here are some of the ways that your support is helping to protect Maine's clean waters:
Safeguard drinking water
Protect against mining pollution
Expand Maine's "Bottle Bill"
Protect from pesticides
Engage future generations in protecting the nature of Maine
We are pleased to partner each year with participating Aveda salons. 2021 participating salons were:
A Capilo School
43 Bridge Street, Augusta
Call to schedule your appointment today at (207) 621-9941
2021 Fundraising & Events
Thursday, April 22, 2021 Virtual "Trashion" Show benefiting NRCM's clean water work. Students and staff at the Aveda Institute hosted their annual fashion show of styles made from all recyclable materials online.
Throughout April Aveda Institute guests bought $1 raffle tickets for a chance to win prize packs of Aveda Shampure mani & pedi, botanical treatment & haircut, an Aveda facial, 1 year of free barber cuts, and Aveda product packages. All proceeds support NRCM's work to protect Maine's clean water.
Four Locations:
25 Mechanic Street, Camden (207) 236-ENVY (3689)
 453 Main Street, Rockland (207) 594-5077
1 Stephen King #50 Drive, Augusta (207) 623-6209
1 K Belmont Avenue, Belfast (207) 338-3148
2021 Fundraising
Throughout April Guests and clients had a chance to "round up for charity" when they purchased products or had services at any of the Green With Envy Salons. With a $5 donation or more to NRCM, guests were entered into a raffle to win some amazing Green With Envy services. All donations support NRCM's work to protect Maine's clean water.  
NRCM CEO Lisa Pohlmann enjoying a pedicure at Green With Envy in Belfast
2021 Fundraising
Throughout the month of April
Raffle & "No-wash Days" The Raven Salon sold raffle tickets for a chance to win a basket of great prizes. For every $100 raised in the raffle, the salon staff went one day without washing their hair (so $500 means 5 days). All raffle tickets purchased were entered into a drawing for the prize basket at the end of the month. 
NRCM is Maine's most effective nonprofit working statewide for protections for our state's water resources. With an unmatched level of expertise, we harness the power of science and the voices of people who love Maine, pushing for laws that protect our environment. We engage citizens and businesses through events, online tools, and materials. Since 1959, NRCM has been leading efforts to protect Maine's clean, beautiful waters by harnessing the power of people, science, and the law. Our expert staff, publications, social media, online resources, and events bring together citizens and businesses who love Maine.
NRCM is proud to be working with Aveda to promote Earth Month and invite you to participate in Aveda's activities in support of clean and healthy waters for Maine. Donations to NRCM are tax-deductible to the extent allowed by law. Thank you! If you take photos at any of Aveda Earth Month events, please make sure to share them using #AvedaNRCM or tag us @nrcmenvironment.