Maine's Returnable Beverage Container Law, commonly referred to as "the Bottle Bill," is the most successful waste and litter reduction law in our state's history. With the help of NRCM in 1976, Maine became the third US state to enact a beverage container deposit program—after Oregon and Vermont. This smart policy went into effect in 1978 and successfully eliminated problematic roadside beverage container litter and resulted in Maine residents recycling an estimated 90 percent of the bottles and cans sold in the state—more than double what the rate of collection would likely be in the State's municipal recycling programs.*
The Bottle Bill isn't just Maine's biggest recycling success story—it's a part of our culture. Many of our municipalities rely on the bottle redemption program to help them manage their municipal solid waste, and hundreds of Mainers have built their lives and businesses around the existing bottle redemption law. Any rollbacks made to this program would have serious consequences for Maine's residents and municipalities. Over the years, NRCM has had to defend our Bottle Bill against repeated attacks by beverage companies, like Coca-Cola, which seek to unravel the program for their own benefit, at the expense of Maine municipalities, redemption centers, charities, and the environment.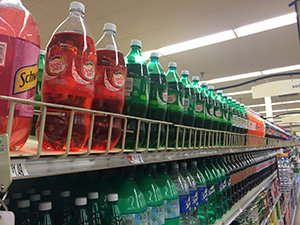 This is how it works. Consumers pay a refundable deposit on beverages at the stores, and then reclaim their deposits when they bring their bottles and cans back to a redemption center. In the meantime, stores give all of those deposits to the bottling companies who then reimburse the redemption centers for the deposits paid to consumers—plus a 3-4 cent handling fee per bottle.  That "handling fee" is both how redemption centers make money and how the bottling companies pay for the program.**
Most beverage containers are made of either #1 PET plastic, aluminum, or glass—all of which are best managed and recycled through successful deposit programs like Maine's Bottle Bill. PET plastic is valuable, can be recycled multiple times, and used in many products; and recycling PET saves energy and reduces greenhouse gas emissions—so the more recycled, the better. Virgin aluminum is one of the most energy-intensive and destructive materials to mine and manufacture. Beverage companies can easily turn used aluminum cans back into new aluminum cans, which saves a significant amount of natural resources. Glass, since it's heavy, expensive to transport, and of little value, is a huge problem in municipal recycling programs as well as at material recovery facilities because the broken pieces contaminate the other materials, like paper. The only glass that is actually recycled into new glass is glass collected from bottle deposit programs. Watch this video to see bottle recycling in action.
In summary, the bottle deposit system greatly increases the recycling rate of PET, aluminum, and glass; reduces litter; creates jobs; and saves money for Maine's municipalities. We must continue to work together to protect our bottle bill from attacks by giant, international bottling corporations who seek to undermine the Bottle Bill's success at managing the problem that the corporations themselves are helping to create. Like any good product stewardship program, everyone involved in the life cycle of a product should be a part of the solution.
Be sure to check out the "Additional Related Resources" tab at the right for links to past testimonies, studies, and important documents relating to our state's bottle redemption program.
*According to this study by the Container Recycling Institute, it would be impossible to reach more than a 38% recycling rate for beverage containers even if there were 100% participation in municipal curbside recycling programs.
**There are some containers that are not returned through the deposit system. As a result there is a significant amount of "unclaimed deposits" that are either retained by the bottling companies or put in the State's general fund. Also, beverage companies have prevented an increase in the handling fee since 2001, so redemption centers have struggled to remain viable with rising business costs and inflation.