Maine's Bottle Bill
Maine's Returnable Beverage Container Law, commonly referred to as "the Bottle Bill," is the most successful waste and litter reduction law in our state's history.  
Maine's Bottle Bill is a big part of our culture. Hundreds of Mainers have built their lives and small businesses around bottle redemption. It helps cities and towns reduce waste, and people often return containers for donations to their favorite charities.  
Modernizing Maine's Bottle Bill
Inflation and labor shortages are threatening the viability of Maine's redemption centers that are key to the Bottle Bill's success. During the 45 years since the Bottle Bill began there have been many new types of beverages brought to market, advancements in technology, and a growing consumer demand to return to refillable containers.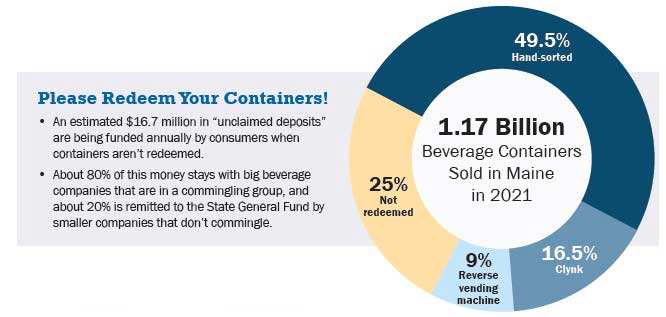 In 2023, NRCM is encouraging Maine lawmakers to pass two bills that will help redemption centers stay in business and ensure that Mainers have places to redeem their bottles and cans. The first bill, LD 134, was an emergency bill to increase the handling fee for redemption centers. The Maine Legislature passed that bill by the two-thirds majority it needed, and Governor Mills signed the bill into law on May 5, 2023.
The second bill, LD 1909, would help modernize the Bottle Bill to make sorting cans and bottles easier and more streamlined. It would also guarantee timely pick-up and payment for those redeemed beverage containers. Learn more. 
Bottle Bill Helps Maine Meet Recycling Goals
The Bottle Bill and local redemption centers help Maine meet its recycling goals by recycling more than 40,000 tons of material each year, including ALL glass containers and more than 60% of all plastics.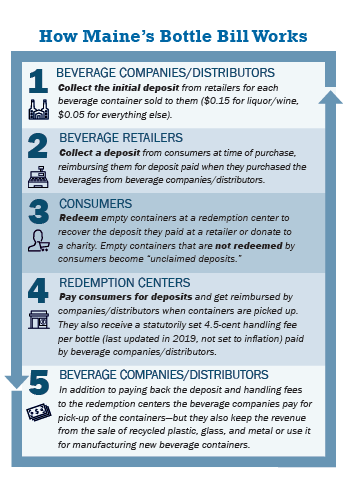 By 2026, Maine law requires that 25% of all plastic beverage containers sold must be made with recycled plastics, which will encourage manufacturers to use recycled plastic from the Bottle Bill program. 
History of Maine's Bottle Bill
With the help of NRCM in 1976, Maine became the third US state to enact a beverage container deposit program—after Oregon and Vermont. This smart policy went into effect in 1978 and successfully eliminated problematic roadside beverage container litter and resulted in Maine residents recycling an estimated most bottles and cans sold in the state. 
Over the years, NRCM has had to defend our Bottle Bill against repeated attacks by beverage companies, like Coca-Cola, which seek to unravel the program for their own benefit, at the expense of Maine municipalities, redemption centers, charities, and the environment. 
We must continue to work together to protect our bottle bill from attacks by giant, international bottling corporations who seek to undermine the Bottle Bill's success. Like any good product stewardship program, everyone involved in the life cycle of a product should be a part of the solution.