All Mainers should care about the safe collection and recycling of mercury-containing products, such as mercury thermostats, mercury auto switches, and florescent light bulbs. These products pose a significant public health risk when they are improperly disposed of in landfills or incinerators. If these products are not kept intact and recycled properly, the mercury can be released into the environment where it makes its way into our lakes, rivers, and streams, and contaminates the fish we eat. Even in very small quantities, mercury can cause severe health problems such as cardiovascular disease and neurological damage, and endanger the development of a human fetus and young children.
Levels of mercury in Maine fish, loons, and eagles are among the highest in North America. All of Maine's inland waters have a fish consumption advisory due to mercury contamination levels. Primary sources of mercury pollution in Maine include being upwind of coal-fired power plants—especially those in western states—cement companies, and waste-to-energy facilities that burn mercury-containing products.
NRCM has successfully advocated for legislation aimed at eliminating many sources of mercury within the state, including leading efforts that resulted in product stewardship programs for mercury-containing products. But there is still much more to be done. We will continue our work on this issue until our children, wildlife, and environment are safe from mercury pollution.
Mercury-containing Thermostats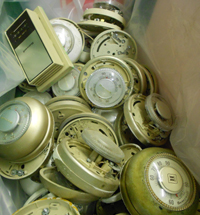 In 2006, Maine's mercury thermostat collection law established Maine as a national leader in reducing mercury pollution. As a result of our incentive-based program, where thermostat manufacturers provide a $5 incentive for each recycled thermostat, Maine has maintained one of the highest mercury thermostat collection rates in the country. That law also makes it illegal to sell a mercury-containing thermostat in the state of Maine, so as more people make the switch to energy-saving programmable thermostats, we will be closer to eliminating the potential for mercury pollution from discarded mercury thermostats.
The amount of mercury in each thermostat largely depends upon the number of switches it contains, which will depend on how many heating and cooling systems it activates. The average amount of mercury used in each mercury thermostat averages about four grams. A 2015 mercury-containing thermostat inventory study estimated that about 630,200 mercury thermostats, containing a combined total of 2.79 tons of mercury, still exist on the walls of Maine's homes and businesses. The majority of these thermostats are not being recycled, and NRCM is working hard to boost collection rates and improve the effectiveness of the program.
Earn $5.00 when you recycle your old thermostat at one of more than 100 retail or wholesale locations for recycling. Most towns also have waste collection sites where you can drop off your thermostat. You can also mail it back to the manufacturer for free. Use the Maine Department of Environmental Protection's (DEP) map to find out where to recycle your old thermostat.
To learn more about the success of this program in Maine, read NRCM's case study on mercury-containing household products.
Mercury-containing Automobile Switches                                          
For decades, mercury switches were used in cars as part of gravity-controlled light switches in hoods, trunks, and some anti-lock brake systems. Auto light switches each contain about one gram of mercury; brake system switches each contain about three grams. Since 2003, mercury switches in cars have been banned; however, many older cars contain this toxic component.
In 2001 the Maine Legislature created a product stewardship program for mercury-containing switches in motor vehicles. This law established a system in which car manufacturers, car dismantlers, and scrap recyclers share responsibility for safely collecting and recycling mercury switches from old cars.
Since 2011, Maine's program has been administered as part of a national program called End of Life Vehicle Solutions (ELVS). ELVS is a product stewardship organization formed by the automobile manufacturers that are required to recycle mercury switches. They provide collection buckets, pay for shipping and recycling, and pay the cash incentive to dismantlers and scrap metal recyclers for each switch. Incentive payments for switches have increased over the life of the program, from $1 per unit in 2003 to $4 per unit today.
To learn more about the success of this program in Maine, read NRCM's case study on automobile switches.
Compact Fluorescent Light Bulbs
Fluorescent light bulbs, including long tubes and compact-fluorescents (CFLs), contain a small amount of mercury sealed inside the bulb, so it's important that they are kept intact and recycled properly. In response to the threats from this source of mercury, in 2009 Maine passed a law to require manufacturers of mercury-containing light bulbs to operate and fund a collection and recycling system for used bulbs.
The law requires lamp manufacturers to publicize and educate Maine people about lamp recycling. It also requires that they provide safe collection and storage containers for lamp retailers and municipal solid waste facilities pay to ship the containers to a central facility, and ensure proper handling and recycling of the bulbs at no cost to the collectors or customers.
Since the CFL product stewardship program began, in January 2011, Maine residents have enjoyed free and convenient recycling of CFLs and other fluorescents at more than 240 collection locations throughout the state. Mainers can recycle their used fluorescent light bulbs for free at many town waste collection sites or one of more than 100 retail stores.
To learn more about the success of this program in Maine, visit read NRCM's case study on mercury-containing household products.