Mark Your Calendars & Join Us on Sunday, December 31, 2023,
for NRCM's 16th Annual Polar Bear Dip & Dash
Registration information will be posted later this fall. If you don't already get emails from us, sign up today so you will be one of the first to know when registration is open for our 2023 Dip & Dash.
We will be back at Southern Maine Community College in South Portland for the 2023 Dip & Dash.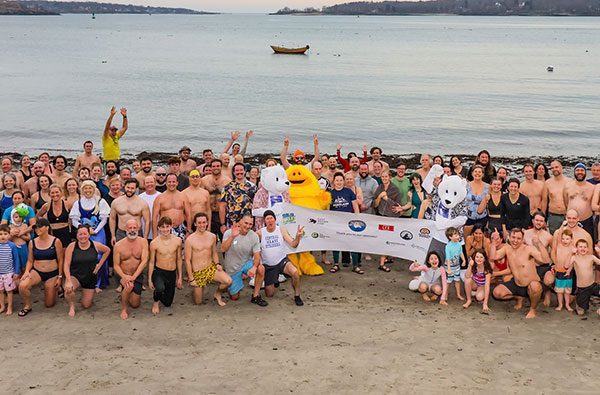 Thank you to all who joined us in 2022 for our 15th Annual Polar Bear Dip & Dash
NRCM's 2022 Dip & Dash was once again in person, though some dippers and dashers decided to participate closer to home.
On December 31, 2023, we gathered at Southern Maine Community College in South Portland for our exciting, exhilarating 5k "dash" followed by an icy cold "dip" into the Atlantic Ocean! Thanks to everyone who helped us meet our fundraising goal. Our goal was $30,000, and thanks to registrants, donors, and sponsors, we raised more than $41,000 in support of our work to mitigate climate change.
The effects of climate change on Maine's environment are severe. We're already seeing extreme weather patterns. Wildlife habitat and our recreation, leaf-peeping, and fishing industries are threatened. Seas are rising and our air quality is decreasing.  
The Natural Resources Council of Maine advocates for energy-efficient solutions for homes and businesses, pollution-free air, clean transportation, and renewable energy sources. Every cent raised through the Polar Bear Dip & Dash is used to directly support this work to reduce emissions and realize a clean energy future. 
Thank you also to these sponsors of the 2022 NRCM Polar Bear Dip & Dash:
National Wildlife Federation
Larkspur Design
Centerline Utility Services
The Breathable Home
Coffee by Design
Enjoy our mash-up video of the 2021 dips!
History
In 2009, 14 staff and family members gathered on East End Beach in Portland and plunged into the icy, cold Atlantic Ocean to raise funds and awareness of NRCM's work to curb climate-changing pollution and support a clean energy future for Maine.
Since then, we have had a polar plunge each year on New Year's Eve Day. We added a 5K "warm-up" run in 2011. In 2020, due to the coronavirus pandemic, we switched to a virtual format...and still met our fundraising goals! 
Watch a fun video by Josh Gerritsen of one of our past Dip & Dash events.