Maine has clean water and healthy air because Maine people stood up, spoke out, and made it happen. The partnership between NRCM's advocates and our supporters is key to our years of success at the State House in Augusta. Your voice can make a huge impact. Learn more about how you can take action for Maine's environment below.
Action Alerts and Petitions
Take action on our current priorities here.
Contact Your Elected Officials
Contacting your legislators or other elected officials is an effective way to make your voice heard and to influence their votes on issues that are important to you.
Tips for Contacting Your Legislator
Introduce yourself, including where you live and what you do.
Mention the bill's LD number and title of the bill if you know it.
Describe why this bill is important to you.
Encourage your legislator to vote a certain way.
Thank your legislator for their time!
Let us know how the conversation went
Testify at a Public Hearing
Every bill that goes through the Maine Legislature receives a public hearing, and it's one of your best opportunities to voice your opinion on the bill before it becomes law. Use the resources below to learn how you can participate in public hearings.
Visit our bill tracking page to see what bills NRCM is tracking and learn when the public hearing will be and other bill status updates.
Use our resources to learn how to sign up to testify at a public hearing, both virtually and in person.
Watch our video to hear tips about how to develop and deliver compelling testimony.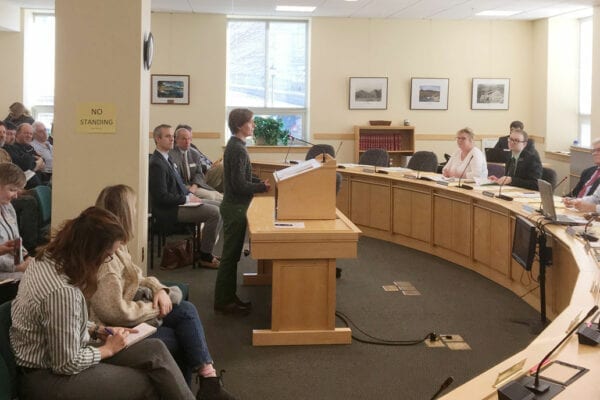 Write a Letter to the Editor
The letter to the editor section of your local newspaper is an ideal forum for getting your message to its readers, your neighbors, legislators, and members of the Congressional delegation. Use our resources below for writing and submitting your own letter to the editor.
Sign Up for Email Updates
Use the form below to sign up to receive timely emails when your action is needed to protect the nature of Maine.