Meet Our Summer 2023 Interns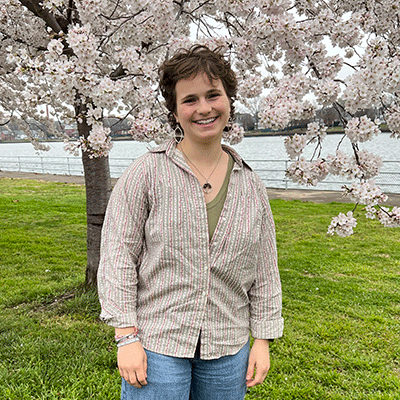 Ella Allan-Rahill is going into her second year at Bryn Mawr College and is planning to major in Environmental Studies. Raised in Maine, Ella has always had a passion for the outdoors. She loves to bike, rock climb, ski, canoe, and more. These interests have driven her work to protect the natural environment and combat climate change. Ella has policy experience through past internships and her selection to the United States Youth Senate Program, and completed a variety of projects related to environmental issues throughout high school and college.
"I am super excited to work with NRCM this summer on the advocacy team. The health of our world is of utmost importance to me, and this opportunity to focus specifically on issues in my home state is a joy. I am looking forward to synthesizing my policy and conservation interests and gaining new skills in the field."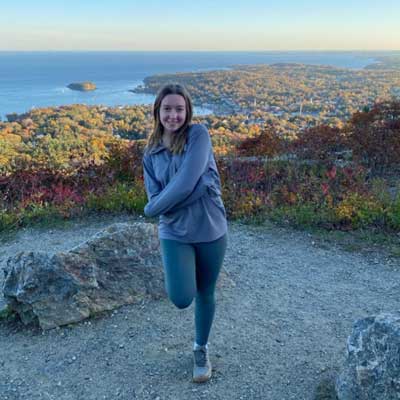 Kaitlyn Brunner is an Environmental Studies coordinate major with Hispanic Studies as well as pursuing a minor in Biology at Bowdoin College in Brunswick, Maine. Her hometown is Virginia Beach, Virginia, where she particularly enjoys paddleboarding in Chesapeake Bay at sunset. During her free time, she likes to run, hike, read, and attend various yoga classes.
"I am so grateful to have the opportunity to work for NRCM this summer as part of their advocacy team! It is a very exciting time to be involved in Maine environmental legislation, and I look forward to learning more about legislative processes and effective environmental outreach throughout the duration of my internship. I hope to contribute to the essential work of NRCM and make a positive impact that protects Maine's rich natural resources."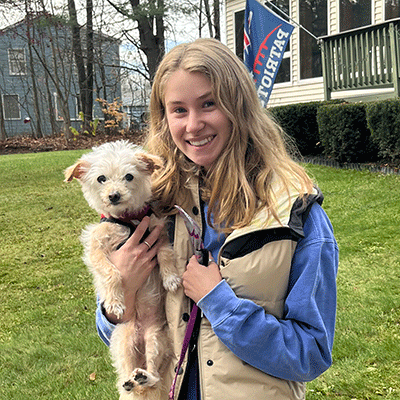 Hannah Cornish is going into her third year at Loyola Marymount University in Los Angeles, California, where she is majoring in Communication Studies with a minor in Political Science. Although she attends college in California, she was born and raised in Southern Maine. Some of her favorite activities include paddleboarding, knitting, nature walks, traveling, baking, and spending time with friends and family. Hannah looks forward to her time this summer with NRCM, focusing on Digital Content creation!
"I am so grateful to have this opportunity to work with NRCM to make a meaningful impact in conserving the environment in the state of Maine and beyond. I am excited to learn from NRCM's knowledgeable and passionate staff, and I look forward to combining my love and appreciation for Maine with my interests in communication and digital content creation."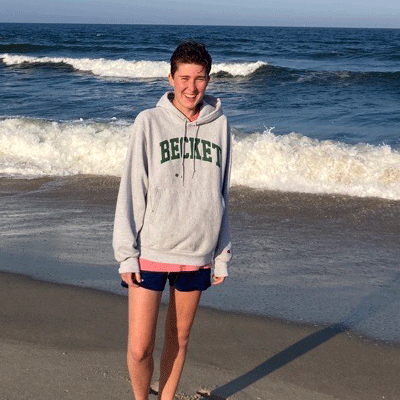 Lucia Pizarro is a rising senior at Bates College majoring in English with a concentration in philosophy. She loves hiking (and the outdoors in general) with her whole heart, and is thrilled to combine her passions for nature and writing as a Communications intern for NRCM this summer. She also really enjoys walking, drawing and journaling, writes letters like they're going out of style, and drinks a lot of both coffee and tea. Her favorite colors are navy blue, eggplant, and sunset pink.
"From my brief experience thus far, NRCM has shown itself to be a fast-paced, thoughtful organization committed to conserving Maine's environment. I hope to use this exciting opportunity to learn more from NRCM's dedicated staff and expand my sense of the intersection between public policy and environmental protection."
Internships
Environmental Policy Internships
The Natural Resources Council of Maine (NRCM) is seeking applicants to work as interns to assist the organization on a broad range of environmental policy issues currently facing Maine and the nation. NRCM attempts to place interns year-round, and the internships may be less than full-time to accommodate academic schedules. Internships generally are unpaid positions. However, NRCM does have funding for 1-2 paid internships annually (see details below under "Tomorrow's Environmental Leaders Internship").
Internship Experience
NRCM provides interns with meaningful work and an excellent training experience. Interns will contribute to and learn from activities such as:
Policy Research for legislation dealing with water quality, renewable energy, climate mitigation, land conservation, and waste management;
Legislative Action (when the Legislature is in session) including attending legislative hearings, meeting lawmakers, watching policy debates, and mobilizing activists; and
Advocacy Strategy including attending internal NRCM policy meetings, coalition strategy sessions, and advocacy events.
Environmental policy interns work under the supervision of NRCM's Advocacy Director, who works to ensure that interns receive extensive opportunities to witness internal operations of NRCM and the environmental policy process.
Qualifications
Applicants should have strong writing and communication skills, a strong interest in environmental policy, and ability to work on multiple projects with varying deadlines. Proficiency with Excel and PowerPoint preferred; GIS skills not required, but may be of use.
Application Process
Candidates may apply at any time. Resume and cover letter should be submitted to interns@nrcm.org.
Tomorrow's Environmental Leaders Internship
NRCM provides a $1,000 stipend for 1-2 interns annually. Generally, this intern serves from early June to early August.
Applying: Candidates interested in being considered for an internship should send a resume and cover letter to interns@nrcm.org. Candidates not selected for a paid internship may still be considered for an unpaid internship.
Check back often to see other internships as they become available.
Banner photos: NRCM interns at Maine State House, by P.Didisheim/NRCM