Meet Our January 2023 Interns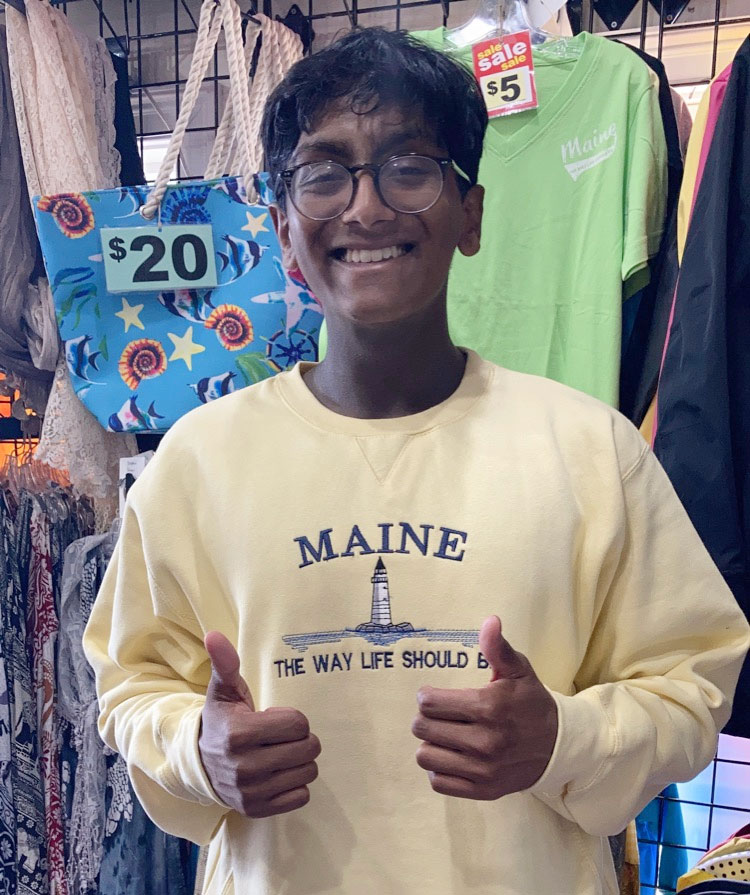 Raghav Surya is an environmental policy and statistics major at Colby College, with plans to pursue a career in transportation development. In his free time, he enjoys reading, listening to and making music, and spending time in the Maine woods.
"I'm incredibly grateful to have the opportunity to join NRCM in their critical work in the state of Maine. I hope to impact positive change, learn more about legislative processes, and make meaningful connections with my peers and mentors."
Maya Wong is a sophomore at Colby College in Waterville, Maine, majoring in Economics with a concentration in Financial Markets as well as minoring in Computer Science. Her home away from Maine is Truckee, California, a small mountain town in Northern California. She is on the NCAA Alpine Ski Team at Colby, which is what drew her to Maine in the first place. Some of her favorite activities include skiing, hiking, swimming, running, paddle boarding, wake surfing, and being outdoors. Maya has experience with social media platforms like Instagram, TikTok, YouTube, and Facebook and is excited to join NRCM for the month of January and can't wait to get more involved in the Maine community and help bring more attention to NRCM.
"I've always enjoyed the outdoors and have loved everything Maine has had to offer. I'm very excited to see how I can combine my economics, marketing, and tech interests with environmental advocacy and help make a positive impact on my community in Maine! I'm very grateful for this opportunity to learn more about the ways in which we can help preserve the natural beauty of our environment and help spread the message to others across Maine and the greater U.S."
Internships
Now Hiring: Summer Digital Content Intern
The Natural Resources Council of Maine is looking for a creative part-time (up to 25 hours a week) summer 2023 intern for 8-10 weeks to elevate our social media content. The intern will be someone who loves TikTok and creating short-form video. This person is motivated, authentic, and has a good sense of humor. They have strong video editing and social media skills and enjoy keeping up with and tapping into trends. A passion for Maine's environment is a must. The position will focus exclusively on producing digital content for Maine's leading and most effective environmental nonprofit organization.
The internship is paid and includes a $2,800 stipend. The position is flexible and hybrid with some days based out of NRCM's Augusta office and others remote. FMI on qualifications and to apply visit: https://app.eddy.com/careers/nrcm/200751eb-ed9a-4a1d-bd8a-4883a462e81d
Environmental Policy Internships
The Natural Resources Council of Maine (NRCM) is seeking applicants to work as interns to assist the organization on a broad range of environmental policy issues currently facing Maine and the nation. NRCM attempts to place interns year-round, and the internships may be less than full-time to accommodate academic schedules. Internships generally are unpaid positions. However, NRCM does have funding for 1-2 paid internships annually (see details below under "Tomorrow's Environmental Leaders Internship").
Internship Experience
NRCM provides interns with meaningful work and an excellent training experience. Interns will contribute to and learn from activities such as:
Policy Research for legislation dealing with water quality, renewable energy, climate mitigation, land conservation, and waste management;
Legislative Action (when the Legislature is in session) including attending legislative hearings, meeting lawmakers, watching policy debates, and mobilizing activists; and
Advocacy Strategy including attending internal NRCM policy meetings, coalition strategy sessions, and advocacy events.
Environmental policy interns work under the supervision of NRCM's Advocacy Director, who works to ensure that interns receive extensive opportunities to witness internal operations of NRCM and the environmental policy process.
Qualifications
Applicants should have strong writing and communication skills, a strong interest in environmental policy, and ability to work on multiple projects with varying deadlines. Proficiency with Excel and PowerPoint preferred; GIS skills not required, but may be of use.
Application Process
Candidates may apply at any time. Resume and cover letter should be submitted to interns@nrcm.org.
Tomorrow's Environmental Leaders Internship
NRCM provides a $1,000 stipend for 1-2 interns annually. Generally, this intern serves from early June to early August.
Applying: Candidates interested in being considered for an internship should send a resume and cover letter to interns@nrcm.org. Candidates not selected for a paid internship may still be considered for an unpaid internship.
Check back often to see other internships as they become available.
Banner photos: NRCM interns at Maine State House, by P.Didisheim/NRCM