Phil Bartlett is an attorney and a former state senator, representing the 6th District (Scarborough, Westbrook, and Gorham). He held the position of Senate Majority Leader in 2009 and 2010. During his time in the Maine Legislature, Phil served on the Joint Standing Committee on Utilities and Energy as well as several others. Phil is a graduate of Tufts University and earned a JD degree from Harvard Law School. He is active in numerous local groups and is one of two elected representatives from Maine on the National Democratic Committee.
Elisa Boxer is an Emmy award-winning journalist, news reporter, and teacher who has become a strong environmental health advocate in recent years. She received NRCM's Environmental Award in 2008 for her dedication to the passage of safer chemical policies in Maine and remains involved in toxics advocacy with several organizations. She received her M.S. in journalism from Columbia University. She lives in Scarborough.
Tom Carr has lived in Harpswell year-round since he retired from running his family business in New Jersey several years ago.  A lifelong outdoorsman and environmentalist, Tom has dedicated countless hours to trail and stewardship work for the Maine Island Trail Association, the Maine Coast Heritage Trust, the Appalachian Trail Conservancy, and groups in New Jersey.  He is a prolific nature photographer:  every hike, paddle, backcountry ski trip, or ramble with his dogs has him on the lookout for photogenic flora and fauna. Since moving to Maine, he has shared his focus between land and sea and became a Registered Maine Sea Kayak Guide.
Marion Freeman (Treasurer of the Board) has served as the director of Kepware Technologies in Freeport since 2000. She was previously director and head of international sales for software and instrument products at Kessler Ellis Products and Kepware, Inc. Marion also served as vice president of Fixed Income Sales at J.P. Morgan in New York. Marion's academic experience includes serving as dean, assistant professor of French, and women's varsity squash coach at Yale University. Marion has served on numerous boards, including at Concord Academy, Waynflete School, the Portland Museum of Art, and the Gulf of Maine Research Institute. She has a Ph.D. in French from Yale University and an undergraduate degree in Romance Languages from Princeton University. She lives in Freeport.
Jeanne Gulnick is assistant professor in the Natural Sciences Department at St. Joseph's College. Her academic focus has been on marine research and integrated coastal management. She has a Ph.D. from the Marine Sciences Research Center, State University of New York at Stony Brook. She serves on the board of the Oceanside Conservation Trust and lives on Peaks Island.
Patricia Hager (Vice President of the Board) A resident of Massachusetts, Patty retired as Academic Dean of Concord Academy in 2007. There, her colleagues praised her as an insightful leader who could "whittle down unwieldy problems into manageable components..." Patty has another side: accomplished outdoorswoman. She spends much of her free time at her camp in Norridgewock and launches many of her extensive paddles from there.
Karen Herold (Secretary of the Board) draws on her legal background and a lifetime of hiking, biking, and paddling to promote sound environmental policies and to protect Maine's natural areas. She is on the boards of Maine Conservation Voters and Maine Conservation Alliance, and lives in Cumberland.
David Kallin is and environmental attorney at Drummond Woodsum in Portland. His practice includes land conservation, land use, natural resource law, school and municipal law, administrative law, and general litigation. A dedicated outdoorsman, David, his wife Emily, and their two young children did a 2,185-mile thru-hike of the Appalachian Trail in 2014 and documented much of their journey online.
Dennis King is CEO of Maine Behavioral Healthcare. From 1999-2015 he served as the CEO of Spring Harbor Hospital in Westbrook. He was the founding CEO of The Acadia Hospital in northern Maine. He has an MPA from the University of Maine. Dennis was on the NRCM board from 2010 to 2011 and is looking forward to joining us again. He and his wife, Sandra, have a camp on Green Lake in Hancock County and have been NRCM members for more than 20 years.
Susan MacKenzie has served as a visiting professor of environmental studies and political science at colleges in Maine and has published in the areas of water and integrated resource management. She earned her Ph.D. from the University of Michigan's School of Natural Resources. She is the founder of EarthWorks, an interfaith spirituality and nature enrichment program for all ages. Most recently she served as program director at the Living Water Spiritual Center in Waterville. She has served various community organizations including the Sustainable Waterville Coalition, Eat Local Foods Task Force, and Maine Rivers. Susan is also a Registered Maine Guide and lives in Waterville.
Didi Manns Edith K. (Didi) Manns is a resident of Camden, where she summered throughout her life. Didi holds an undergraduate degree from Oberlin College and two graduate degrees from the University of Virginia. After three years at the University of Texas Medical Branch at Galveston in the School of Allied Health Sciences and a Research Associate in the School of Medicine, she was an Associate Dean first in the School of Health Science and then in the College of Public and Urban Affairs at Georgia State University. An Associate Professor of Public Administration, she retired from the Andrew Young School of Public Policy as a Professor Emeritus in 1999 after 23 years as an academic administrator and faculty member. Her academic focus was first on health policy and later evolved into environmental policy. An avid birder and conservationist, Didi has been a member of NRCM since the late 1980s. She has served on the board of Coastal Mountains Land Trust and the Megunticook Watershed Association and has been involved in numerous other nonprofits in Georgia and Maine.
Bill Meserve is a retired partner at the law firm of Ropes & Gray. He has a summer home on Cushing Island. He serves on the Bingham Foundation Advisory Committee, on the Appalachian Mountain Club board in Maine, and on other boards in New England and beyond. Bill has degrees from Tufts, Harvard, and the London School of Economics. He enjoyed a visit to the proposed National Park lands with NRCM staff and has been an advocate for NRCM's funding proposals.
Sally Oldham of Portland is a "mostly retired" architectural historian with extensive experience in the fields of historic preservation, scenic conservation, and transportation policy. She has served in a board or advisory role for Greater Portland Landmarks, Maine Preservation, and the Western Prom Neighborhood Association. Prior to moving to Maine in 2005 from the Washington, D.C. area, Sally served as president of Scenic America, a national non-profit environmental organization whose mission is to preserve and enhance the scenic character of America's communities and countryside.
Tony Owens, MD rejoins the board of directors after a mandatory one-year hiatus, during which he served as a member of NRCM's National Advisory Board. During his tenure on the board, Tony served as vice president and then president. He also chaired NRCM search for a new executive director in 2010. He has been an effective advocate for Maine's wildlife and natural resources, testifying at hearings, writing opinion pieces, and communicating with his elected representatives. Tony is an emergency room doctor at Maine Medical Center.
Jeffrey Pidot retired from a career at the Maine Attorney General's Office, where for many years he served as chief of the Natural Resources Division, working with all the State's environmental and natural resource agencies. In the early 1980's, Jeff was director of the Maine Land Use Regulation Commission. During 2004-5, he was a visiting fellow at the Lincoln Institute of Land Policy in Cambridge MA. He has served on many boards including Maine Audubon, Maine League of Conservation Voters, Kennebec Land Trust, Maine Bar Professional Ethics Commission and Maine Land Trust Network. In 2007, Jeff was recipient of NRCM's lifetime achievement award. He lives in Brunswick.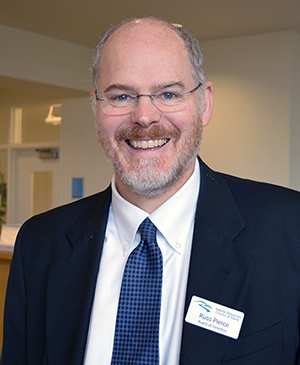 Russell B. Pierce, Jr. (President of the Board) is an attorney with the law firm of Norman Hanson & DeTroy LLC in Portland. In 2006, Russ represented NRCM pro bono as we began work on Plum Creek's application to the then-Land Use Regulation Commission. Since then, he has been an integral member of  NRCM, representing us before regulatory bodies and in the courts and advising on a range of environmental issues. NRCM recognized Russ for his service and commitment in 2009, when we presented him with an Environmental Award. Most recently, Russ served on a three-member advisory committee to help the City of South Portland craft the Clear Skies Ordinance that will protect local residents and the environment from toxic air pollution and other impacts from loading tar sands crude oil onto tanker ships in Casco Bay. Russ is an avid birder, gardener, and hiker, and in his spare time writes and paints with a focus on Maine's outdoors. Russ and his family live in Portland.
Kate Rush Kate's love and appreciation of the outdoors was fostered by her upbringing on a dairy farm in central Maine. She is Senior Vice President and Director of Technology at Bangor Savings Bank . Prior to that, Kate was partner at Evolo Home Center, LLC and Evolo Energy Solutions in Newport Maine, where she oversaw construction projects and renewable energy installations. She earned an engineering degree from Worcester Polytechnic Institute and an MBA from the University of Hartford. She returned to Maine in 2006 after holding variety of positions at United Technologies Corporation, including positions at Pratt & Whitney, UTC Power, Hamilton Sundstrand, and the UTC Corporate offices varying in function from cell leader to supply chain management. Kate and her family live in Newport.
Sarah Short is development director at the Mitchell Institute. A native of North Carolina, Sarah spent her summers on Mount Desert Island and always wanted to live in Maine full-time. Prior to moving to Maine, she worked in fundraising at the Union of Concerned Scientists. She participated in the Lift 360 nonprofit board member training last fall and chose NRCM as her mentoring organization. She is also active with NRCM Rising. She has a BA from Amherst College and an MBA from Yale University.
Anne Winchester grew up in Brunswick. Like many Mainers, Annie was introduced to the outdoors at an early age. She has camped in the Maine woods, climbed Katahdin (17 times!), and paddled innumerable lakes. After a career spent as a commercial lender in Boston, Annie and her husband, Jock, returned home to Maine more than a decade ago.