Uniting & Engaging the Next Generation of People Who Love Maine
Are you a young professional living and working in Maine? NRCM Rising is a group created by the Natural Resources Council of Maine specifically to engage and connect people in their 20s, 30s, and into their 40s who love Maine's environment.
NRCM Rising is building a community of young professionals to advocate at the State House in Augusta for environmental safeguards and enjoy fun outdoor adventures around the state. We connect people, policy, and place, with the goal of ensuring that Maine's young, emerging professionals are equipped with the skills, relationships, and knowledge needed to successfully defend environmental laws established over the past 40 years and to take on challenges of our future.
Maine's environment exists as we know and love it today thanks to the efforts of people, organizations, businesses, and elected officials who care about protecting Maine's natural resources.
One generation after another has committed to the mission of cleaning up our waters, promoting clean, renewable energy, adopting more sustainable lifestyles, speaking up for special places and wildlife, and demanding action on climate change.
NRCM understands that Mainers emerging from college and early in their careers want to make a difference—serving in Maine's Legislature, starting sustainable businesses, working at nonprofits whose mission is to protect the environment, and more. NRCM Rising strives to provide opportunities for Maine's young professionals to make a difference for Maine's environment.
If you or people you know would like to get involved with NRCM Rising, please contact Todd Martin, NRCM Rising Director at tmartin@nrcm.org or (207) 430-0115. Thank you for all you do to help keep Maine special, today and for generations to come.
Come to an NRCM Rising Event Near You!
NRCM Rising hosts a variety of events throughout the year. Come join us and meet other young, conservation-minded folks, enjoy some beer and food, tell us what you think about issues facing Maine's air, land, water, and wildlife, and learn how you can get involved.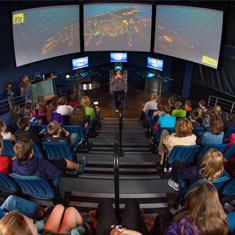 Modeling Change – How the Gulf of Maine is changing in our warming world
Thursday, January 23, 2020 from 5:30 – 7:30 p.m. (Networking begins at 5:30, the program starts at 6:00 p.m.)
Cohen Center at Gulf of Maine Research Institute, 350 Commercial Street in Portland
Please join NRCM Rising at the Gulf of Maine Research Institute for an evening of interactive learning! Modeling Change is a 90-minute exploration of past and future ecosystem change in the Gulf of Maine. You'll look forward and back at the impacts of ocean warming in our bioregion through the lens of two key species: lobsters and black sea bass. You'll get to experience the power of ecosystem modeling first-hand. In addition to the state-of-the-art technology in GMRI's Cohen Center for Interactive Learning, this event will also include a facilitated discussion with our program staff. This event is free but only 60 seats are available.
We look forward to meeting you soon—either on the trail, at the State House, or at a social event.
NRCM Rising Leadership Team
The NRCM Rising Leadership Team helps provide ideas, energy, and momentum to NRCM Rising