Uniting & Engaging the Next Generation of People Who Love Maine
Are you a young professional living and working in Maine? NRCM Rising is a group created by the Natural Resources Council of Maine specifically to engage and connect people in their 20s, 30s, and into their 40s who love Maine's environment.
NRCM Rising is building a community of young professionals to advocate at the State House in Augusta for environmental safeguards and enjoy fun outdoor adventures around the state. We connect people, policy, and place, with the goal of ensuring that Maine's young, emerging professionals are equipped with the skills, relationships, and knowledge needed to successfully defend environmental laws established over the past 40 years and to take on challenges of our future.
Maine's environment exists as we know and love it today thanks to the efforts of people, organizations, businesses, and elected officials who care about protecting Maine's natural resources.
One generation after another has committed to the mission of cleaning up our waters, promoting clean, renewable energy, adopting more sustainable lifestyles, speaking up for special places and wildlife, and demanding action on climate change.
NRCM understands that Mainers emerging from college and early in their careers want to make a difference—serving in Maine's Legislature, starting sustainable businesses, working at nonprofits whose mission is to protect the environment, and more. NRCM Rising strives to provide opportunities for Maine's young professionals to make a difference for Maine's environment.
If you or people you know would like to get involved with NRCM Rising, please contact Todd Martin, NRCM Rising Director at tmartin@nrcm.org or (207) 430-0115. Thank you for all you do to help keep Maine special, today and for generations to come.
Come to an NRCM Rising Event Near You!
NRCM Rising hosts a variety of events throughout the year. Come join us and meet other young, conservation-minded folks, enjoy some beer and food, tell us what you think about issues facing Maine's air, land, water, and wildlife, and learn how you can get involved.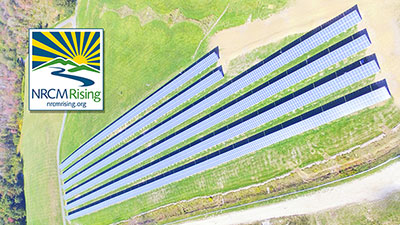 South Portland Solar Tour and Beer Pour
NEW DATE Thursday, September 26, 2019
6:00 p.m. – 8:00 p.m.
Sign up today.
Did you know that South Portland is home to Maine's largest municipal solar array?
Please join NRCM Rising, ReVision Energy, and the South Portland Sustainability Office for a tour of this impressive solar array from 6:00 - 7:00 p.m. During the tour you'll learn about exciting progress made on solar energy development in the Maine legislature earlier this year. After the tour we will head to Foulmouthed Brewing in South Portland for a pint or two from 7:00 -8:00 p.m. Your first beer is on us. Please join us for a solar tour and beer pour!
Located on the city's closed landfill, the 2,944-solar panel array produces about one megawatt of electricity annually, roughly 12% of the electricity used by South Portland's municipal and school buildings. Cool!
Parking is available next to the solar array in the South Portland Public Works parking lot.
Gearing Up For A Hike
Wednesday, October 2, 2019
5:30 - 7:30 p.m.
Woods + Waters Gear Exchange, 12 Pleasant Street, Brunswick
Looking for some epic hiking adventures this fall? Need some advice on gear and resources that can help you hit the trail? Come hear inspiring stories from Maine-based hiking enthusiasts about their favorite places to hike and explore in Maine. We'll have free beer from Flight Deck, soda from Green Bee, and bars to munch on from Wild Flours Bakery. We're raffling off two $25 gift certificates; one to the Woods + Waters Gear Exchange and one to Wild Oats Bakery in Brunswick. Invite your friends on Facebook.
You'll hear from these hiking gurus:
Megan Thompson, Appalachian Trail through hiker and Backpacker Radio podcast host.
Aislinn Sarnacki, Bangor Daily News outdoor writer and author of three books about hiking in Maine, including "Maine Hikes Off the Beaten Path" and "Dog-Friendly Hikes in Maine".
Ryan Linn, Co-founder of Atlas guides, a smartphone-based adventure & hiking guide for trails like the Appalachian Trail, Pacific Crest Trail, and many more.
We look forward to meeting you soon—either on the trail, at the State House, or at a social event.
NRCM Rising Leadership Team
The NRCM Rising Leadership Team helps provide ideas, energy, and momentum to NRCM Rising