The NRCM Rising Leadership Team helps provide ideas, energy, and momentum to NRCM Rising. The Leadership Team acts as an advisory board to NRCM Rising staff across the full range of NRCM Rising activities, including events and initiatives aimed at connecting young people who care about Maine's environment to each other, to high priority environmental issues, and to special places across the state.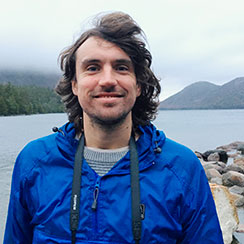 Daniel Bartup, Portland Daniel grew up in a small village in the English countryside before graduating from the University of Leeds with a degree in Political Science. From there he moved to South Korea to teach English and then onto Minneapolis, eventually moving to Maine. After having grown up surrounded by nature, Daniel always planned to permanently settle down close to the wilderness and fell in love with Maine's rugged coastline, mountains, lakes, and wildlife. On any free day you will likely find Daniel wandering through the woods or mountains. He is determined to work hard to protect this natural beauty and help to improve the lives of fellow transplants and Mainers in this wonderful state. Daniel first became aware of NRCM's work through the annual Polar Bear Dip & Dash and is excited to be helping such a fantastic organization in the work that they do.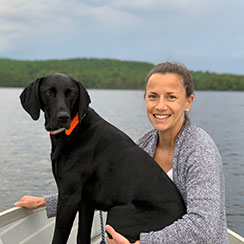 Heather Drake, Cape Elizabeth Heather grew up in rural Central New York and graduated from Syracuse University with a degree in political science. She made her way to DC, where she earned a masters in public health from The George Washington University. From there she made her way through Boston and eventually to Maine, working in a wide array of public health fields most currently with the Maine Public Health Association. Heather fell in love with Maine, a community reminiscent to where she grew up—down to earth, welcoming people with an expansive and beautiful landscape to explore. Since moving here, she has found hobbies to keep her engaged in outdoor activities all year round. Heather is excited to marry her career in public health with her passion for the environment to ensure everyone has the opportunity to enjoy all that Maine has to offer. On any given day, you can find Heather looking for an excuse to get outside and explore the great Maine landscape, most often with her dog, Gunther, and husband, Andrew, and newest addition, baby Elliot.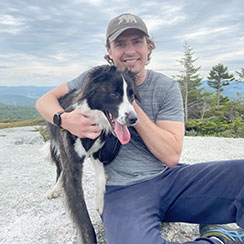 Byron Glaus, Augusta Byron grew up in Rumford. Over the 18 years he lived there, Byron established a love and appreciation for the western mountains, lakes, and wildlife. After graduating from high school, Byron moved to Boston to attend Emmanuel College and Northeastern University for his undergraduate and graduate degrees. After working in the private sector for almost two years, Byron transitioned into higher education where he has held an array of positions within admissions and institutional advancement. Byron returned to Maine in 2016 and currently works as a leadership gift officer at Colby College in Waterville. It was upon his return to Maine that Byron's passion for a cleaner and more sustainable environment took hold. Byron, his wife, Mollie, and their dog, Huey, love the outdoors and spending time at their camp in Roxbury. You may bump into them on any given summer or fall weekend at White Cap Mountain – their favorite hike!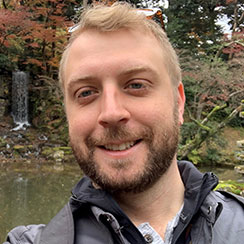 Tucker Johnson, South Paris Tucker grew up in the foothills of Western Maine, wandering around the forests, lakes, and streams in his backyard. He earned degrees in Global Studies and Political Science from Warren Wilson College in 2015. Tucker moved back to Maine in 2020 after spending the previous handful of years working in policy analysis while based out of Washington, DC. He currently works for the National Parks Conservation Association where he is the Policy Analyst for Natural Resources within their government affairs team, focusing mostly on expanding public lands. He is excited about growing community engagement opportunities across Maine and protecting wild places. When not working, he can be found hiking, skiing, and attempting to garden.
Ari O'Neill, Litchfield Ari grew up on the South Shore of Massachusetts with annual vacations to York, where she fell in love with Maine's beaches. After graduating from Syracuse University with a focus on magazine journalism and women's studies, she moved to California where she became a committed bike commuter. As she made her way back to New England, she spent four years in the New River Gorge cultivating a deep appreciation for rivers and whitewater (four weeks of rafting through the Grand Canyon really sealed the deal). Throughout her journey, Ari has worked as a corporate, adventure, and freelance graphic designer, plus that one summer as a zipline tour guide. Now settled firmly in Maine, Ari nourishes her family with all the local organic food her heart desires, some of which she grows, and explores beaches, bike trails, rivers, and ski spots. The best part: she gets to make maple syrup each spring with her husband and toddler.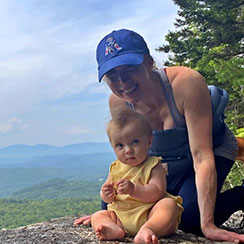 Laura Petrolino, Scarborough Laura moved to Maine eight years ago because of the amazing and diverse natural resources it offers. Since then she not only has hiked all over Maine but also met her husband, and had her own little Mainer (who already also appreciates the natural beauty and adventure Maine offers).  Professionally, Laura has spent her career using her marketing and communications skills to drive change for the causes and communities she cares most about. She currently serves as marketing director for the National Democratic Training Committee (NDTC), the largest Democratic campaign training organization in the nation. At NDTC, she works to provide Democratic candidates, campaign staffers, local leaders, and volunteers the training and tools they need to create change in their own communities. In her free time, Laura, her husband Rob, daughter Sofia, and vizsla puppy son Capo enjoy hiking, gardening, playing at the beach, and baking for her small home-based baking business.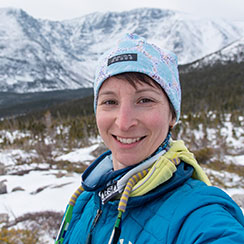 Sarah Sindo, Millinocket Sarah's roots sprouted in Millinocket, and after growing up in the small town, she was eager to explore out of state. After graduating from SUNY Plattsburgh and working in Vermont, she found her way back to the Katahdin area. Seven years ago, Sarah gratefully fell into a position at Chewonki's Big Eddy Campground, located on the West Branch of the Penobscot River. She takes pride in managing an off-grid campground and connecting with folks who truly love the area. She shifts with the seasons and heads to Sugarloaf to work in their marketing department during the ski season. Sarah loves to hike in and around Baxter State Park, paddle or fish on the river, read, knit, ski, take photos, and spend time with her senior dog, Drake. Sarah's love and appreciation for her home state, and our ever-changing world, is what fueled her to seek out involvement with the NRCM Rising team. 
NRCM Rising Leadership Team Alumni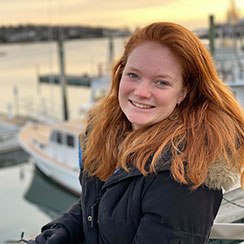 Kate Shambaugh (2022-2023), Portland Kate moved to Maine from Olney, Maryland, when she was nine years old. She moved from the bustling and busy world on the outskirts of DC to the easy and accessibly wild Southern Maine she now calls home. While she kept trying to leave through summers away in different places around the country or traveling around the world, she kept coming back, drawn to Maine's ocean and lakes and woodlands. It's those natural landscapes that motivate her to do the work that she does. Kate worked for the Portland Parks Conservancy teaching people how to care for and appreciate our cultivated and natural green spaces and teach elementary-age children how to respect wildlife and learn how to have fun in nature. With a bachelors in behavioral neuroscience from Smith College, she works with people to help understand their environments and learn how to protect them.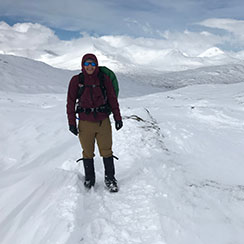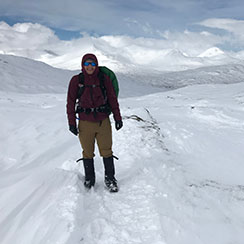 Jeremy Vroom (2016-2022), Kittery Jeremy grew up in Bangor, has lived all over the state from Kittery to Carrabassett, before ending up on Mount Desert Island. After graduating from the University of Maine at Farmington with a B.A. in Geography and Art, he worked various jobs in the outdoor industry before pivoting to Maine's growing craft beer industry, where he works for Atlantic Brewing Company. Being passionate about outdoor pursuits of all kinds, he sees NRCM's work for the environment and public lands as critical to keep Maine's outdoor and tourism economies strong. He takes part in NRCM Rising as a way to give back to what Maine has given him. In addition, he is an ambassador with the Maine Brewshed Alliance and a Registered Maine Guide. In his free time, he enjoys photography, drawing, hiking, skiing, biking, and most recently trying to learn how to surf.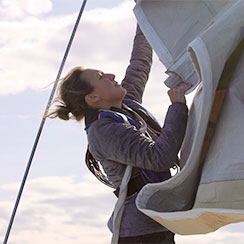 Dana Wilfahrt (2019-2022), Portland Dana grew up on the North Shore of Massachusetts before attending school in Rhode Island, traveling a bit, spending a couple of years in Boston, and finally ending up in Maine, which she now happily calls home. Having grown up tied to the beach and the water, from a sand-eating three-year-old to trans-Pacific sailing to a Peaks-to-Portland competitor, a love for the ocean quickly translated to a passion for all things outdoors. The great work of NRCM was introduced to Dana through their partnership with Patagonia, where Dana spends her workdays overseeing the Environmental Program and the day-to-day operations of the store in Freeport. She is excited to be a part of the NRCM Rising team in helping connect important topics and issues involving our environment to current and future generations of Maine.
Leigh LaMartina (2021-2022), Portland Leigh grew up near Philadelphia and came to Maine following time in Washington, DC, and Austin, Texas. After graduating from American University with a degree in international human rights, she earned her law degree at The University of Texas School of Law. Leigh is the Director of Operations at Suitless, a company that provides HR and finance support to startups and nonprofits. She is passionate about the potential for Maine to be a leader among states for high-impact actions combating climate change.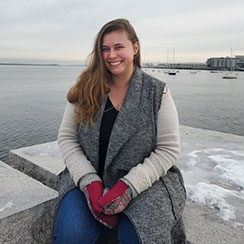 Vanessa Berry (2020-2021), Gardiner Born and raised in Maine, Vanessa graduated in 2015 from the University of Maine at Farmington with a B.S. in Elementary Education and uses her skills as a teacher and passion for the environment in her role as an Environmental Educator for ecomaine to help Mainers follow the 3Rs: Reduce, Reuse, then Recycle! Outside the office, Vanessa enjoys hiking, kayaking, biking, and spending time along the coast near her home in Old Orchard Beach.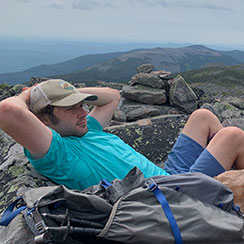 Ryan Linn (2016-2021), Portland After hiking the Appalachian Trail and Pacific Crest Trail, Ryan co-founded Guthook Guides to make smartphone-based hiking guides as a way to share the joy he finds in hiking all over the country. Ryan can be found hiking, biking, and kayaking all over the state and being a volunteer trail maintainer on Mt. Abraham in Kingfield.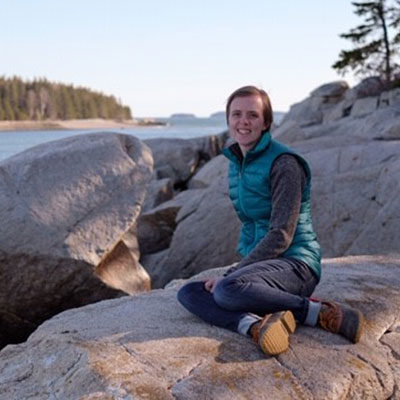 Sarah Cotton (2020-2021), Rockland Sarah works in the admissions Department at Hurricane Island Outward Bound School where she is involved with their custom programs and works with students and their parents to get them ready for their courses. She lives in Hope and has found many great places in Maine to hike, canoe, and sit by the ocean. She joined the NRCM Board of Directors in the summer of 2021.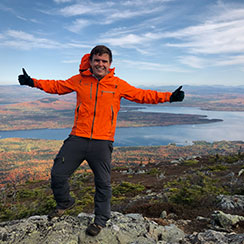 Tom Kittredge (2020-2021), Portland Tom works for the Maine Technology Institute, where he supports innovators and entrepreneurs across the state. Tom received an international MBA at IESE Business School in Barcelona, where he focused on social innovation and sustainability.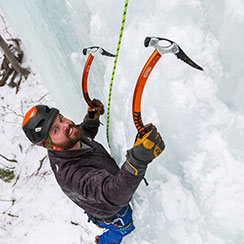 Will Hardy (2020-2021), Wells With an education in Integrated Manufacturing, Will has worked extensively with many of the largest manufacturers in the world and has had a hands-on experience boosting efficiency of their processes. Will believes that for society to move in a greener direction, we need more people from the trades to be a part of the conversation.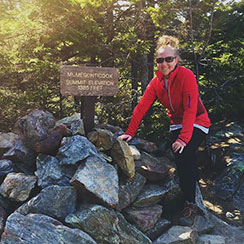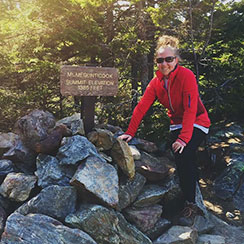 Erin Walter (2020-2021) Sabattus Originally from Kentucky, Erin discovered her love of wild places the first time she visited Acadia National Park, and decided to take a full-time adventure when she moved to Maine in 2013. Erin earned a B.A. in English Literature from the University of Cincinnati, and after deciding against a lucrative career as a barista, started working in project management and technology-focused operations and marketing communications. She has worked on many community and nonprofit-focused campaigns for fundraising, loyalty, and membership enrollment and volunteers with organizations in the community for children and the environment.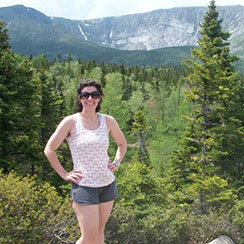 Yvette Meunier (2017-2020), Topsham Yvette is a Promotional Coordinator for the Department of Agriculture, Conservation and Forestry, her previous experience includes working on Maine's Bottle Bill, wastewater permitting and working for a solar company. She holds a BA in Geosciences and a Master's degree in Sustainable Development from the University of Southern Maine. In her free time, she enjoys overnight kayaking adventures on the Maine Island Trail, road biking to farmers' markets, and plogging.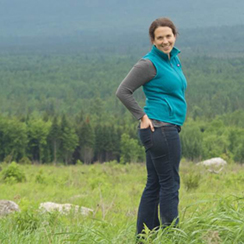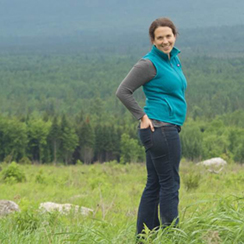 Jesse McMahon (2014-2019), Arrowsic Jesse is a content producer for the hit PBS KIDS animated series, Nature Cat. The show motivates young children to go outside and connect with nature (wherever they may live) in hopes of inspiring the next generation of environmental stewards. Prior to her work in television, Jesse worked as an independent communications consultant and freelance reporter.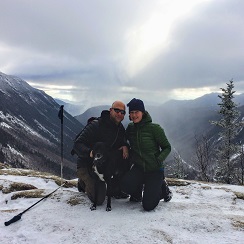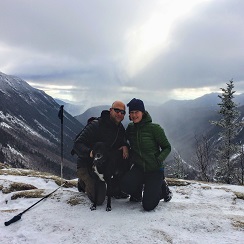 Kelly Corbin (2016-2018), South Portland Kelly is an experienced environmental educator, ecological landscape manager, and communications professional. She holds a Master's degree in Ecological Design from The Conway School as well as a Master's in Environmental Studies from Antioch University New England. Kelly also plans and designs native plant gardens, hikes, runs, rock climbs, reads, sews, and appreciates life with her husband and dog in South Portland.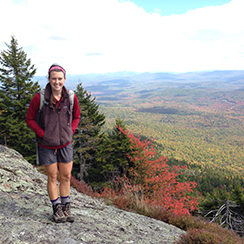 Lucy Perkins (2016-2018), South Portland Lucy calls South Portland home, where enjoys a quick walk to work as the Sustainability Program Coordinator for the City. She has marveled in the opportunity to impact her local community through energy efficiency, waste reduction, solar, and climate adaptation programs. Prior to this work, Lucy was an Annual Giving Coordinator for her alma mater, Bates College, where she earned a degree in Environmental Studies as a student.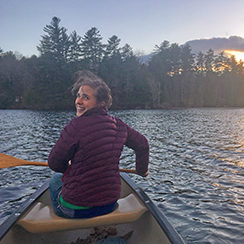 Jenny Kordick (2017-2019), Peaks Island Jenny brought experience in campaign management and strategy, environmental advocacy, and outreach to the NRCM Rising team. She is the Executive Director of Maine Outdoor Brands, a nonprofit committed to working with individuals and organizations from the public and private sectors in helping to drive Maine's $8.2B outdoor recreation economy. She moved to Maine in 2017 to be closer to nature and to enjoy life the way it should be.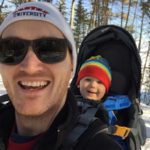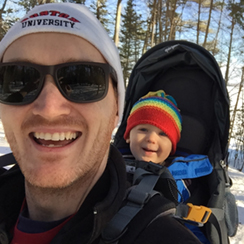 Mike Williams (2016-2018), Cumberland Mike is the Vice President of Strategic Development for the BlueGreen Alliance. The BlueGreen Alliance unites America's largest labor unions and its most influential environmental organizations to identify ways today's environmental challenges can create and maintain quality jobs and build a stronger, fairer economy. He moved to Maine in June 2014 with his wife and children.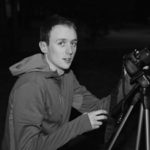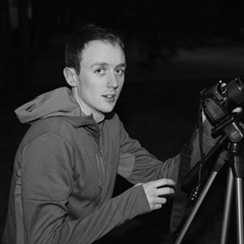 Greg Edwards (2015-2016), Bangor Greg is a staff accountant at Edwards, Faust, and Smith in Bangor, as well a part-time graphic design student. Greg was born and raised in Bangor and is a graduate of Bangor High School. Greg is an Eagle Scout and serves on the board of Bangor Greendrinks, ACE Mentor Program of Maine, and the City of Bangor Tree Board.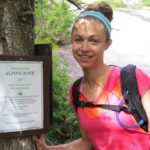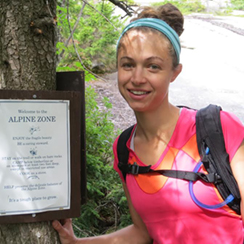 Sadie Lloyd Mudge (2015-2017), Waldo Along with her environmental ethic and advocacy, Sadie brought to the Leadership Team her experience in city planning, fundraising, marketing, and communications. After graduating with honors from Lesley University, Sadie attended the Muskie School of Public Service where she earned her Master's in Community Planning and Development.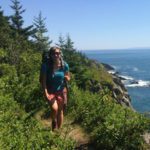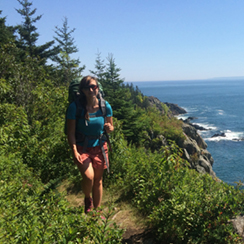 Ellen Sabina (2015-2017), Belfast Ellen brought communications, marketing, and statewide organizing experience to the team. Currently the Outreach Director at Maine Farmland Trust (MFT), her previous experience includes work in development, event management, design, and coordination of diverse environmental groups on common goals. After studying at Bates and working on farms and with farmers in Vermont and Washington, Ellen settled in her home state of Maine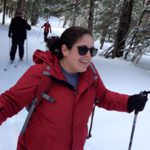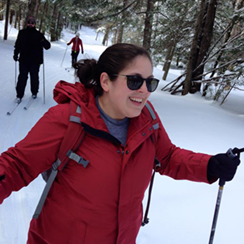 Sarah Short (2015-2017), Portland Sarah is the Development Director for the Senator George Mitchell Scholarship Research Institute, which works to increase the likelihood that young people from every community in Maine will aspire to, pursue, and achieved a college education. Prior to joining the Mitchell Institute, Sarah worked for the Union of Concerned Scientists. Sarah received a B.A. in computer science from Amherst College, and later went on to earn her MBA in nonprofit management at the Yale School of Management.
A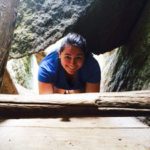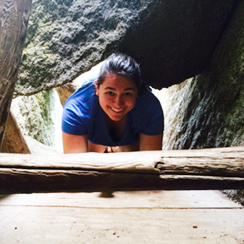 licia Rea (2015-2017), Lewiston Alicia has skills and experience in community service, nonprofit organizations, and fundraising. Currently serving on the Lewiston City Council and working as an Annual Giving Coordinator for Student Programs at Bates College, Alicia is a proud graduate of Connecticut College.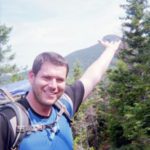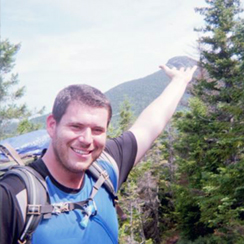 Rob Ellis (2015-2016), Waterville Rob is a solar design specialist at Revision Energy in Portland, Maine's largest residential and commercial solar panel installer. At Revision, Rob helps Maine homeowners understand the potential of solar energy and the options available for their homes. Prior to joining the Revision team, Rob worked as an Americorp VISTA in Portland helping homeowners and renters winterize their homes.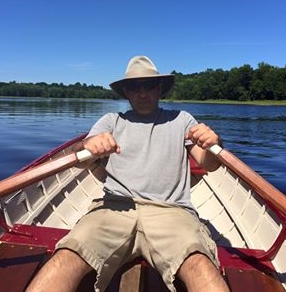 Adam Turner (2017-2019), Hallowell Adam makes a living by renovating and renting apartment buildings in Augusta, Hallowell, Gardiner, and Portland. He is passionate about the protection of the natural environment and is especially interested in preventing the growing climate change disaster. Adam has also worked as a worm digger, an urchin tender, a mussel farmer and with fixing, fitting and selling bicycles in all shapes and sizes.