The NRCM Rising Leadership Team helps provide ideas, energy, and momentum to NRCM Rising. The Leadership Team acts as an advisory board to NRCM Rising staff across the full range of NRCM Rising activities, including events and initiatives aimed at connecting young people who care about Maine's environment to each other, to high priority environmental issues, and to special places across the state.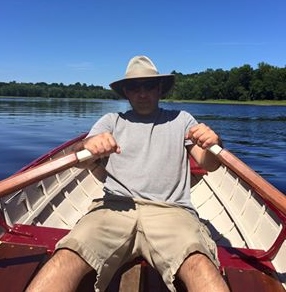 Adam Turner, Hallowell
Adam is currently living in Hallowell and makes a living by renovating and renting apartment buildings in Hallowell, Gardiner, and Portland. He is passionate about the protection of the natural environment and is especially interested in preventing the growing climate change disaster. Wielding a B.A. in Metaphor from Bates College, he has enjoyed many figurative careers. Adam has also worked as a worm digger, an urchin tender, a mussel farmer and with fixing, fitting and selling bicycles in all shapes and sizes. He is happiest being outdoors and in the sun, hiking in Maine's forests and mountains and sailing the waters. Adam is looking forward to working with new people to help guide NRCM Rising down a productive path that will protect the wilderness of Maine.
A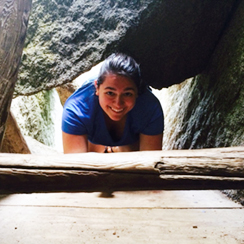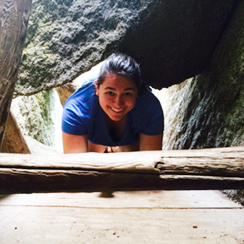 licia Rea, Lewiston
Alicia brings skills and experience in community service, nonprofit organizations, and fundraising. Currently working as an Annual Giving Coordinator for Student Programs at Bates College, Alicia is a proud graduate of Connecticut College (go Camels!), living in Lewiston. In addition to her service on the Leadership Team, she serves on the Board of Directors for the Lewiston Education Fund. Alicia is excited to be part of the NRCM Rising Leadership Team because in her time here in Maine, she has already discovered so many beautiful, natural parts of the state and hopes to work to protect these spaces for future generations. As a member of NRCM and through her involvement in NRCM Rising, she has enjoyed the networking opportunities provided while getting together in support of Maine's environment with others who share her enthusiasm in the mission.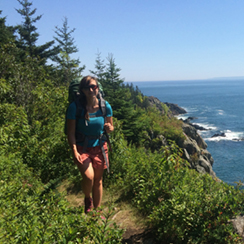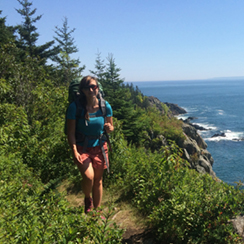 Ellen Sabina, Belfast
Ellen brings communications, marketing, and statewide organizing experience to the team. Currently the Outreach Director at Maine Farmland Trust (MFT), her previous experience includes work in development, event management, design, and coordination of diverse environmental groups on common goals. After studying at Bates and working on farms and with farmers in Vermont and Washington, Ellen settled in her home state, where she is connected to an incredible network of farmers and changemakers throughout Maine through MFT and MOFGA, where she serves on the education committee. Ellen is excited to join the NRCM Rising Leadership Team to help connect the dots between all of the good work that young Mainers are doing to ensure a bright future for this beautiful place we call home.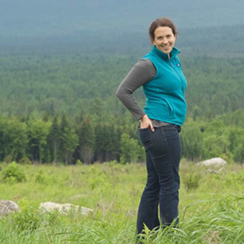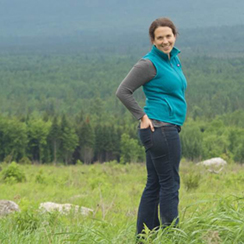 Jesse McMahon, Arrowsic
Jesse is an independent communications consultant, environmental advocate, and writer. Currently she is the associate content producer for an upcoming animated PBS series called Nature Cat, which seeks to motivate young children to go outside and connect with nature—wherever they may live. As a freelance reporter, her byline has appeared in The Boston Globe, ProPublica and The Initiative for Investigative Reporting at Northeastern University. Jesse has a B.S. in industrial and labor relations from Cornell University, and an M.A. in journalism from Northeastern University. Regarding climate change as the pivotal issue of her generation, Jesse is excited to play a hands-on role on the NRCM Rising Leadership Team to advocate for positive environmental change and help cultivate an important dialogue between young people around the state. Jesse left Boston in 2011 to move to the great state of Maine. She and her husband, along with their dog, Alice, and five chickens now live in Arrowsic. Jesse loves sailing, (she holds a 50-ton USCG master's license with a sailing endorsement), hiking, gardening, floating in the ocean with her dog and husband, and snowshoeing.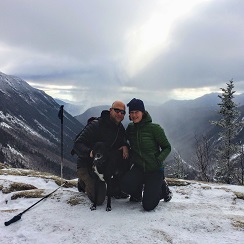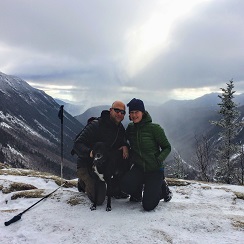 Kelly Corbin, South Portland
Kelly brings experience in environmental education, ecological landscape management, and communications to the NRCM Rising team. She holds a Master's degree in Ecological Design from The Conway School as well as a Master's in Environmental Studies from Antioch University New England. Kelly currently works as a freelance grant writer and volunteers for local organizations such as the Wild Seed Project and the Fort Williams Park Foundation, both of which work to restore native plants to Maine habitats. Kelly is excited to work with the NRCM Rising team because of her great love of all things outside and her passion to create a "Local Ecosystem movement" where citizens understand the ecology around them and how it shapes their lives. She strongly believes in the great work NRCM does and is excited to get more people involved with protecting their environment. Kelly also plans and designs native plant gardens, hikes, runs, rock climbs, reads, sews, and appreciates life with her husband and dog in South Portland.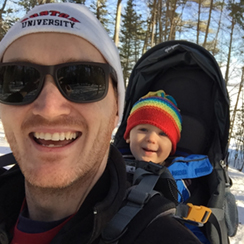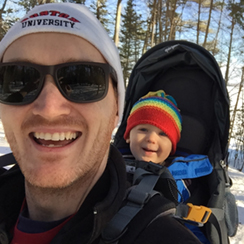 Mike Williams, Cumberland
Mike is the Vice President of Strategic Development for the BlueGreen Alliance. The BlueGreen Alliance unites America's largest labor unions and its most influential environmental organizations to identify ways today's environmental challenges can create and maintain quality jobs and build a stronger, fairer economy. Mike has helped advance the BlueGreen Alliance's positions on energy and climate change, renewables, manufacturing, energy efficiency, and green schools. Prior to joining the BlueGreen Alliance, he worked for the National Wildlife Federation and as Congressman Lloyd Doggett's (D-TX) legislative assistant, handling energy, environmental, and transportation issues. Mike graduated from George Washington University with an M.A. in public policy, concentrating in environmental policy. He received his B.A. from Boston University, where he studied philosophy and music. Mike enjoys hiking, kayaking, and being in the woods. He moved to Maine in June 2014 with his wife and children. Mike has a deep commitment to getting people engaged in efforts that both energize their support for the environment and just simply gets them outdoors. NRCM Rising embodies that spirit.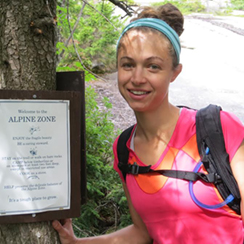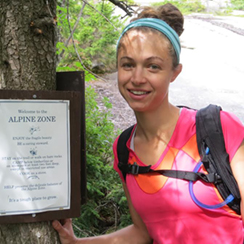 Sadie Lloyd, Waldo
Along with her environmental ethic and advocacy, Sadie brings to the Leadership Team her experience in city planning, fundraising, marketing, and communications. After graduating with honors from Lesley University, Sadie attended the Muskie School of Public Service where she earned her Master's in Community Planning and Development. She lives in Waldo and works in Belfast as the City Planner and staffs the City Energy Committee and Pedestrian, Biking, and Hiking Committee. Sadie is excited to be part of the NRCM Rising Leadership Team because she is passionate about protecting the natural beauty of Maine and knows that engaging younger generations is key to keeping NRCM's important work alive in an aging state. Exploring new, wild places is Sadie's favorite part about life in Maine and she's eager to help ensure these places, as well as clean air, water, and healthy wildlife are protected.
Sahan T. M. Dissanayake, Waterville
Sahan is an Assistant Professor of Economics and a Research Fellow at the Goldfarb Center for Public Affairs at Colby College. Sahan's research centers on ecosystem services and land conservation and uses surveys to understand preferences and mathematical models of land conservation. He has studied the programs to prevent deforestation in Nepal and Ethiopia, traditional irrigation systems in Sri Lanka, grassland restoration in Illinois, coral reefs in Okinawa, seafood Eco-labeling in New England, the new National Monument in Maine and improved stove adoption in Ethiopia. His has also worked on species conservation on U.S. military installations. More information about Sahan's work is available at http://sahan.org/. Sahan received a Ph.D. in Agricultural and Applied Economics and a M.Sc. in Applied Mathematics from the University of Illinois and a B.A. in Computer Science and Economics from Ohio Wesleyan University. Sahan hails from Kandy, Sri Lanka, and likes to read and cook (and eat) in his spare time.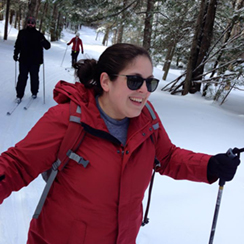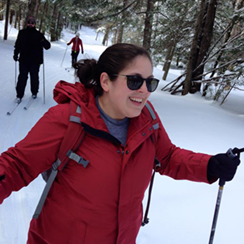 Sarah Short, Portland
Sarah is the Development Director for the Senator George Mitchell Scholarship Research Institute, which works to increase the likelihood that young people from every community in Maine will aspire to, pursue, and achieved a college education. Prior to joining the Mitchell Institute, Sarah worked for the Union of Concerned Scientists. Sarah received a B.A. in computer science from Amherst College, and later went on to earn her MBA in nonprofit management at the Yale School of Management. Growing up in Chapel Hill, North Carolina, Sarah would escape the August heat every summer on Mount Desert Island. She is excited to be part of the NRCM Rising Leadership Team because she wants more people in our generation to know about the good work NRCM does and is excited to meet others across the state. Sarah moved to Portland in 2013 and enjoys kayaking from East End Beach. She also enjoys sailing, gardening, and snowshoeing.
NRCM Rising Leadership Team Alumni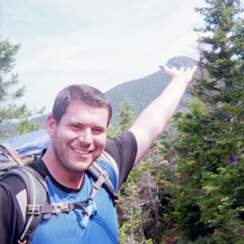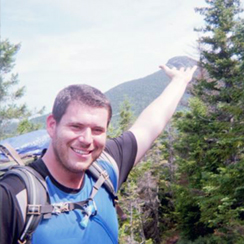 Rob Ellis, Waterville
2016 Leadership Team
Rob is a solar design specialist at Revision Energy in Liberty, Maine's largest residential and commercial solar panel installer. At Revision, Rob helps homeowners in Midcoast and Central Maine understand the potential of solar energy and the options available for their homes. Prior to joining the Revision team, Rob worked as an Americorp VISTA in Portland helping homeowners and renters winterize their homes. This experience quickly progressed to energy auditing; he attained certification through Building Performance Institute (BPI) and was a registered vendor of Efficiency Maine. In 2011, Rob successfully thru-hiked the entire Appalachian Trail starting in Georgia and walking home to Maine. Rob graduated from the University of Southern Maine in 2009 with a degree in political science. He moved to Waterville in 2013 and enjoys hiking, camping, biking, and skiing, and is addicted to NPR's "Planet Money."