A New Planning Process for the Moosehead Lake Region
In 2020, the Land Use Planning Commission (LUPC) kicked off a new regional planning process for the Moosehead Lake region. A full diversity of stakeholder and community input will be an essential part of determining the future of this critically important region of Maine. NRCM will be tracking the process closely at every step to ensure the right balance of conservation and sustainable, appropriately located development.
Protecting the Nature of the Moosehead Region
The Moosehead Lake region is a place of spectacular beauty that supports Maine's vibrant tourism and outdoor recreation economies as well as the forest products industry. With hiking, boating, fishing, and ATVing in the summer and snowmobiling, cross-country skiing, and ice fishing in the winter—with the proximity of the expansive North Woods at its doorstep—Moosehead  is exceedingly rich in outdoor opportunities.
Wilderness guides and traditional sporting camps take clients to explore this region known for breathtaking wildlife encounters and exceptional fishing and hunting opportunities. A popular spot for retirees and vacationers seeking respite, Moosehead Lake is a draw for its natural beauty, close-knit community, and slow pace. Any land use and planning decisions in the region will have a lasting impact on the state and the local economy for years to come.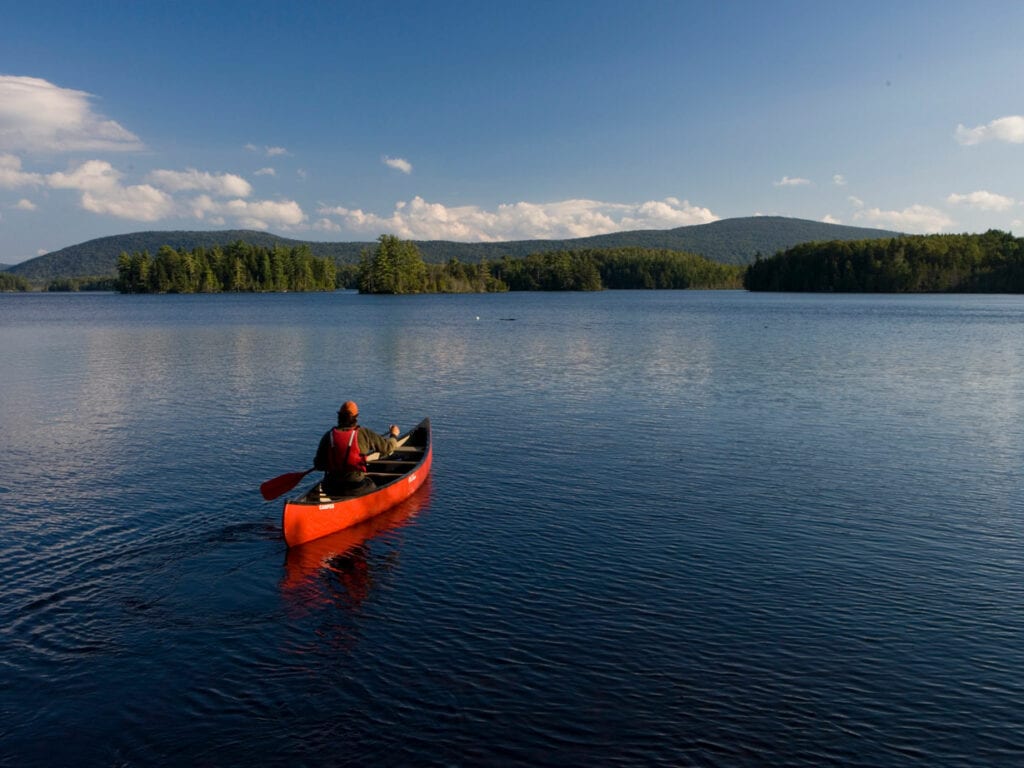 History of Proposed Development Around Moosehead Lake
In 2009, after years of intense debate and hard-fought advocacy on behalf of NRCM and local residents, the LUPC approved Plum Creek's Concept Plan to develop nearly 17,000 acres around Moosehead Lake. Though the Concept Plan, which came under Weyerhaeuser's ownership when the company bought Plum Creek in 2016, was concerning because of the size, scope, and location of development, it was an improvement over Plum Creek's original proposal because of the opposition raised by NRCM staff experts and supporters and by the Moosehead community.
In the years since the Concept Plan was approved, there has been no development, but more than 360,000 acres of additional habitat are now protected from most development in perpetuity by easements. Almost 30,000 acres were transferred to the Appalachian Mountain Club and the Bureau of Parks and Lands for permanent protection. To mitigate environmental impacts of development, Plum Creek/Weyerhaeuser also paid $1 million to the Bureau of Parks and Lands for the construction and maintenance of hiking trails.
Weyerhaeuser announced in September 2019 that it intended to "terminate" the Concept Plan. That decision was made official by the LUPC in July 2020. Although Weyerhaeuser still owns the land, the LUPC is required, according to the Comprehensive Land Use Plan, to designate appropriate replacement zoning since the Concept Plan was terminated. The LUPC is now gathering community and stakeholder input to map out potential future zoning scenarios.
NRCM is cautiously optimistic that through this new planning process the LUPC will protect critical wildlife habitat around the lake and make smart development decisions that will enhance the area's recreation and tourism-based economy without sacrificing its scenic beauty and ecological importance.
Updates on the New Moosehead Regional Planning Process
When the Concept Plan was terminated in July 2020, most of the land previously designated for development temporarily became a General Management (M-GN) subdistrict, which is intended for forestry and agricultural activities but permits some commercial and residential development. The exceptions are a few pockets of protection subdistrict and three acres designated for a camp that is zoned differently.
While the new regional planning process plays out, Weyerhaeuser has committed to not clear-cut timberlands, develop, or submit any development proposals until December 31, 2022 or until the regional planning process concludes, whichever comes first. The end result of the planning process is most likely to be rezoning.
How You Can Get Involved
Go to the LUPC's new website and submit comments on the process and timeline the agency has mapped out. Explain how you'd like to see the region look in the future. I prepared some suggested message points below to make writing your comments easier.
If you live near or visit Moosehead Lake, talk to your friends and family about the process, and explain why it's so important. Encourage them to stay informed and engaged by signing up for our email updates or visiting our website.
Send us your photos of the Moosehead Lake region. We love seeing them!
NRCM's Priorities for the Process
Although NRCM's priorities are evolving as we continue to speak with local residents, business owners, and other stakeholders, we strongly believe that to spoil the character of the region, its natural beauty, and recreation opportunities with sprawling or misplaced development would be detrimental to the  way of life and long-term economic viability of the area.
Economic growth in the region should be focused on strengthening existing communities and business areas, not on sprawling development that only profits out-of-state corporations with no stake in the future wellbeing of Maine. Well planned new construction and development concentrated around existing development in Greenville and Rockwood could provide accessible new jobs and services and affordable housing for the local community. As always, we'll be pushing for strong environmental protections and compatible development that benefits Maine's land and people, and that builds towards a vibrant economy decades into the future, especially with climate change impacts and stress from increased real estate interest in mind.