The Moosehead Lake region is one of Maine's greatest gems. It is well known and loved for its stunning vistas, endless recreational opportunities, wildlife habitat for iconic and threatened species, close-knit community, and rich cultural history.
The centerpiece is Moosehead Lake, Maine's largest lake, stretching nearly 40 miles long and 12 miles wide. For thousands of years the Abenaki people – a tribe that lives on today – inhabited the area, summering at Mt. Kineo and collecting rhyolite for toolmaking. In more recent decades, logging was the dominant industry in the region, but as land has been sold off, the threat of development has increased on former timberlands. Due to the advocacy of the Natural Resources Council of Maine (NRCM) and committed community members, attempts thus far to heavily and inappropriately develop this special part of the North Maine Woods have been thwarted, allowing the outdoor recreation economy to blossom while protecting the extraordinary natural character of the Moosehead Lake region.  
Now, as the state faces increasing development threats and rising real estate demand, Maine's Land Use Planning Commission (LUPC) is kicking off a new planning process for the Mooosehead region, and NRCM will be playing a watchdog role every step of the way. 
Take a tour of the Moosehead region through the lens of local photographers below, and be sure to join NRCM in participating in LUPC's planning process to protect what makes this such a special place to live, work, and play. —Melanie Sturm, NRCM Forests & Wildlife Director
Big Spencer Mountain
Reaching 3,230 feet at its peak, Big Spencer Mountain towers over Spencer Bay on Moosehead Lake's eastern shore. It is part of a 4,244-acre parcel managed by the Bureau of Parks and Lands as an ecological reserve. Hiking to the summit provides panoramic views of the surrounding expansive North Woods, including Katahdin in Baxter State Park.
Cross-country Skiing
Each season in the Moosehead region has its high points, and winter has many great things to offer those willing to embrace  cold, snowy weather. Among the favorite activities: plenty of cross–country skiing both on and off groomed trails,  including venturing onto the frozen lake. It may be wicked cold, but you'll be rewarded with perspectives of the region you can only get in wintertime.
Blair Hill Inn
There are beautiful views everywhere in the region, but the ones looking out across Moosehead Lake from the Blair Hill Inn are hard to beat. The inn, built in 1891 and established as a hotel about 23 years ago by Dan and Ruth McLaughlin, is a boutique hotel with 10 guest rooms. It offers premium amenities, such as electric vehicle charging stations, a farm-to-table restaurant, and many acres of hiking trails. 
Spencer Pond Camps
An institution in the Moosehead Lake region, Spencer Pond Camps features rustic, off-the-grid cabins established in 1901. They give visitors easy access to an abundance of fishing, hiking, bird watching, mountain biking, and many other activities. Check them out for a true, traditional Maine sporting camp vacation. If you're a NRCM member, you can even receive a discount on your stay!
M
oose
As the name implies, the Moosehead Lake region is a good place to spot a moose. However, this symbolic Maine species is threatened by climate change and, more specifically, winter ticks. Due to milder winters, winter ticks, which parasitize moose, are increasingly common and are seriously threatening moose survival. Management measures, such as experimenting with thinning the herd to reduce the number of parasites, are being taken by the Maine Department of Inland Fisheries and Wildlife to protect the moose population.
Moose Mountain Ski Area
Big changes are on the horizon for the ski resort at Moose Mountain on the west side of Moosehead Lake. The property has changed hands over the years and most recenlty has gone through a period of dereliction, though a local nonprofit has kept the bottom half of the mountain open for skiing. Now a new developer owns the land and is proposing major resort renovations that, if done in a way that respects the region's natural and scenic character, could help revitalize the local economy with new attractions, housing, and jobs. 
Downtown Greenville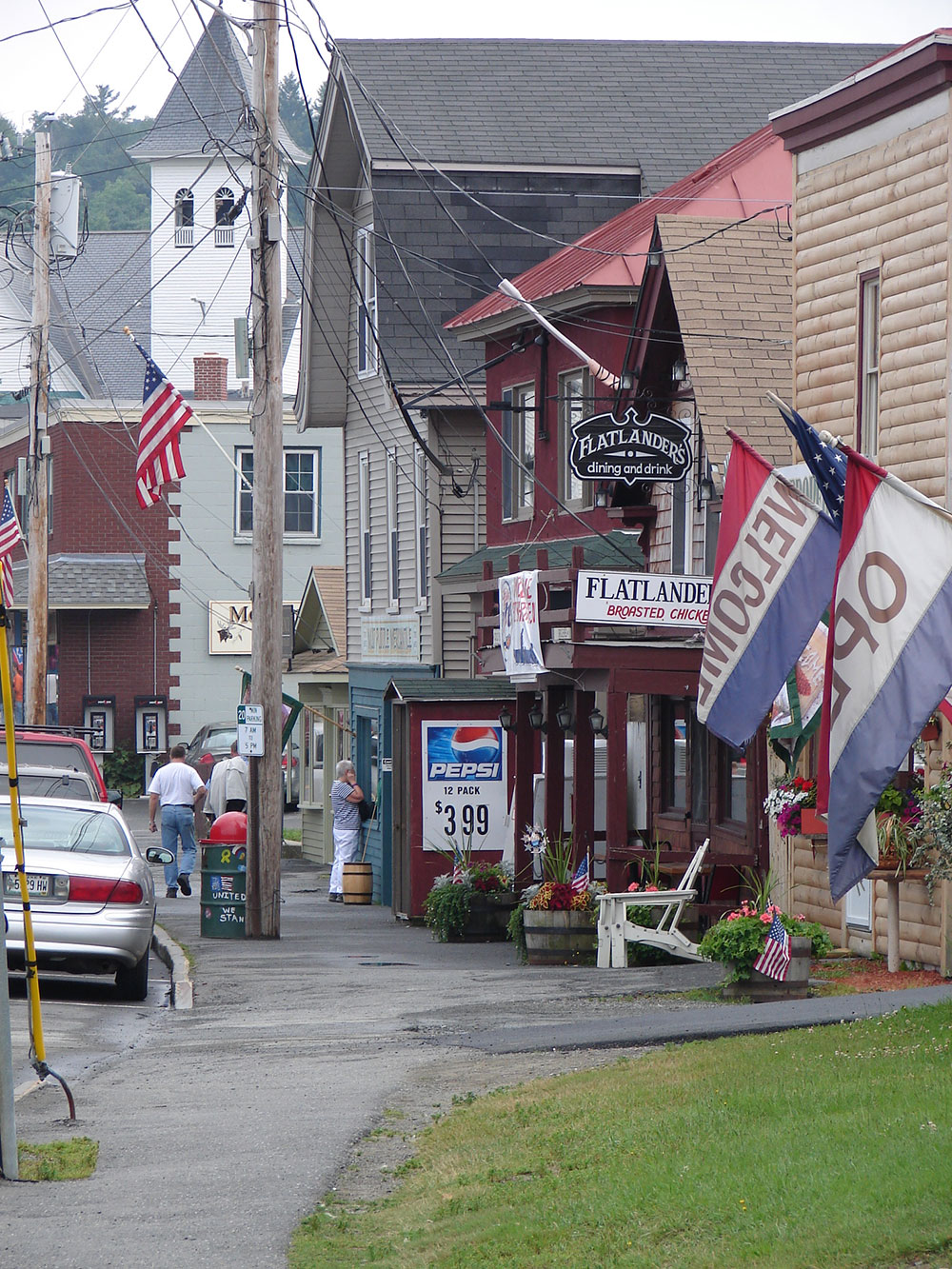 If you want to step back in time, visit the Kampkamp Store in downtown Greenville. The building has been around for well over a century and has some unique items and antiques for sale. It's a short jaunt away from other gifts shops, outfitters, an ice cream shop, drug store, and a couple of restaurants – a section of town that is quite busy over the Fourth of July!
Fly Fishing
The Moosehead Lake region – including Indian Pond, Brassua Lake, and Wilson Pond, as well as many other ponds and thousands of miles of streams and rivers – has some of the best fishing in Maine. With ample wild native brook trout, landlocked salmon, and smallmouth bass, it is safe to say this is a freshwater angler's paradise.
SS Katahdin
The SS Katahdin is one of the most popular tourist attractions in the region. Now docked in Greenville, the only remaining steamboat on the lake, which participated in the nation's last log drive in 1975, now offers a wide variety of cruises. Check out the Moosehead Marine Museum inside the ticket office before boarding or watch as nearby sea planes take off for aerial tours of the region.
Gulf Hagas
With awesome waterfalls and gorgeous gorges, Gulf Hagas, located along the Appalachian Trail corridor, is a must-visit in any season. Gulf Hagas is also habitat for native eastern brook trout and Atlantic salmon. Because of habitat restoration efforts by the Appalachian Mountain Club, these fish species are able to access more of their historic range that had been blocked off for decades by dams and other barriers. Funding from the Land for Maine's Future program helped the Bureau of Parks and Lands purchase the land and a working forest easement on the Gulf Hagas unit in 2016.
Paddling
Unlike many other large lakes in the Northeast, Moosehead is relatively undeveloped partly because of conservation easements on much of the shoreline. Though it's a big lake, there are several inlets, islands, and campsites that are perfect for a picnic and to avoid summertime boat traffic while paddling. The Northern Forest Canoe Trail runs through Brassua and Moosehead Lakes before turning north, but enjoyable paddling opportunities can be found in smaller waterbodies and waterways in the region, too.
Mount Kineo
One of the lake's most striking landscape features, Mount Kineo rises from the middle of Moosehead Lake. Funding from the Land for Maine's Future program allowed the State to purchase land on the peninsula in 1990 and create a State Park. You can hike to Mount Kineo's peak to check out the 360-degree views and dramatic 700-foot tall cliffs — and then cross it off your list if you're hiking all six peaks of the Moosehead Pinnacle Pursuit. 
If you are planning to spend time hiking Mt. Kineo, check out The Birches Resort as a place to stay nearby. If you are an NRCM member, you can receive a discount on your stay. Learn how — and see a list of other participating sporting camps and guide services.
Snowmobiling
Snowmobiling is an increasingly popular sport across Maine, and it has a strong following in the Moosehead region thanks to access to a number of different trails. Though a fun time to be sure, snowmobiles are also better than a car when trying to get into town after a heavy snowfall.
Lily Bay
A peninsula on the southern end of Lily Bay hosts the beautiful, 925-acre Lily Bay State Park. It includes two campgrounds tucked into the woods, two boat launch sites, and a small, sandy beach that's great for swimming. The park is incredibly peaceful, and it's likely you'll see some wildlife here.
Monson
When you're heading north to Greenville on Route 6, you'll drive through the Town of Monson. "On the shores of Lake Hebron," Monson is a small, rural community with charm that makes it standout:  It has Monson Art Gallery, the office for the Appalachian Trail, a fine dining restaurant, an office for the Appalachian Trail Conservancy, the renovated General Store with a deli, and a Swedish Lutheran church among, other historical features. This drone shot was taken by local photographer and Monson resident Isaac Crabtree, owner of North Woods Aerial.