You can make a difference for Maine's environment, for your budget, and for the people you care about, by making even small changes in your day-to-day life. NRCM can help!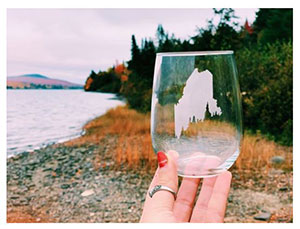 Purchase Maine-inspired gifts in support of NRCM. Reclaimed Maine Co. donates to NRCM's work 10% of sales from their beautiful Pine Tree Coast collection—wine glasses, cards, and more. Visit them online at https://reclaimedmaineco.com. Thanks, Reclaimed Maine, for your support!
Make the safest choices available for:
Reduce Your Use Learn simple ways to change daily habits that will reduce food and plastic waste in your home and save you money, too. This brochure has tips for ways to reduce your footprint on the environment.
Bright Ideas: Tips for Home Energy Savings Looking for ways to cut your monthly energy bills? Reduce pollution? How about an investment return that beats the stock market? NRCM has tips that can help you do all of this and more! And it's all good for Maine's environment.
Tissue-buying Guide Confused about which tissue is best for the environment? Here is a guide to help you make the right choice for the environment and your family!
Chlorine-free Paper Buying chlorine-free paper can make a big difference for clean and healthy rivers. NRCM can help you or your business make the right choice based on up-to-date information about chlorine-free paper.
Clean Housekeeping: Toxic-free Solutions The best products to buy for safe and healthy housecleaning are not harsh chemicals but items you probably already have in your cupboards—baking soda, vinegar, olive oil, and more. Keep your family safe by cleaning your home with NRCM's toxic-free solutions.
Stop Unwanted Junk Mail Are you sick and tired of receiving junk mail? Junk mail wastes paper, energy, and your time. You can do something about it! Learn about eight easy steps to cut down on the junk mail.
Certified Forest Products Not all wood products are the same: some are the result of harmful forest practices. Find out which products to buy and make a difference for Maine's environment!
Let us help you with some fun, creative gift ideas and green holiday tips that help you support Maine's environment while celebrating!