This holiday season, give gifts that help protect the nature of Maine! A few suggestions from the Natural Resources Council of Maine…
Nature of Maine Calendars Make Great Gifts! Wondering what to get that special someone who loves Maine this holiday season? Our popular 2016 Nature of Maine calendar is the answer! Make it extra special with a gift membership to the Natural Resources Council of Maine, so your family member, friend, or coworker will receive our newsletter and other publications, invitations to events, and much more. Memberships start at $35. Celebrate Maine's environment this holiday season – and every day! Contact Joyce at (207) 430-0128 with your calendar request and gift membership.
Share the NRCM Spirit!

NRCM mugs (filled with packets of hot chocolate or organic chocolates!), caps, and tote bags are a practical, comfortable, way to for you (and your loved ones) to show your love for Maine's environment. Be sure to add them on your own holiday wish list!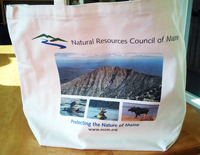 Give Reusable Gifts: Tote bags (like NRCM's) and other reusable gifts keep on giving year-round. Read more about reusable bags from NRCM Sustainable Maine Advocate Sarah Lakeman.
Don't Buy Battery-operated Toys and Gifts: If you buy manufactured gifts, remember that the energy used to produce the battery is 50 times greater than the energy you will get from it. And, batteries contain mercury and other toxic chemicals.
Want to make purchases that are better for the environment?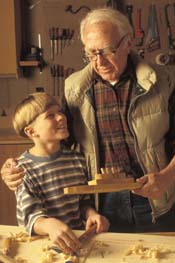 Stay Local for Food and Gifts
Local agriculture requires less fossil-fueled transportation, and supports your local economy. Make it organic whenever possible. Visit Get Real, Get Maine to find Maine food and farms. Locally made gifts also require less energy to transport and help support Maine communities. Visit craft fairs and other nearby outlets for locally made products.
Give from the Heart and Hands
Knitted items, baked goods, and other hand-made gifts come from the heart and are better for the environment than most store-bought items.
The Gift of Time
Give "gift certificates" that offer your time and service—babysitting, making dinner, doing chores, and walking the dog are a low-impact way to show you care.
Other Ideas to Help Make Your Holidays Green
Light Your Tree with L-E-Ds
If you can't say no to holiday lights, use LEDs ("light-emitting diodes"). They are widely available now and use 90% less energy than conventional lights saving your family up to $50!)
Get a Tree that's Pesticide-Free
Artificial trees require more energy and petroleum-based materials to make. Most trees sold at lots come from tree farms so they don't harm forests and they support the local economy. Some growers use pesticides and other chemicals, but a number of Maine tree farms sell pesticide-free trees – ask your local seller or search for an organic tree farm near you.
Use Reusable: Planning a house full of guests for the holidays? Don't be tempted to use disposable utensils. Reusable is better for the planet – and you'll feel better afterwards!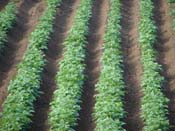 Buy Locally Grown Foods. Local agriculture requires less fossil fuel-based fertilizers, reduces transportation, and supports your local economy. Make it organic whenever possible!
Think Ahead and Stock Up: Remember to add food scraps to your compost pile for use in the garden come spring! Get ready for those Holiday leftovers with plenty of earth-friendly reusable containers.
Reuse Boxes and Gift Bags to save money and paper. And last year's cards make nice gift tags!
Pool Up The winter holidays are a busy time for travel. Carpooling or using public transportation may be faster—and it's good for the environment.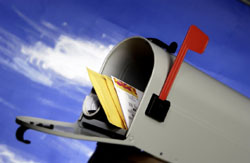 Reduce Your Junk Mail in Anticipation of the Holiday Catalogue Season. Simply follow these steps to do it yourself or visit www.41pounds.org and pay them to help you reduce junk mail for everyone receiving mail at your address. You can also visit www.catalogchoice.org, a free service that helps you eliminate unwanted catalogues. Better yet – why not give this as a gift? And to get on the national Do Not Mail registry, visit www.directmail.com/directory/mail_preference/faq.aspx.
Plan an Outing Together: If you're tired of stacking wood you could offer to plan a fun event or outing instead: cook and eat dinner together; buy tickets for a concert, play, sports event, film festival, or lecture series; go on a hike or other outdoor adventure. You take care of the details, and your friends and family will enjoy the rest!
Learn more about buying green during the holiday season and all year round.
To get more tips, listen to WCLZ 98.9 radio for NRCM's Maine Green Minute every day, several times a day. You can also subscribe to our RSS feed to get a Tip of the Day every day sent right to your computer or phone.
Happy holidays from all of us at the Natural Resources Council of Maine! Please be sure to make time to enjoy the outdoors and all that winter in Maine has to offer you, your family and your friends.
If you have gift ideas and tips you'd like share, send them to us at nrcm@nrcm.org and we'll post them on NRCM's blog.