Time to start putting together your summer reading list, and NRCM members can help! Featured here are books published by our members covering a range of genres, from essay and memoir to poetry and fiction. There are also a few field guides to help you better understand—and find!—the nature of Maine. If you're an author of a book about Maine or related to environmental issues, you are welcome to send them along for consideration for next year's Explore Maine. —Allison Childs Wells, Editor
Evergreens, by John Holyoke (Islandport Press, 2019) Reading this book was pure delight. Holyoke's conversational style that many know from his outdoor column in the Bangor Daily News kept me turning the page even though the succinct stories make it easy to come back later when life's distractions let up. In this anthology of newspaper articles by the author, Holyoke introduces readers to the likes of Jim Carter, a North Woods guide; Alvin Theriault, a master fly maker; Lisa Bates, a bear researcher who survived a helicopter crash, and so many more. While many writers can wax poetic about nature, Holyoke weaves human interest into each piece and honors some of the people who have kept Maine's outdoor traditions alive. His respect for people extends to his deep-rooted appreciation for Maine's great outdoors and its culture of hunting and angling. I wouldn't be surprised if Holyoke was responsible for getting a few dozen people out to camp, fish, and hunt because the retellings of  his own experiences are so self-deprecating and charming. Holyoke's stories range from heartwarming, comical, and nostalgic, to reverent, and are often all of those at once without losing his telltale voice. This book may not have the fanfare of bestsellers, but I encourage everyone who lives or vacations in Maine and loves the outdoors to pick up a copy of this very relatable and laugh-out-loud funny book. —Melanie Sturm, NRCM Forests & Wildlife Director
Wild Critters of Maine: Every Day Encounters, by Tom Seymour, with photos by Dave Small (Just Write Books, LLC, 2019) Dave Small is a regular contributor to NRCM's My Maine This Week online photo feature, and his photography often graces the pages of our publications, including our Nature of Maine calendar. While it is a joy to see that his photos have made their way into a book, it is no surprise. They perfectly complement the wildlife featured in Wild Critters. Tom Seymour writes about most of Maine's iconic species—moose, deer, bear, whales, bobcats, fish, and birds. Finding lesser known critters was a delight: rails, water bugs, earwigs, crayfish (of which he says, "I don't mind dropping live crayfish into a pot of boiling water, but sticking a hook through one bothers me.").  Seymour's got a way with words ("…it made me jump in bed like a cold frog on a hot rock"), and Small's got a talent for photos. His bird and wildlife portraits brighten the page not only with color but with the wild, often inquisitive nature of so many creatures that make Maine special. —Allison Wells, NRCM Senior Director, Public Affairs & Communications
A Senator's Eye: Celebrating Maine, Washington, and the Joys of Scraping the Windshield, by Senator Angus S. King, Jr. (Islandport Press, 2018) This book by Senator Angus King is a delightful wander through the Maine countryside and the DC urban landscape. The Senator takes in his surroundings and all of  the people in them with his cell phone camera in hand. His love of Maine people, critters, and landscape is depicted in the photos, and his optimism and appreciation for others is ever-inspiring. I learned things about his life, his heart, and about the familiar places I love, too. I have visited with Angus in DC almost annually, riding the subways and gawking at the stunning architecture, just as he describes. He greets me at his Senate office like an old friend, and I can hear his familiar voice as I read his book: funny, humble, confident, and personal. Angus has a deep respect for Maine and for the nation. Many who rise from Maine to take up public service feel the same way. Congress should be inspired by this integrity and dedication. King notes that he has not given up the effort to establish "a more perfect union." And we never give up on Angus or Maine. Senator, thanks for sharing this bit of yourself and your journey to the U.S. Senate with all of us. —Lisa Pohlmann, NRCM CEO
One Last Lie, by Paul Doiron (Minotaur Books, 2020) I have loved each of Paul Doiron's books for many reasons. Being a native Mainer, I love his authentic characters. I love also how he describes places in Maine. In this time of staying at home, I could almost smell the forests and hear the bird songs in his nature descriptions. One Last Lie continues the story of Mike Bowditch, now a Maine Warden Service investigator. At the beginning of the story, Mike is in Florida interviewing a prospective pilot for the warden service and sees his old flame, Staci Stevens, whom he joins on a python hunt in the Everglades. He returns to Maine only to be called upon by Ora Stevens to search for her husband Charley, Mike's surrogate father, who has mysteriously left home. From there the plot takes many twists and turns in rapid succession, arriving at an ending I didn't see coming, which for me is the mark of a good mystery. –Betty Hartley, NRCM Member
In Maine, by John Cole (Islandport Press, 1974, 2001) In this wonderful collection of essays, John Cole reveals his mastery of observing the natural world. The renowned journalist, author, amateur naturalist, co-founder of Maine Times, and recipient of NRCM's 2002 Lifetime Achievement Award, John rejoiced in watching and describing the wildlife of Maine. He especially loved fish. "I watch fish the way a religious zealot goes to church," John wrote, in a delightful piece about the spring return of "perhaps my oldest and most important friend"–the striped bass. John's essays about Maine's seasons capture the essence of living in Maine, including his description of the "false starts" of spring, winter as a time that Mainers "can enjoy as few others can," and "moments in Maine's Septembers when time stops." In Maine shows that John Cole possessed what Rachel Carson referred to as "a sense of wonder so indestructible that it would last throughout life." In watching an Atlantic salmon, John felt that he was "one of the luckiest men alive." John died in 2003, 45 years after moving here for a job with the Brunswick Record. I had the good fortune of interviewing John at his home in Brunswick, which, after his death, was torn down and allowed to turn back into a field. The house is gone, but nature lives on, as does the power of John's essays. —Pete Didisheim, NRCM Senior Director of Advocacy
Katahdin: An Historic Journey, by John W. Neff (Appalachian Mountain Club Books, 2006) In this book, with forwards and remarks by both Buzz Caverly, retired Director of Baxter State Park, and former Governor John Baldacci, John Neff shares the history of this "mountain of the people of Maine," as Governor Percival Baxter called it. John thoroughly researched the history of Katahdin and spoke with people from all walks of life who share his deep love and reverence for this sacred place. It is clear that John, who helped to found Friends of Baxter State Park, has a profound connection to Katahdin. He wants to share the stories and experiences of the mountain so that others, even those of us who have never climbed it, understand its importance and will help ensure its protection for generations to come. Whether you have hiked Katahdin several times or have never visited Maine's North Woods, you will enjoy this book and fall in love with Katahdin as seen through the eyes of those who have worked so hard to protect it. —Beth Comeau, NRCM Communications Manager
Rinn's Crossing, by Russell Heath (Kőehler Books, 2020) NRCM member Russell Heath drew on his years as an environmental advocate in Alaska for his latest book. Set in the forests, bays, and State House of our wildest state, Rinn's Crossing tells the story of three long-time friends who have grown apart. They are drawn back into each other's lives when one commits a crime, another is accused of it, and the third is a victim of it. Heath also gives us a bad piece of legislation, one designed to further the ambitions of one politician and the grievances of many others. The characters rise to the  author's challenge, revealing their loyalties, secrets, and vulnerabilities as they grapple with the fallout of the crime while still working to bend the legislation to their needs. Alaska's political landscape is as extreme as its geographical one, and the author guides you through both in a way that makes it clear that he knows his stuff. Rinn's Crossing is a journey, and I was happy to take it with Heath and his characters. —Gretta Wark, NRCM Senior Director of Philanthropy
Fighting Pollution and Climate Change: an EPA Veteran's Guide to Join in Saving Our Life on Planet Earth, by Richard Emory, Jr. (BookLocker.com, 2020) Written both as a historic record and "how to" guide aimed at inspiring changemakers, this unvarnished and timely depiction of the US Environmental Protection Agency (EPA) from 1980 to today, has something to offer readers of any age or ilk. Emory writes candidly about his three-decade career with the US EPA. His approach tells what it is like to confront the issues facing our planet day in and day out. As Emory recounts events of his sometimes tumultuous tenure, he pulls back the curtain to expose the inner workings of the federal government and the EPA. He dives into the data—historic indicators, scientific and economic data, and policy choices—as well as humorously illustrating his forays abroad and his courtroom adventures. He tells the story of rampant pollution and how the US has fallen so far behind in its response to climate change and transition to clean energy. This absorbing memoir from a consummate observer and true insider illustrates how far the US has fallen from its position of leadership on environmental issues without losing hope. Emory has faith in forthcoming environmentalists and his solutions-oriented presentation of the facts makes complex, cross-sector challenges feel within our grasp. —Fiona Gordon, Leadership Giving Director
Life List: Field Notes of a Maine Birdwatcher, by Ken Janes (North Country Press, 2019) The lush and stunning photographic portrait of a Great Blue Heron on the cover of Ken Janes' book could be enjoyed by itself. But to stop there would be to deprive oneself of a personal journey through the eyes of a person whose love of the natural world and the birds that inhabit it shines through each rich and evocative image he has captured. The idea of presenting his beautiful photographs of birds from the southern Maine coast as diary entries through a year, complete with temperature and weather descriptions along with short natural history notes, makes for a charming and fun read. For those who have experienced coastal Maine, the images provide a pleasant revisit to special times and places. It's impossible to pick a favorite among this treasure trove that includes impossibly sharp feather-by-feather details of the blackmasked Common Yellowthroat and the gleaming white eye, clown-like bill, and contrasting black head of a Surf Scoter. The wintery gray and white flock of Purple Sandpipers against the surf at a rocky ledge is amazing. Clearly these are photographs made by someone with a deep care and passion for the world he shares with birds and nature. —Jeff Wells, NRCM Member
The Rag Doll Gift, by Karen Richards Toothaker (In Your Heart Books, 2018) Kimberly is nearly six years old and anticipating the rag doll that her Gran will make for her birthday. Being the youngest of 10 cousins, Kim is the only one without a doll yet and can barely contain her excitement for the day she receives hers. Asking her Gran about it while they spend time together, Gran responds, "Your doll will have an extra sweet, extra special secret you Honeybee-Kimbee you!" When Gran dies unexpectedly before Kim's birthday, along with the sadness of losing her loving Gran, Kim is afraid that she will never receive her rag doll to learn its special secret. This is a wonderfully written book that deals with the grief of losing a grandparent but also the hope of knowing they will always be with us in our hearts. The end of this book includes a list of ways for grandparents and their grandchildren (or parents and children) to spend time together, making special memories. —BC
Northern Maine with Paul Cyr, by Paul Cyr (Moshermultimedia.com, 2018) Anyone whose heart is in northern Maine, or who enjoys gazing at photos of this special region is likely already a fan of  Paul Cyr's photography. His eye captures so many elements of the area, from the majestic (stunning face-on close-ups of bull moose) to the mysterious (silhouettes of trees and houses against a backdrop of northern lights) to the whimsical (the Boy in the Boot statue in Houlton). Even his dad makes an appearance, smiling cheerfully as he clears a snow-laden roof. Wildlife, working farms, airplanes, snowmobiles, dog sleds, Amish communities—life in Aroostook County leaps off the pages. No wonder Cyr's work has appeared in so many publications—local newspapers, the Bangor Daily News, Yankee, Down East, "Bill Green's Maine" television show, and, as our members know well, NRCM's own Nature of Maine calendar! Northern Maine follows several other Paul Cyr books. I'm already looking forward to the next!—AW
Secrets Haunt the Lobsters' Sea, by Charlotte D'Avanzo (Maine Authors Publishing, 2018) The award-winning author of the Marah Tusconi Mystery Series is a marine ecologist and serious sea  kayaker, and she brings her knowledge of the ocean to bear on her writing. Details like "I'd looked at NOAA's wind and wave data for Macomek [Island] waters and knew Abby wasn't exaggerating. I resolved to hug the shore" help ground the story in authenticity, along with descriptions of fictional Macomek Island, references to climate change research, the Gulf of Maine, and so forth. But first and foremost, this is a murder mystery, and solving it takes the heroine into the world of local island culture that is the stuff of folklore. The narrative twists and turns, with one of the suspects her own cousin. Readers who love a good mystery novel and have a fondness for the Maine coast will appreciate this book and will zip through it quickly.—AW
How to Build a Heart, by Maria Padian (Algonquin Young Readers, 2020) Izzy's life isn't easy. She and her six-year-old brother Jack are being raised by their widowed mom, who they call Mami, on her  small income after Izzy's father was killed in Iraq 10 years earlier. Much of that time has been spent moving from place to place. When we first meet Izzy, her best friend Roz knows all about her life, but very few others do. Izzy is very private and doesn't want the kids at her school to know her story, as she is afraid they will judge her. Then Izzy meets Sam, a popular boy from the local high school. They meet, fall for each other, and Izzy does all she can to hide her truth as Sam is from a wealthy family and she is afraid they won't accept her. The truth comes out as her family is accepted for a new Habitat for Humanity house being built…where else… just down the road from Sam's home. This is a wonderful read for teens and young adults.—BC
Ripple Effect, by Carol Bass, editor (Maine Authors Publishing, 2018) This book is a difficult one to pick up, and that is because it is nearly impossible to put down. It is, essentially, a passion for water expressed in beloved literary formats: Poetry. Art. Short essays. Bible verses (Psalm 46:4, "There is a river, the streams whereof make glad the City of God.") There's a list of waterways in a single-spaced line extending over five pages that has a mesmerizing effect as you read it. The compilation includes the work of marquee names like Terry Tempest Williams, Billy Collins, Lucille Clifton, and Langston Hughes as well as those more associated with Maine such as our poet laureate Stuart Kestenbaum and painter Marsha Donahue. The pieces showcase water everywhere, and Maine is aptly represented; one piece of artwork, "Revisiting the Kennebec River," by Greta Van Campen, lives up to its name, with bold blues and black contrasting with pale pinks and yellows—it's not how I typically think of the Kennebec, but I was enamored. The photos, too, all have something to say—I paused for quite some time on Dana Beach's photo of a Prothonotary Warbler, a bird of southern swamp edges, for the sheer reason that the importance of water to this species is only suggested, making the message that much more powerful. Be sure to read the introduction, a caution about the dangers of "engineering" rivers and a plea for watersheds protection.—AW
The Vigilance of Stars, by Patricia O'Donnell, (Unsolicited Press, 2019) A review in the Maine Sunday Telegram says of this novel, "Pieces of each story fall into place like kaleidoscope fragments." This encapsulates the workings of the story—and the characters—very well. Each member of this fictional ensemble is piecing something together—a troubled past, an unknown and worrisome future, a  lost love, promises of new beginnings. There are so many bumps and yearnings, shared through O'Donnell's masterful change of perspectives, that it's hard to imagine where it will all lead, how these varied narratives will be resolved. But they are, and in a writing style that feels both edgy and familiar. Waters, stars—they are metaphors for something deeper, personal, yet all the while they place you physically right here in Maine.—AW
The Voice That Won the Vote, by Elisa Boxer, illustrated by Vivien Mildenberger (Sleeping Bear Press, 2020) "It was wonderful to share this unique and powerful story, written by NRCM member and former board member Elisa Boxer, with my daughter. Not only is it critical for us to understand the history of inequity in America, but also to reinforce that structural inequities still persistent for women and many other people in our society. Our family has voted together since my daughter Zoe was born, and this was a great opportunity to highlight why we make the trip together and why you should never stop raising your voice for change and for doing what's right."—Colin Durrant, NRCM Media Relations & Advocacy Communications Director
"I would give this book four stars (out of five). I learned about how women got to vote. I learned that voting is important to every person in the world, not just for boys. Also, that speaking up for what you believe in is important. I actually loved this book."—Colin's daughter, Zoe, age 6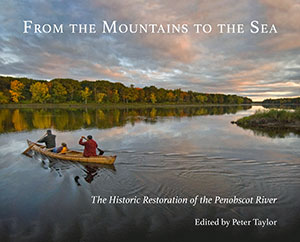 Coming Later This Year All from Yarmouth-based Islandport Press!
A collection of columns about life in northern Maine that originally appeared in the Bangor Daily News and Echoes magazine. Told through the eyes of a transplant, the stories are humorous, philosophical, and informative. They portray the essence of a place where the pace is slow, beauty is breathtaking, nature is close, and people are authentic.
An anthology of articles selected from Echoes: Rediscovering Community, a quarterly magazine published from 1988 to 2017 to celebrate the diverse cultures and natural beauty of northern Maine. In features, essays, and personal life stories, writers from throughout Maine and elsewhere portray qualities of rural culture that are vanishing in many places, but are still alive in places like Aroostook County, Maine, where roots are deep and traditions are strong.
On June 14, 2016, for the first time in two centuries, an Atlantic salmon swam through the town of Howland, Maine, bound for spawning grounds that had been inaccessible for generations. Along the riverbank, hundreds of people cheered as they helped celebrate the event marking the culmination of a remarkable seventeen-year effort by an unlikely and diverse alliance of people and organizations. From Mountains to the Sea tells the inside story of the Penobscot River Restoration Project drawing on interviews with more than 50 participants who helped navigate local politics and federal budgets and examines the challenges, compromises, and key turning points in the project to ultimately balance social and economic values and serve as a global model for large-scale ecosystem restoration.
2020 SunriseGuide This book features sustainability tips and local resources, plus hundreds of discount offers from local businesses—for groceries, dining, yoga, garden centers, and pets. See the full list of coupons in the 2020 edition at www.thesunriseguide.com/save.
Good Reads Online!
A Bird's Tale
In their weekly column in the Boothbay Register and Wiscasset Newspaper, NRCM's Allison Wells and husband Jeff, lifelong birders and authors of the book Maine's Favorite Birds, write about birds and birding in Maine.
Book of Days
Poet and naturalist Kristen Lindquist searches for poetry in every day. www.kristenlindquist.com/blog
Be sure to check out our Nature of Maine blog to read the latest from NRCM staff members and guest writers.