Time to start putting together your summer reading list, and NRCM members can help! Featured here are books published by our members covering a range of genres, from essay and memoir to poetry and fiction. There are also a few field guides to help you better understand—and find!—the nature of Maine. If you're an author of a book about Maine or related to environmental issues, you are welcome to send them along for consideration for next year's . —Allison Childs Wells, Editor
Trouble Maker, a Memoir by One of Maine's Biggest Environmental Champions (Indie Author Warehouse, 2017) Bill Townsend's memoir, Trouble Maker, is a charming amble through the life of a family man, country lawyer, and environmental activist. Published about six months after Bill died in December 2016, Trouble Maker was written in a voice familiar to his family and friends: well-spoken with details both educational and colorful. He treats his family with obvious affection, sharing stories about his wife, Louise, and their children—Ben, Meneely, and Eliza—that no doubt have been recounted at many Thanksgivings tables and campfires. He also introduces the readers—respectfully—to the neighbors, friends, and elected officials he meets, often as a set up to one of the broad categories his uses to organize the book, such as "Personal," "Law Practice," "Fishing," and "Environmental Advocacy." Bill was born in New York City in the late 1920s; he and Louise moved to Maine in the 1950s. He weaves in important moments from our collective history, but shines at introducing us to life in rural Maine during the 50s and 60s and, of course, to some of the most important environmental battles in Maine's history. Bill had been active with NRCM since 1960, often serving on the board. He also served on the boards of the Atlantic Salmon Federation, the Nature Conservancy, Maine Rivers, the  Somerset Woods Trustees, and many other groups. He was appointed by President George H.W. Bush to serve on the National Atlantic Salmon Conservation Organization. Over the years, he was in the middle of efforts to protect the Allagash River, to stop the construction of the Big A Dam and a dam at Basin Mills on the Penobscot, to restore wild Atlantic salmon, and to protect the North Woods. Maine owes a great deal to this wonderful "trouble maker." —Gretta Wark, Senior Director of Philanthropy
The Naturalist's Notebook: An Observation Guide and 5-Year Calendar (Storey Publishing, October 2017), by Nathaniel Wheelwright and Bernd Heinrich This book is a delight in so many ways. Even just holding the book in your hand, you know that this is a special creation. Artfully designed and full of brightly colored illustrations (most by Bernd himself!), it is a reminder of how wonderfully tangible it is to flip the pages and feel the slight heft of a book in one's hands rather than an app on a cell phone. The writings of Wheelwright and Heinrich are wonderful; their personal essay, reflections, and gentle instruction will inspire readers to develop the habits of a naturalist. Chapters with titles such as "Being Attentive," "How to Become an Observant Naturalist," "A Naturalist's Toolbox," and "Simple Experiments as a Way of Learning" provide a treasure trove of ideas for enjoying and learning about a wondrously fascinating natural world as conveyed by these gifted authors and naturalists. The last hundred pages of the book are a five-year calendar journal for the reader to jump in with pencil and pen, to begin keeping his or her own notebook of nature observations. It's easy to imagine, years from now, this book happily worn and stained, and full of observations about the natural world that will mean you will be properly called a naturalist. —Allison Wells, Senior Director of Public Affairs
The Secret Pool (Tilbury House,2016), by Kimberly Ridley (Illustrated by Rebekah Raye) If you've ever wondered about life in a vernal pool, get this award-winning book. The vernal pool is personified and shares in first-person, and in lively rhyming verse, about the creatures and other life that lives within it, and around it. Each season of life in the pool is not only described but richly illustrated. It's an enchanting approach, suitable for children, parents, and grandparents alike, all of whom will co me away from the book with a deeper appreciation of the roles of vernal pools, but, more than likely, unable to pass another vernal pool again without stopping to wonder about the world within it. (AW)
Track Finder: A Guide to Mammal Tracks of Eastern North America (AdventureKEEN, 2nd edition, March 2017) by Dorcas Miller (Illustrated by Cherie Hunter Day) This handy guide is full of great information that nature enthusiasts of all skill levels can use to identify tracks of mammals found in eastern North America. Track shape, size, and patterns (and species comparison), range maps, habitat information, scat and other ID clues—it's all in here, along with wonderful black-and-white illustrations of the tracks and the animals who make them. Somehow, all of this (including life-size prints) has been laid out in an easy-to-use guide that's just 6" x 4" in size—easy to carry in a backpack or a back pocket. This terrific tool is one of many in a series; Miller's additional contributions include Constellation Finder, Berry Finder, and Winter Weed Finder, and she is the author of other nature books as well. (AW)
Edible and Medicinal Mushrooms of New England and Eastern Canada: A Photographic Guidebook to Finding and Using Key Species (Penguin RandomHouse, 2009) by David L. Spahr Local is good, and a localized mushroom book is essential, so I headed to the local bookstore to buy this book by David Spahr who lives nearby, in Washington, Maine. David knows and loves nature, mushrooms and Maine—and it shows. In a clear, friendly way, and based on his decades of experience, Spahr does an excellent job outlining how, where, and when to gather edible wild mushrooms. For example, if you see mature, dying, or even dead maple trees in the fall, look for oyster mushrooms growing along the trunks. If you're in a field in summer, you may notice dark green rings or patches that will later sprout meadow mushrooms or puffballs. Delicious black trumpet mushrooms may be found June-September, often along intermittent seasonal runoff  "washes" in the woods. Spahr describes simple equipment and helpful rules for mushroom gathering, and flags look-alike varieties throughout his book, which is illustrated with plentiful, excellent photos to help you differentiate species. There's even a section on best ways to prepare and propagate your finds. Foragers and naturalists alike can benefit from this book, and from Spahr's experience and insights.—Judy Berk, Advocacy Communications Director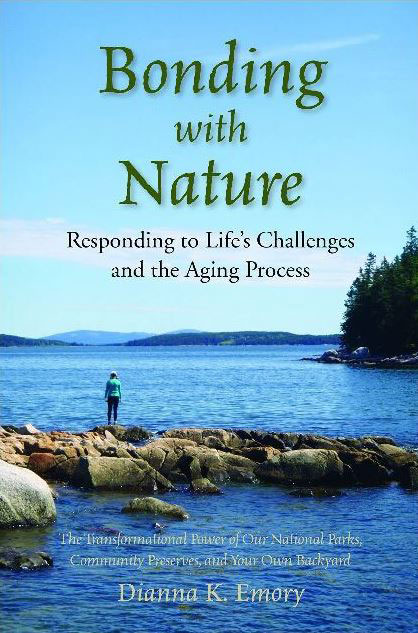 Bonding with Nature: Responding to Life's Challenges and the Aging Process (Seapoint Books, May 2018), by Dianna K. Emory In her book, Dianna Emory writes an inspiring description of the benefits of being in nature. This is Dr. Emory's own story of how her lifelong experiences in and with nature have led to healing and happiness. She shares personal stories of her own childhood cancer and her daughter's battle with breast cancer, along with accounts from patients she has helped. The common thread uniting all of the stories is the importance of nature as a source of healing. You don't need to live near Acadia National Park, as the author does, to experience this. Dr. Emory suggests bringing the outdoors in by tending to plants or pets and includes visioning exercises to bring memories of nature to you to help bring you peace, no matter where you are. Parallel to her theme of finding peace and healing in nature, she also describes the importance of helping nature through preservation and conservation activities. These actions have the twin benefits of summoning healing and assuring that natural places will be healthy and available as places of respite and renewal. The book also serves as a field guide to Dr. Emory's favorite places, describing the flora and fauna of Acadia National Park and the Virgin Islands.—Gail Thompson, Associate Director of Philanthropy (Read our interview with Dianna and Ben Emory.)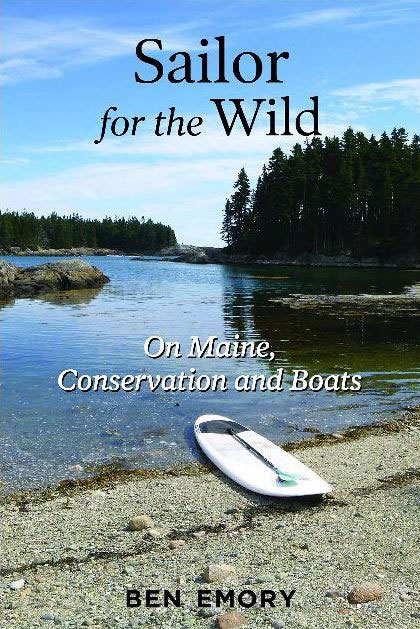 Sailor for the Wild: On Maine, Conservation and Boats (Seapoint Books, May 2018), by Ben Emory Ben Emory provides a detailed account of how his formative years spent summering on the coast of Maine framed his personal and  professional lifelong commitment to conserving land and, through that, wildlife habitat, resources, and Maine's ever-intoxicating, nature-bound ethos. The book is a fun and inventive window into the beginnings of a movement that has forever changed Maine's landscape. From his unique vantage, which changes over the years from active volunteer to Executive Director and back, the author describes the founding of Maine Coast Heritage Trust in a neighbor's living room and the organization's growth into a tremendous resource for guiding conservation easements in Maine and serving the interest of the state's many local land trusts. While reading about the ins and outs of MCHT's early years, I was struck by the juncture between land conservation and advocacy. The workings of conservation advocacy are well described by the author as he and others founded what would become the Land Trust Alliance, creating a national coalition and retaining professional guidance on how best to  advocate for conservation at the federal level. Maine people owe Mr. Emory, and those like him, a great deal, though as he acknowledges, the environment has changed quite a bit in the last 40 years, and the road isn't finished. This story is told through his sailing escapades—often landmark moments that deepen his affection for Maine. The personal connection these anecdotes lend to the serious topic gives the book a unique lens and substantial color. I found myself laughing as he vividly described sinking his Bullseye in an unexpected Memorial Day blow, and captivated by the romance of Maine's wooden boat history as he passionately illuminated the glory of the yachts and those who built them. My ultimate takeaway: both continued conservation and vigilant environmental advocacy are necessary for preserving Maine's future and economic impacts, and tradition will continue to be valuable selling points. If you want to learn about a major piece of how Maine got to where it is today, this in-depth and animated read should be on your booklist.—Fiona Gordon, Associate Director of Philanthropy (Read our interview with Ben and Dianna Emory.)
A Lifetime of Hunting & Fishing (North Country Press, 2017), by George Smith When you pick up this book, plan to sit down for some good storytelling. Smith's got a knack for winding a good tale. A long-time outdoor writer, he provides the kind of details that hook you early and leave you wanting to explore the places he's writing about. His adventures lead to rivers and lakes, through forests and fields, and not just here in Maine but in Alaska, Quebec, Montana—even the Rio Grande Valley of Texas (one of my own favorite birding hotspots). For sportsmen and women, there's lots about hunting and fishing, but Smith includes ample anecdotes about nongame critters: snapping turtles, raccoons, porcupines, skunks, birds, even "unstinking pigs." The author's family members are recurring characters, especially his dad Ezra who passed away in 2014 and whom he writes about with great affection and respect. Smith's love for the outdoors is palpable; anyone who appreciates Maine's environment will appreciate this book. (AW)
Reading Rural Landscapes (Tilbury House, 2015), by Robert Sanford How many times have you passed evidence of an old homestead and wondered about the secrets it holds? Robert Sanford has not only done that, he's cracked open the secrets, and he shares them with us in this fascinating book. Traces of past lives are virtually everywhere here in Maine: a patch of day lilies glowing strangely out of place; remnants of a stone wall or a the last segment of an old dam; orchards galore; crumbled chimneys and foundations, now overtaken by trees—and time. Sanford's "field guide" is the kind of book you might keep in the car, as a resource when you come upon such surprises during road trips. The book includes a "key" to artifacts in fields, woods, roadsides, etc., and is generously illustrated with drawings and photos. This book will appeal to genealogy  enthusiasts, nature buffs, and historians. The past may be calling, but Sanford's guide will help you answer that call. (AW)
I Am Coyote (Tilbury House, 2015), by Geri Vistein When Coyote is three years old, she leaves her family in Algonquin Provincial Park in Ontario for a 500-mile eastward journey in search of a mate and a territory to share with him. They settle into Maine's woods, where they experience hardships, seasons of plenty, and everything in between, including raising pups. A work of creative nonfiction, the book is told from the coyote's perspective and provides insights into their biology and behavior. There's an appendix that explores the history and current status of coyotes, including their vital role in the ecosystem. An interesting combination of science and imagination, natural history enthusiasts of all kinds will enjoy this book. (AW)
Stay Hidden (Minotaur Books, July 2018), by Paul Doiron In the 9th book in Doiron's Mike Bowditch series of crime novels, a woman has been shot and killed by a deer hunter on Maquoit Island off the Maine coast. Newly promoted Warden Investigator Mike Bowditch thinks it's an open-and-shut case. But when he arrives on the remote island, he finds the mysteries are piling up. When the hunter claims he didn't fire the fatal shot, Bowditch suspects the secretive community might be covering up the identity of killer of the controversial author, who was supposedly writing a book about the island's notorious hermit. Yet there are no notes in her rented cottage. The biggest blow comes the next day when the weekly ferry arrives and off steps the dead woman herself. Ariel Evans is alive, well, and determined to solve her own "murder" even if it upsets Mike  Bowditch's investigation and makes them both targets of an elusive killer who will do anything to conceal his crimes. Don't miss this page-turner! (AW)
Island Birthday (Tilbury House, 2015), Illustrated by Jamie Hogan Fans of Maine children's books are no doubt well aware of the work of Jamie Hogan. Island Birthday (by Eva Murray) is just one of many examples of where Hogan's artistic treatment of the story brings the scenes and characters to life. Her colors are rich, warm, and inviting, and her characters could be the children we see in our neighborhoods and seaside outings. In Island Birthday, Riley's birthday has been upset by storms preventing the mail plane to deliver his gifts. Instead of celebrating, he agrees to help his uncle collect driftwood to make furniture, and soon he realizes he has what he needs to have a great island birthday. Now imagine the tale illustrated in vivid pastels of the reds, blues, and greens of Maine to get a sense of the colorful worlds created by Jamie Hogan. (AW)
My Solo Folio (The Troy Book Makers, 2009), by R.W. Horne Mr. Horne's book of verse is so lively it nearly jumps off the page. It features quirky titles like, "My Same Name-No Relation-Dentist," a gentle critique of a dentist that's always in a hurry, and "The Irony Tower," where the main character is a "pseudo-cowboy." Horne enjoys playing with words; in "Biking Deaf," he writes, "Because I only see, and cannot hear/I must look twice as far/ Twice as near" and complains about passing vehicles: "Motorcycles whine" and writes of school buses that pass too slowly and too closely, "The retired and tired drivers have one eye on the kids,/ and only one left for me." There are many references to the natural world—farms, fields, a Monhegan gull. And though the book is ripe with light-hearted reads, there are serious moments, too, as in a poem about the September 11th tragedy, and a dream he had about a child that, in real life, had drowned. There's a song with musical notes included, and an image of a poem in needlepoint. All in all, an entertaining little book. (AW)
Finding Our Way Home: A Spiritual Journey into Earth Community (Small Bird Press, December 2016), by Myke Johnson When times are tough and challenges abound, many people find solace in the natural world. This is especially true when the environment itself is under attack, which is why Johnson's book, published in 2016, continues to be timely. She seeks out the connections among what she sees every day—a particular flower, a bird, a beech tree, even a slug—and winds them together with Indigenous philosophy, environmental science, geometry, fairy tales, and other aspects of her belief system. She weaves them into a spiritual eco-journey that is both unique and ubiquitous. A Unitarian Universalist minister, Johnson struggles with abuses brought upon the natural world, but provides tools for spiritual healing through unity with life in all of its
forms. (AW)
2018 SunriseGuide This beautifully designed publication contains tips and local resources for healthy and eco-friendly living. It also includes hundreds of discount offers from popular locally owned and independent businesses. Purchase the guide (mobile version available) and it's possible to save hundreds of dollars thanks to the special deals in the SunriseGuide, while supporting great local businesses. There really is something for everyone: discounts for dining out, groceries, yoga, massage, garden centers, home improvements, and pets. See the full list of coupons in the 2018 edition at www.thesunriseguide.com/save.
Sharing a Love of Maine Books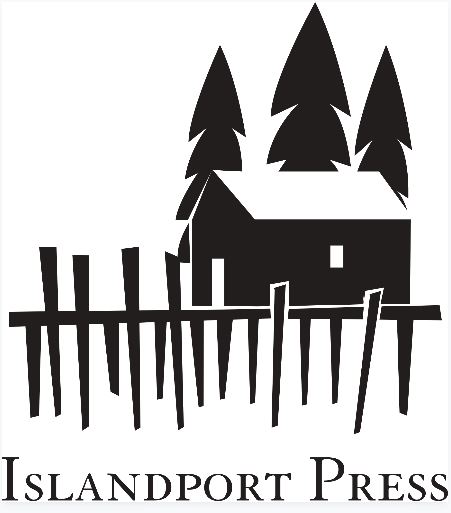 ISLANDPORT PRESS, a publisher dedicated to stories rooted in the essence and sensibilities of New England, is proud to be an NRCM member. We fully support NRCM's mission to protect the nature of Maine. Many of our authors and books celebrate Maine's outdoor heritage and natural wonders, and thanks to the work of NRCM, those will be here for future generations to celebrate as well. Learn more at www.islandportpress.com. Here are a few books NRCM members will enjoy!
Ten Days in Acadia: A Kids' Hiking Guide to Mount Desert Island by Hope Rowan Hattie, 12, and her family describe their summer vacation to Acadia National Park and Mount Desert Island, hiking 10 different trails, discovering and observing plants and animals along the way. By writing Ten Days in Acadia from a fictional kid's point of view, author Hope Rowan has created a new way to interest kids and get them excited about being outdoors. Beautiful color drawings by Maine artist Jada Fitch illustrate field notes of common flora and fauna. Full-color trail maps, color photographs, hiking tips, rainy-day ideas, and other resources make this a valuable family companion.
The Maine Play Book: A Four-Season Guide to Family Fun and Adventure by Jennifer Hazard This thoughtfully curated guidebook is organized by season, and each section features farms, nature preserves, and parks as well as outdoor events and activities for families—from the rugged coast to the northernmost reaches of the state. The book is great for local residents, families, or anyone who loves fun and adventure in the state of Maine. Newcomers will appreciate the author's first-hand knowledge based on her experiences traveling the state with her family, and Mainers may just find an off-the-beaten-path place that's new to them.
TILBURY HOUSE PUBLISHERS supports NRCM any way we can. All the environmental groups in Maine do wonderful work, but NRCM is the one we count on to fight the good fight for Maine's environment when the chips are down. When the usual suspects line up to yank the rug out from under another beneficial environmental regulation, it's NRCM that rides into Augusta, sleeves rolled up and attitude in place, ready to fight if necessary and as long as necessary. And they do it effectively. Having watched NRCM at work since the 1960s, Tilbury House thanks Maine's lucky stars for them.
Down East: An Illustrated History of Maritime Maine by Lincoln Paine Lincoln Paine, author of the internationally acclaimed The Sea and Civilization: A Maritime History of the World, returns home to the coast of Maine to revise and update Down East, which Tilbury House published in 2000. This new edition features a gift-book format and hundreds of full-color historical photos, maps, and illustrations to provide a truly visual journey along our storied coast and through its rich history.
The Secret Galaxy, by Fran Hodgkins, with Night-sky Photography by Mike Taylor Illustrated with remarkable photographs by noted Maine astrophotographer Mike Taylor, this children's picture book tells the story of the Milky Way in the galaxy's own voice. The poetic main text is great for reading aloud, while older readers will glean startling knowledge from the fact-filled sidebars. The Secret Galaxy is a Junior Library Guild selection, a Eureka! Gold Winner, and an International Literacy Association selection.
More Recommended Reads
The Overstory I stopped by my local library to ask them if they would order the novel The Overstory by Richard Powers after a friend sent out a rave review. He also said Barbara Kingslover would have a review in the New York Times Book Review that coming weekend. The book review was at the library and it cinched it for me. What a story! Of course IT is ALL connected, we are ALL connected, everything is ALL connected and communicating. Richard Powers tells an almost devastating story of human potential to destroy and defend. Through the stories of 10 or 12 seemingly unconnected, disparate people and a company liquidating its assets—an old growth redwood forest—before it goes bankrupt, we get a view of the world most of us know is out there. A world that has been around long before humans and will probably be around long after. A world that is full of trees that, despite our view of them as a commodity, have lives of their own—breathing, multiplying, communicating. The characters could be our neighbors and are all intertwined. One person's life is literally saved by a banyan tree. A chestnut tree becomes the glue for several generations of one family. A little girl who develops a deep relationship with the forests becomes a doctor, and her research discovers that the forest's trees are communicating. I loved reading this book and could go on. If you need more encouragement, check out Kingsolver's review. —Leslie Burhoe, Executive Assistant
Mystery on Pine Lake: A Cooper and Packrat Adventure I liked the book by Maine author Tamra Wight because it has a lot of action and adventure. I liked that Cooper and Packrat were protecting the loons. Loons make an awesome sound when they communicate with each other. I also could relate to the book because I enjoy camping. I like camping because of the wilderness and all the mysterious animals lurking around. I would recommend this book to other kids and I think it is best for kids between eight and ten years old.—Martin Ferrusca, age 8, has raised funds and participated in many NRCM events, including three years in the Polar Bear Dip & Dash!
Your Sporting Camp Companion
Maine Sporting Camps (Down East Books, 2016),by George Smith Maine  sporting camps have a long, rich history. In this book, one of Maine's storied sportsmen, George Smith, highlights 50 or so currently operating Maine sporting camps. His interviews with camp staff and owners makes the narrative a good read, and his profiles of the camps, including the kinds of activities they offer, serves as a guide to aid readers in choosing which camp they may want to visit. Biking, hiking, birding, paddling, fishing—whatever your reason for taking to the woods, this book will help you find a camp that's right for you. Get your NRCM member discount to participating Maine sporting camps and book your stay today! (AW)
Good Reads Online!
Book of Days Naturalist Kristen Lindquist finds poetry in every day, including the natural world, and shares it through haiku. klindquist.blogspot.com
First Light Wildlife Habitats Wildlife biologist Deborah Perkins, proprietor of First Light Wildlife Habitats, partners with landowners throughout Maine to create thriving wildlife habitats in their own backyards, farms, and forestlands. She also shares her expertise every month at nrcm.org/blog/first-light-wildlife-habitats/.
Kids Exploring the Nature of Maine Read what NRCM's middle school classroom grant recipients have been up to as they learn about Maine's environment. nrcm.org/blog/students-engaging-in-the-nature-of-maine/
Mushroom Collecting This blog by mushroom expert David Spahr is an extremely robust resource for anyone looking for information about New England and eastern Canada edible and medicinal mushrooms. His book, Edible and Medicinal Mushrooms of New England and Eastern Canada, is reviewed above. mushroom-collecting.com
Road Trips from the Pine Tree State Read about and comment on John Neal's Maine adventures by scooter. scootersmaine.wordpress.com
Southern Maine Writing Project Hannah Burroughs offers a glimpse of a community of diverse educators passionate about building knowledge and transforming classroom practices across curriculum to improve writing and learning for all students. southernmainewritingproject.org/listen-up.html
Year of the Bird 2018 marks the 100-year anniversary of the Migratory Bird Treaty Act (MBTA) that has kept many bird species from becoming extinct. NRCM's Allison Wells and Jeff Wells post a monthly blog highlighting conservation success stories. nrcm.org/blog/year-of-the-bird/. They have a weekly birding column, "A Bird's Tail," in the Boothbay Register boothbayregister.com/tags/bird-column.