Celebrating the Diversity of Maine's Environment and the Families Who Want to Protect It
Share Photos of Your Family Enjoying the Nature of Maine.
Do you and your family have a favorite Maine place that you have to visit each summer? Does your extended family come to visit so that they can enjoy a day along Maine's scenic coast or paddling around a favorite lake or pond? Will you meet up to hike one of Maine's majestic mountains or spend time relaxing at one of Maine's state parks? Then this opportunity is for you!
You're invited to join us in celebrating families like yours who care about protecting the nature of Maine. Show us your smiling children at the beach. Snap a pic of your spouse or partner at the summit of a mountain. Take a photo at your annual family reunion at Aunt Irene's camp. Wherever you and your family are outside in Maine this summer, we want to see your pics! We'll share your photos on our website, publications, maybe even in our Nature of Maine calendar!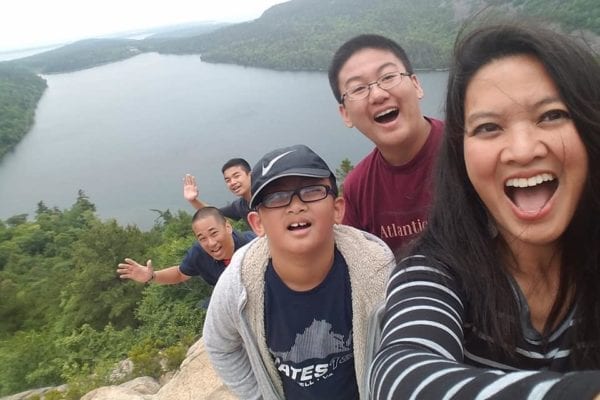 Mark and Marie Sarmiento and their boys climb to the South Bubble summit at Acadia National Park on a summer visit. Photo by Marie Sarmiento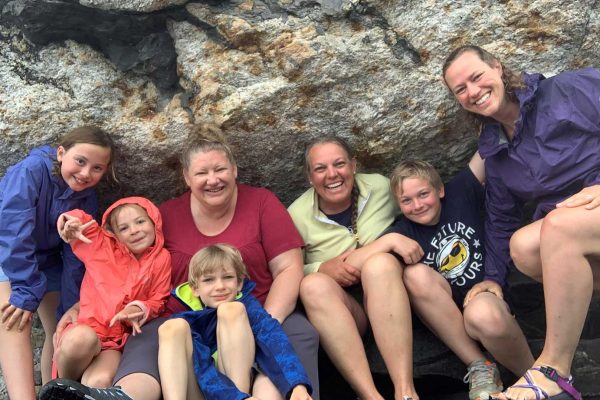 "Family are the people you choose to share your world with." Friends and former Camp Mechuwana lifeguards enjoy the rocks at Pemaquid Point on their annual Moms & Kids weekend, 2023. (from left to right: Acadia, Tatum, Alissa Gervais, Colby, Sarah Hubert, Jake, Tina Taylor)
Photo Submissions: My Family & Me
Send full resolution, with details including location, a short quote/testimonial about why your family chose to visit that particular place, and any other information you'd like to share. Send photos to beth@nrcm.org. We look forward to seeing your photos!
Photo Submission Tips:
Full Resolution: Please send photos in full size—do not reduce size for emailing. Send your photos in multiple emails, if necessary, to beth@nrcm.org.
Original Photos: Only send photos that YOU have taken; do not submit photos of your family that you don't have permission to share.
Full Size: All photos much be at least 2625 x 3383 pixels in size (and no less than 2188 x 2819 pixels in size). If you're not sure how to tell, send it to us and we'll let you know.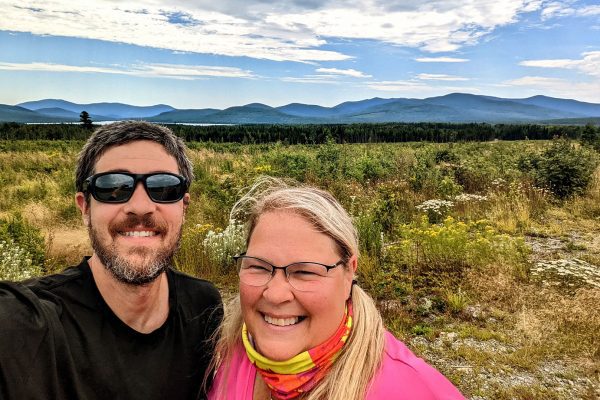 "My husband and I hiking North of Kokadjo. Where the pavement ends and the landscape never ceases to amaze us. Behind us is some of the 100 Mile Wilderness." Photo by Barbara Heap of Readfield, Maine.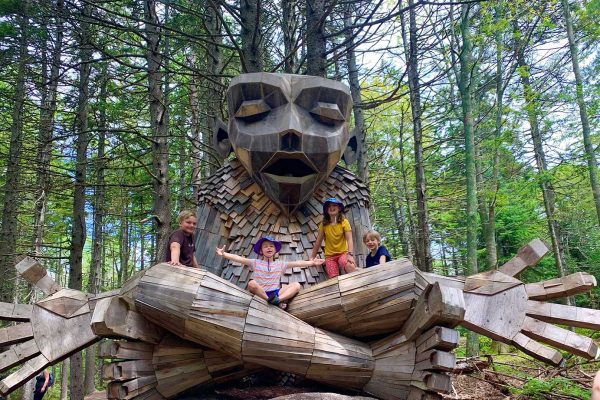 Children of lifelong friends: Jake, Tatum, Acadia, and Colby explore one of the trolls at the Coastal Maine Botanical Gardens in Boothbay. These kids have been "family" since the day they were born, after their moms, Alissa, Tina, and Sarah, met at summer camp in Winthrop, Maine, many years ago and became "camp family."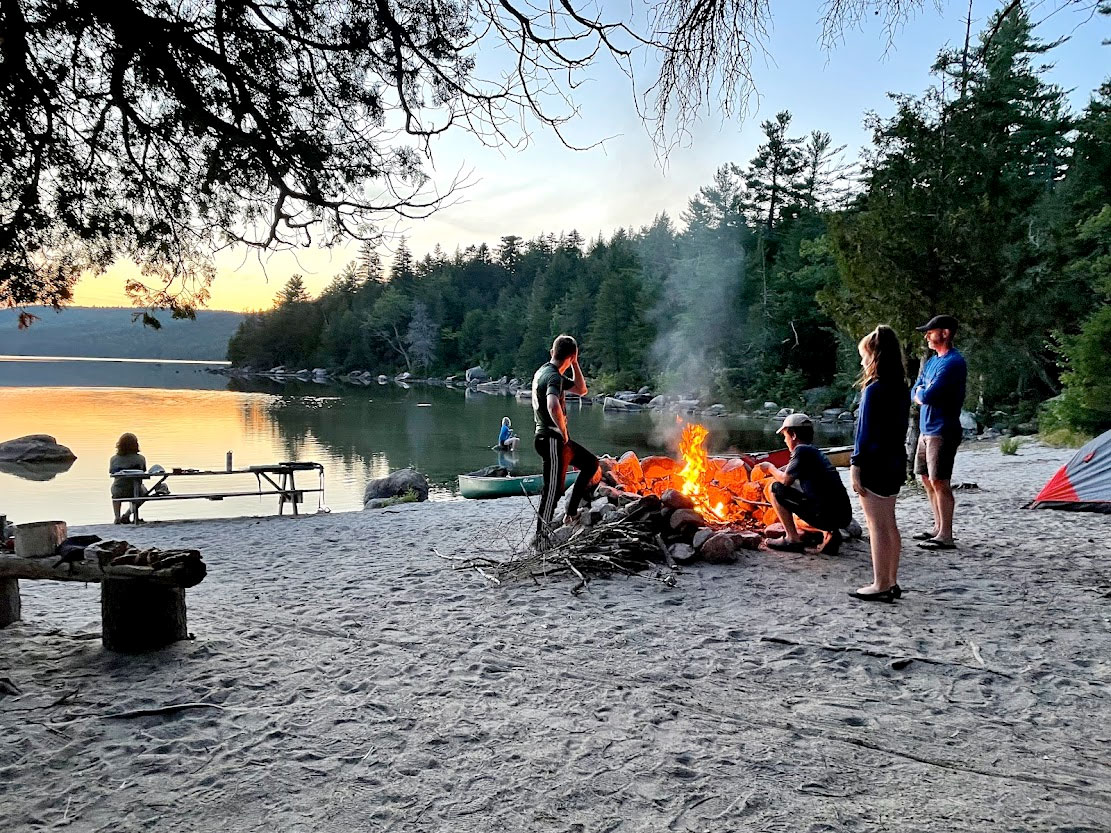 "Our family and my wife's brother's family spent four days in the Debsconeag Lakes. Beautiful paddling and laborious portages. This was our final night of camping on First Debsconeag." — Glen Widmer, Montville, Maine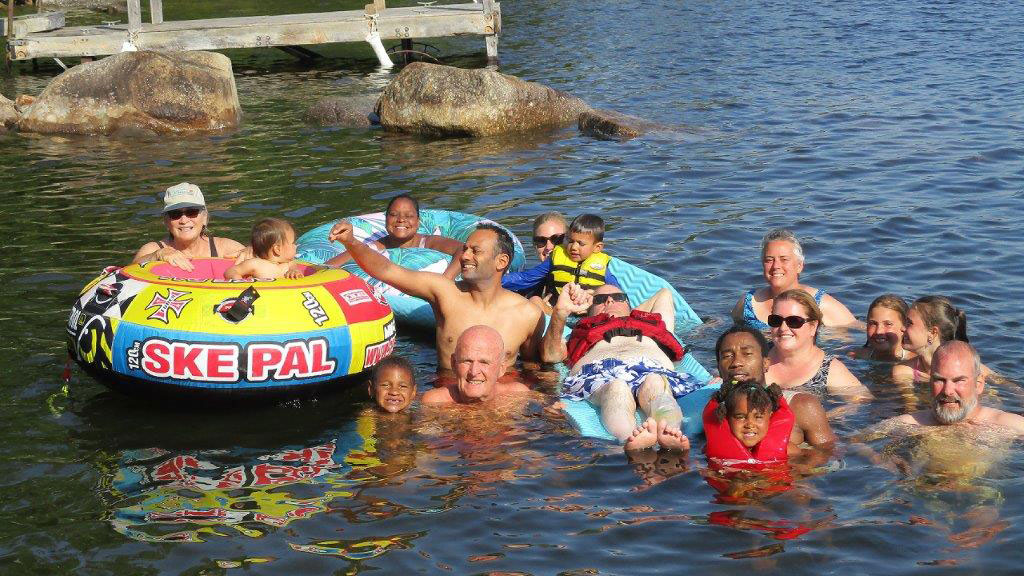 The Simmons family enjoying a swim at camp at Mooselookmeguntic Lake. Photo courtesy of Ed Simmons of Yarmouth, Maine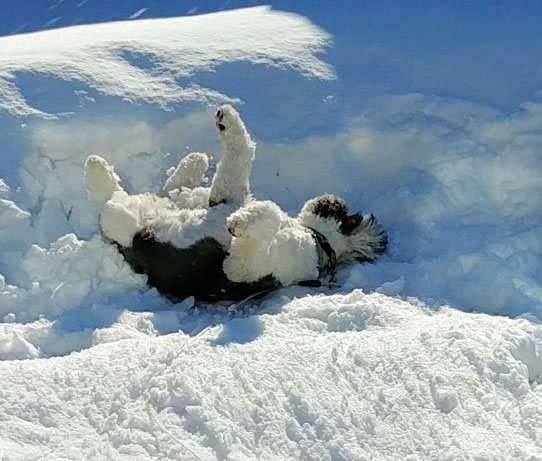 "This is my dog, Lily, loving the snow in Gorham! She is a rescue, mostly Old English Sheepdog, from Guatemala." Photo by Theresa Hyatt of Gorham, Maine.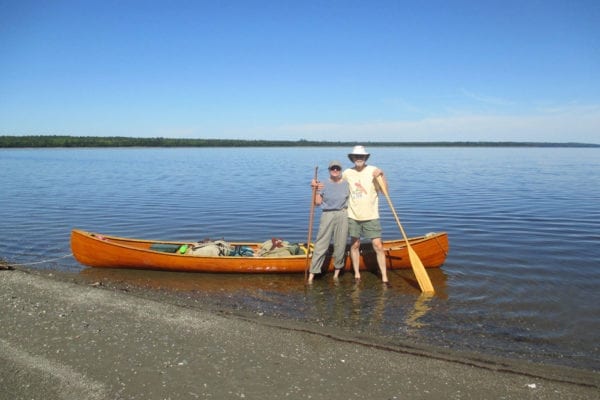 "A photo of a couple NRCM members enjoying Maine." Photo of Patricia and Sam Horine at Chesuncook Lake, courtesy of Sam Horine.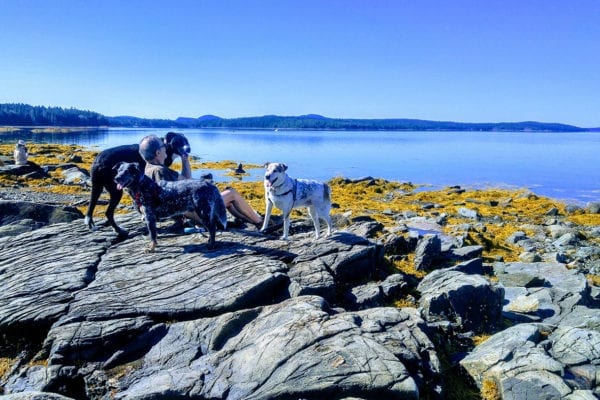 "Here's my favorite family photo so far this summer, taken at Bar Harbor KOA Campground last week (before the muggies arrived!)." —Photo by Anita Long of Waterford, Maine

"Old times at Sebec Lake" —Photo courtesy of Louise Lee of Arlington, Virginia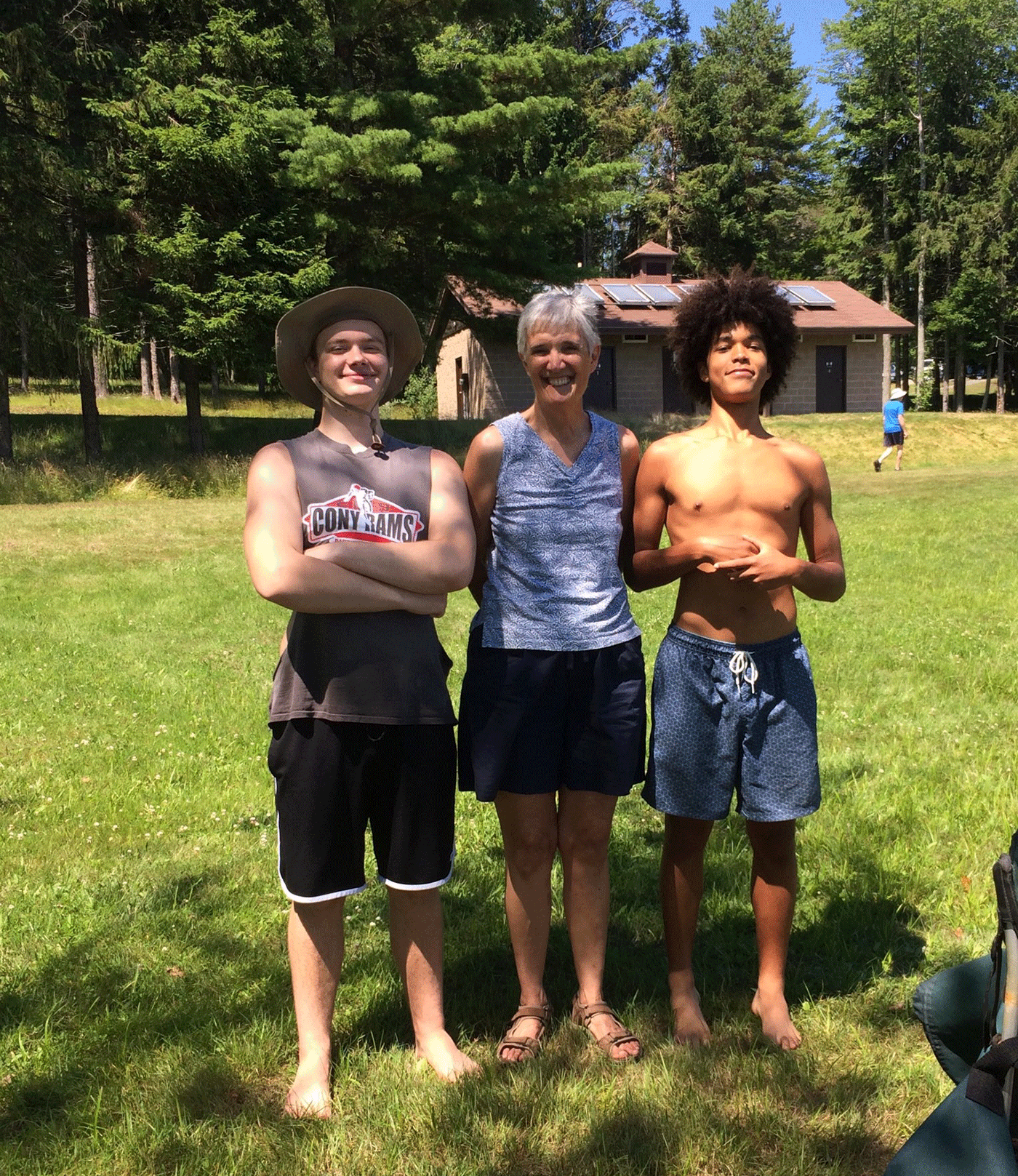 Grandsons Parker and Damien with Nana Lisa Pohlmann in the summer of 2020 at Lake St. George State Park in Liberty, checking to see if they have surpassed her in height yet.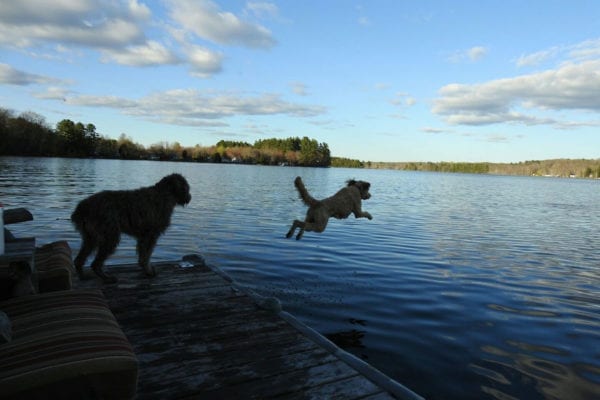 "My dogs Griz and Tucker enjoying a beautiful evening on China Lake." —Photo by Jeanette Smith of China, Maine.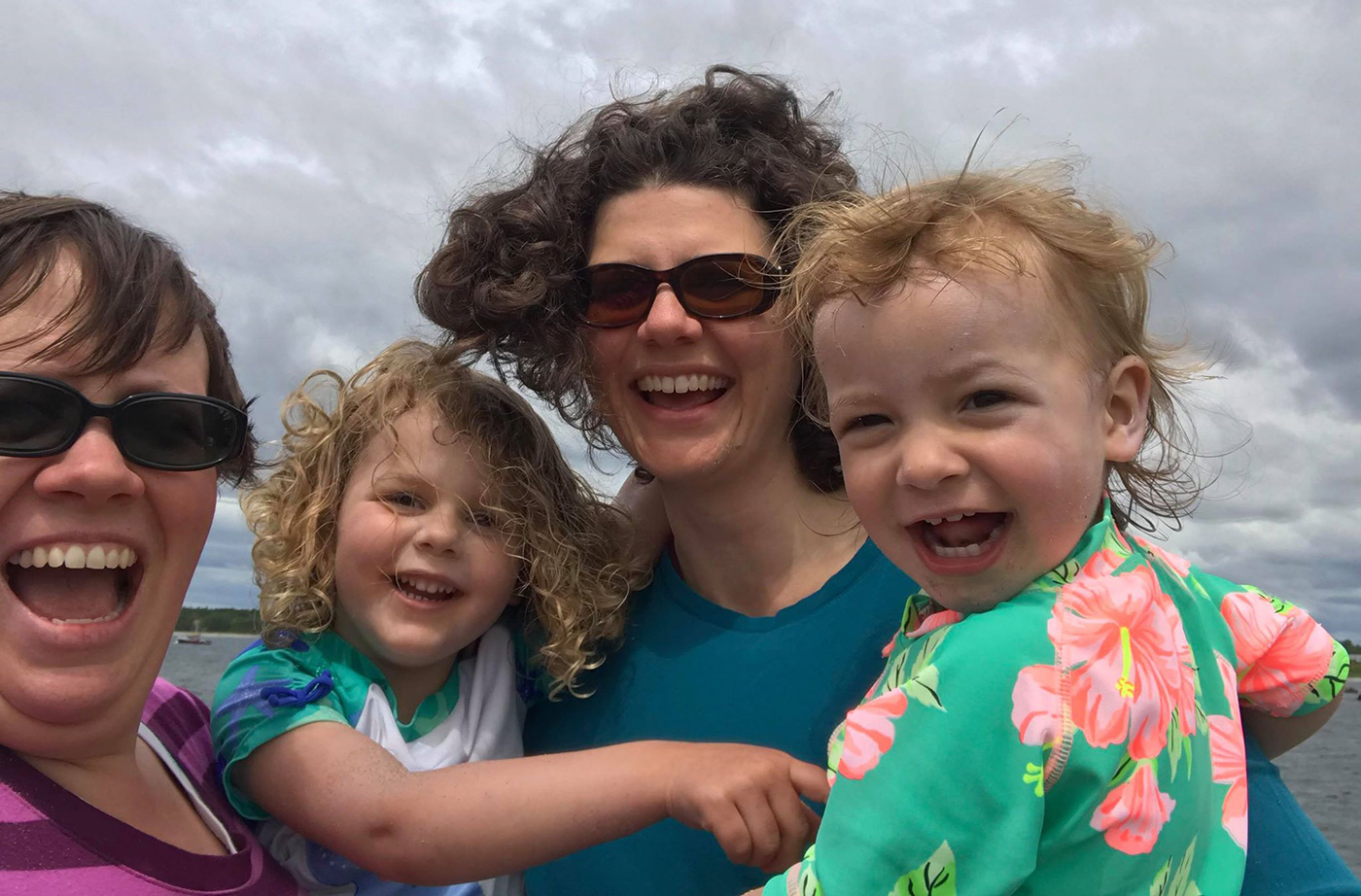 Erica and Ali Lovejoy and their daughters Emelia and Madeline enjoying a fun day at Kettle Cove in Cape Elizabeth, Maine.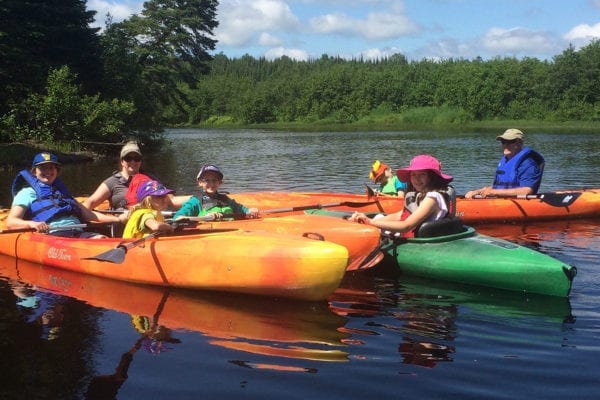 "The whole family has been coming together to Rangeley for 10 years now, and for the 4th year in a row we kayaked down the Kennebago River. The three youngest took their first trips this year and provided wonderful ballast in the fronts of the tandem kayaks. Paddling will hopefully come later. My 11-year-old daughter went down solo in the Old Town Otter for the first time, and tackled the little spots of whitewater with confidence. The water was a little low, so when the pedals couldn't be lowered, my husband paddled his Old Town Predator (photo below). The dog took a couple of swims along the way." Photos courtesy of Cynthia Blanchard of Dedham, Maine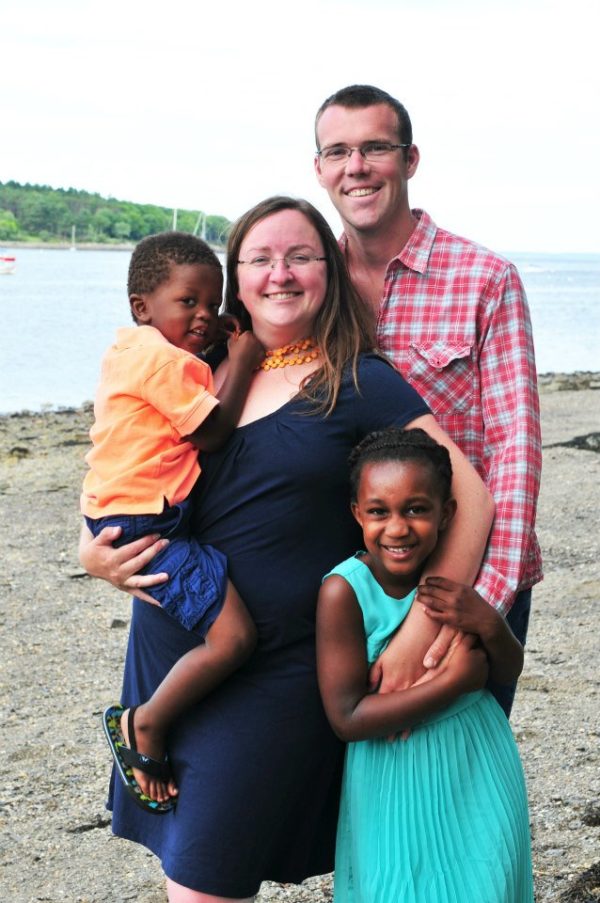 "Maine's natural beauty, from the mountains of Bethel, to the shoreline in Belfast, offer families of all kinds great opportunities to be together and enjoy the great outdoors." Ryan and Emily Parker and their kids at the Belfast Boat House, Belfast, Maine. Photo by Caitlyn Barker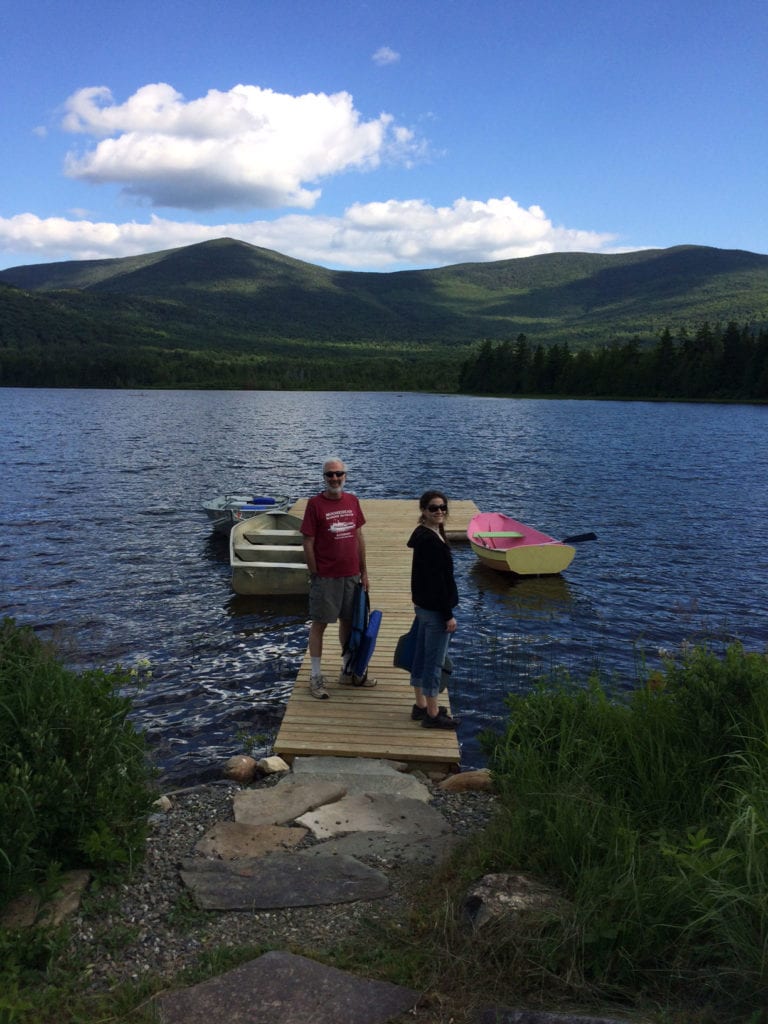 "I took this picture of Walter and my daughter, Elana, at West Branch Pond Camps. We went rowing before dinner as we love to do. At dinner, those assembled were treated to the arrival of a large moose on the opposite shore. Walter boated our again after dinner and got fabulous cell phone video of it (from a safe, non-invasive distance)." Photo by Vivienne Lenk of Little Neck, New York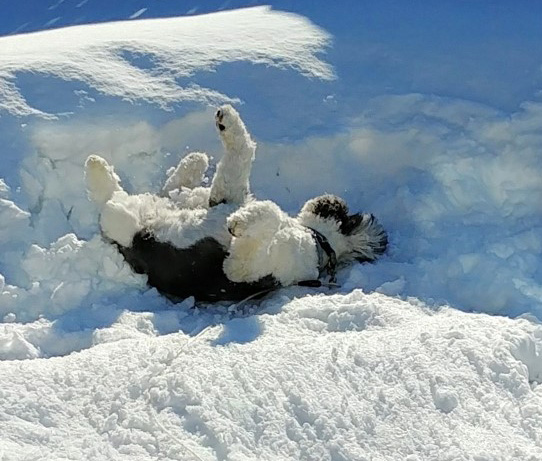 "This is my rescue dog, Lily, loving the snow in Gorham!" Theresa Hyatt
Theresa shared with us that Lily is a rescue mostly Old English Sheepdog from Guatemala who Theresa adopted the day before Thanksgiving in 2014. Despite many health issues, Lily is a wonderful companion that Theresa is truly thankful for every day!
Photo Submissions: Emily Beck of Seal Cove, Maine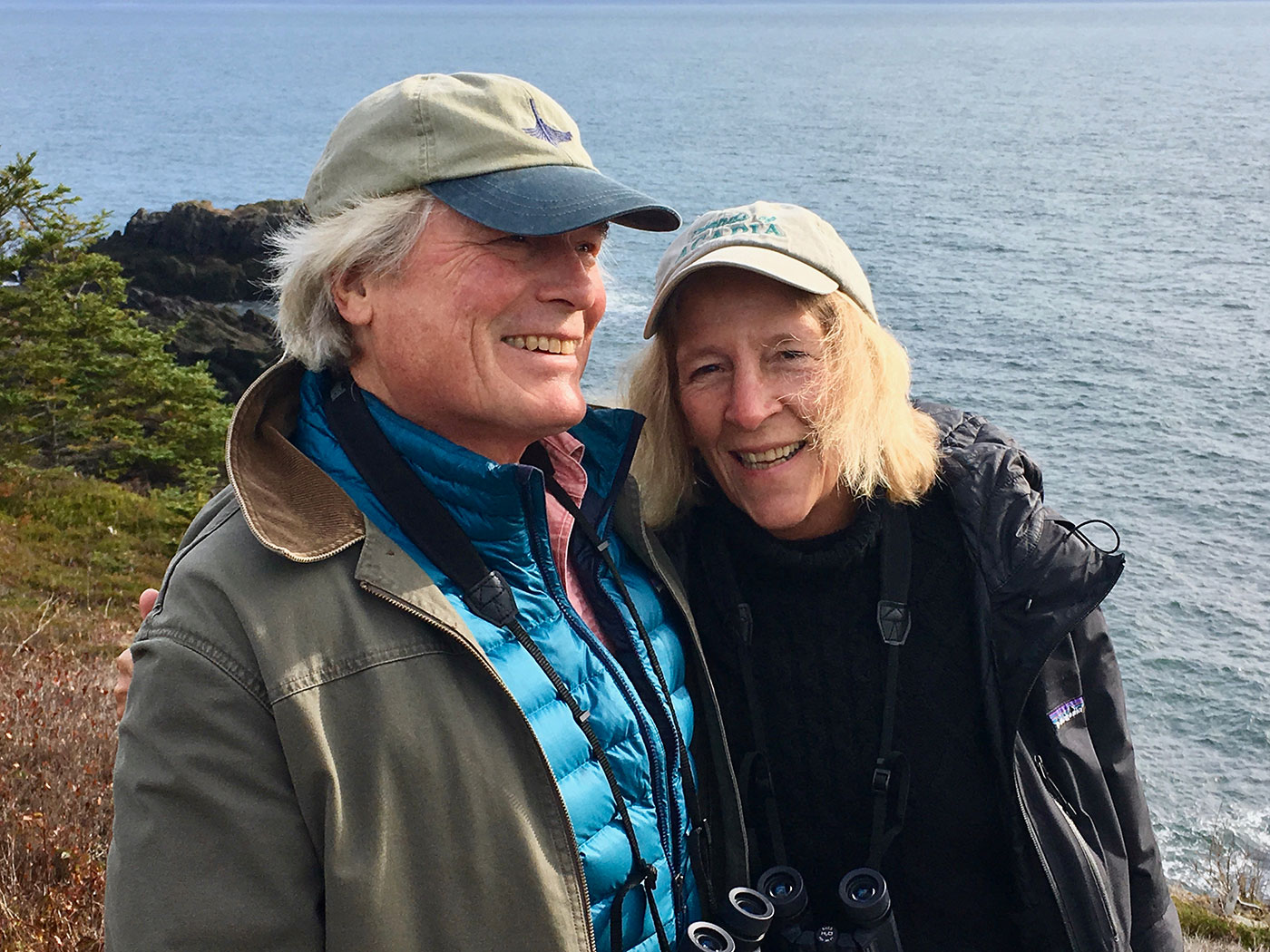 These four photos were sent to us by Emily Beck of Seal Cove, Maine.
The photo above is of Emily with her husband, Geoff Young, at Hamilton Cove Preserve in Lubec. To the right is Geoff with their dog, Grima, at Eggemoggin Reach, and below left is Grima enjoying Castine Harbor. The photo on the bottom right was taken at the wedding of Emily and Geoff's son Andrew and his wife Caitlin at the Asticou Inn in Northeast Harbor.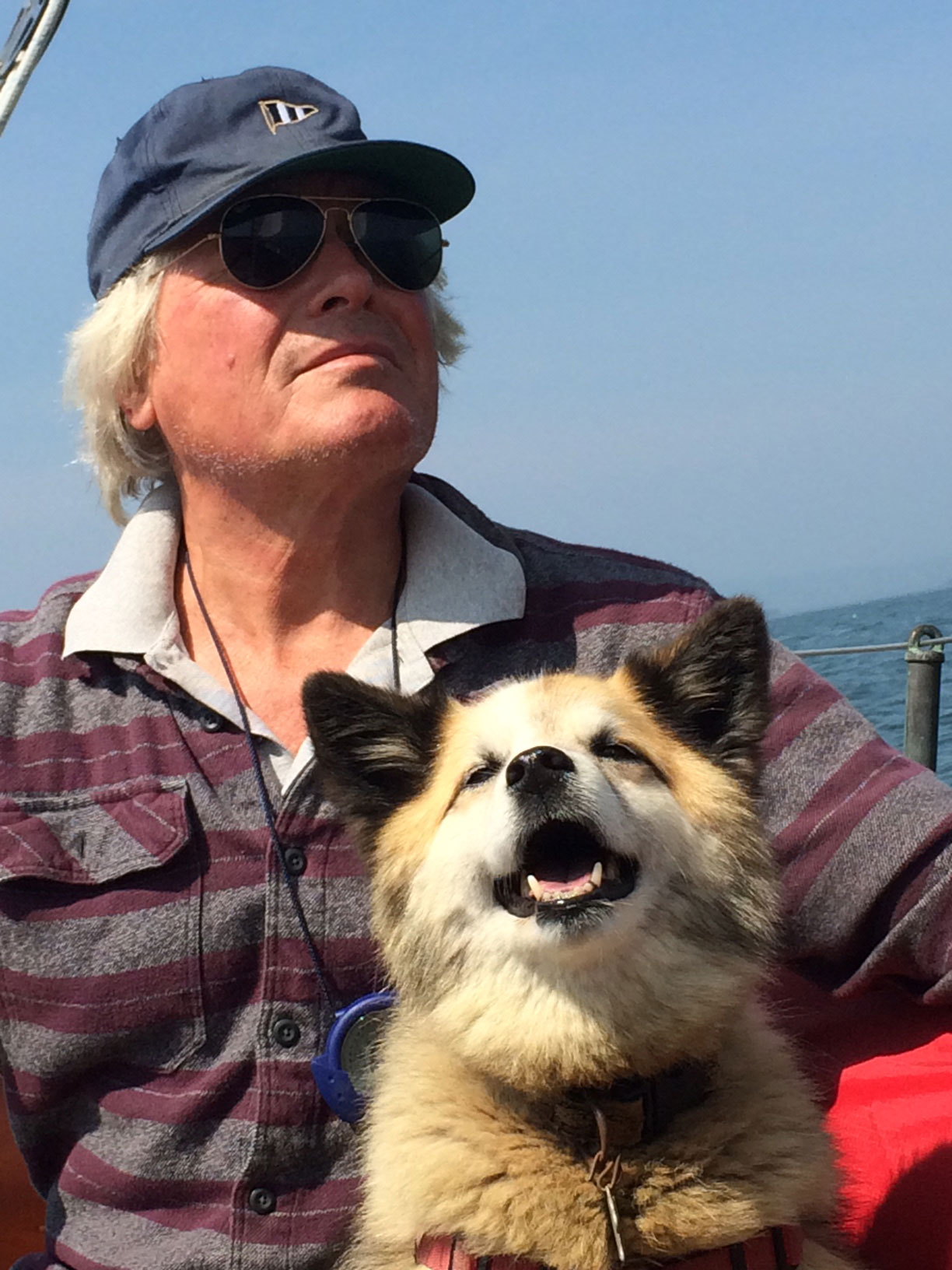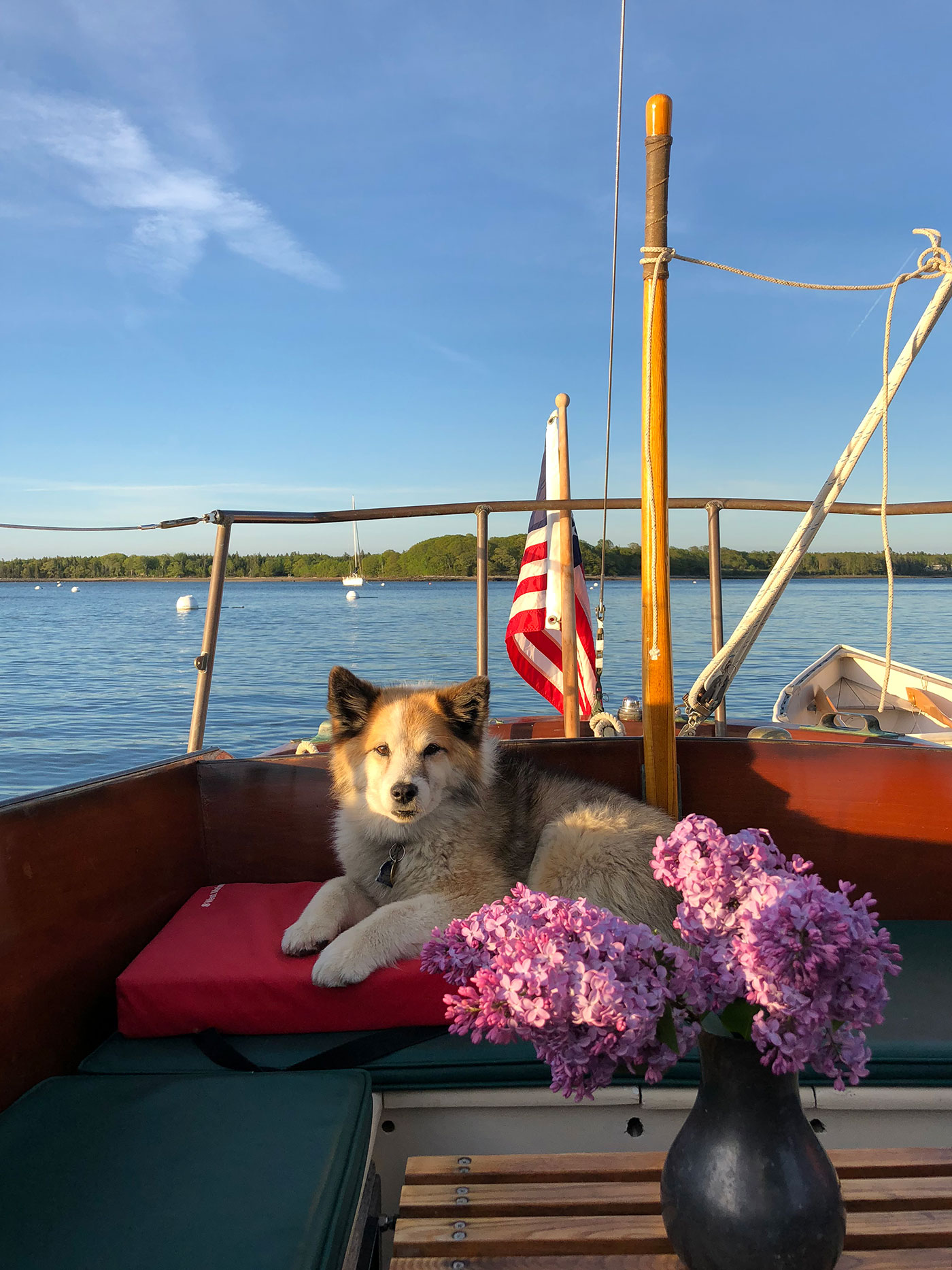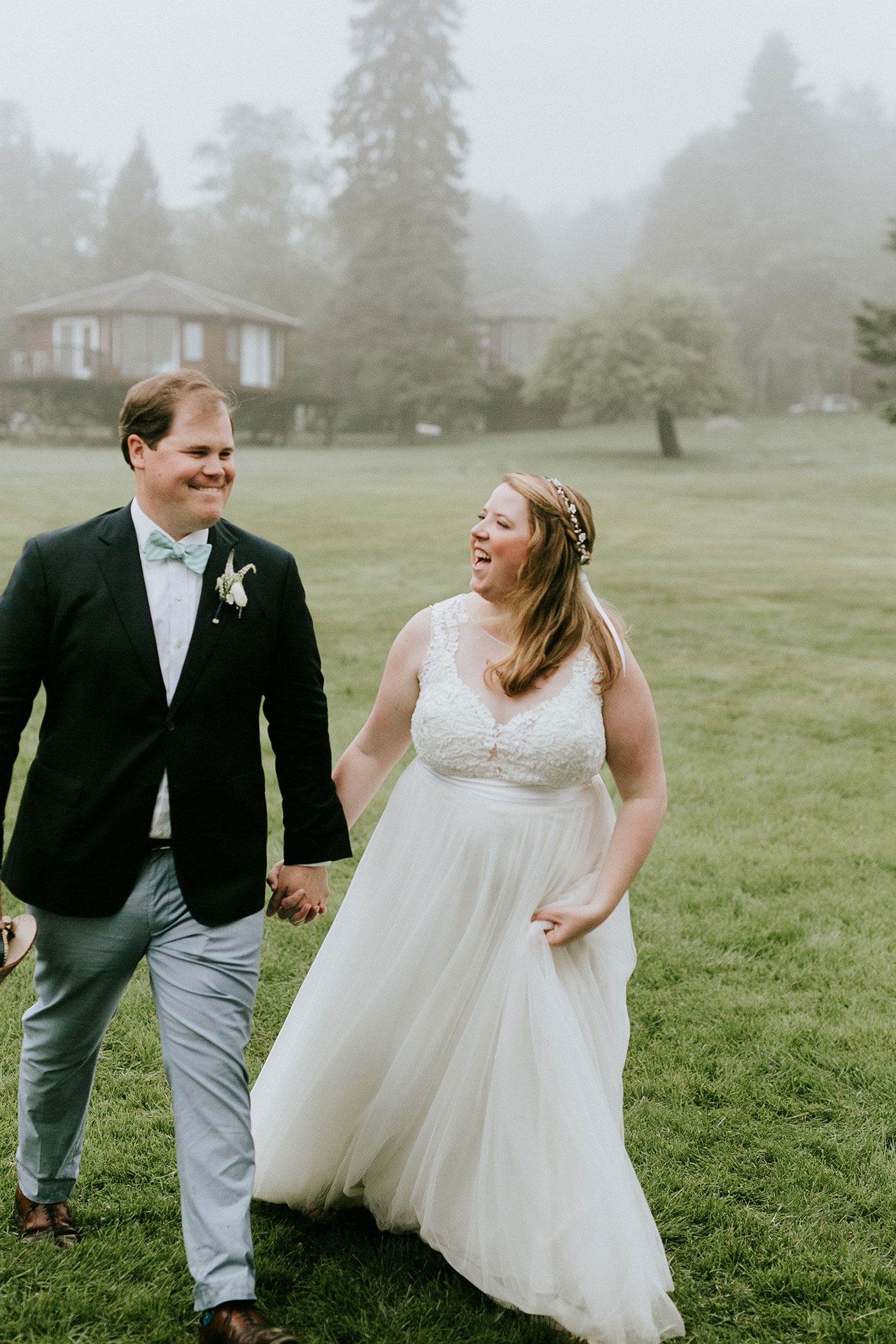 Photo Submissions: Ellen Jackson of Portland, Maine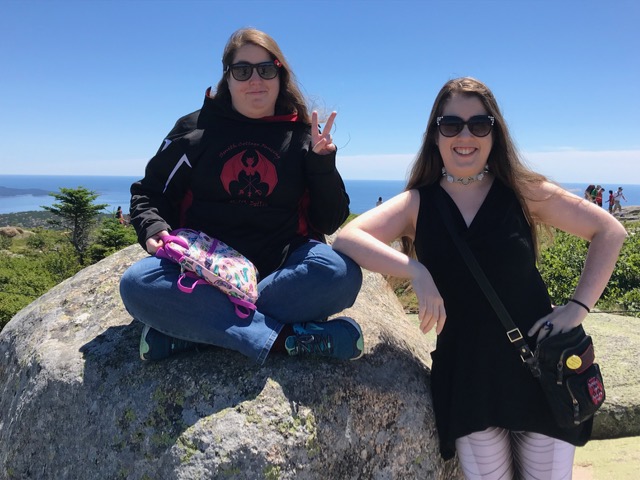 These photos were sent to us by Ellen Jackson of Portland, Maine.
The photo of family and friends include, clockwise from top left:
Alex Jackson and friend Bridget Phillips on Cadillac Mountain at Acadia National Park
Jack and Ellen Jackson at Otter Cliffs, Acadia National Park
Rebecca Schilling with Alex, Jack, and Ellen Jackson at Asticou Inn on deck overlooking Northeast Harbor
Phil Notis, captaining with guest Jack Jackson on Casco Bay
Deanna, Emma, and Bailey the dog boating with the Jacksons on Highland Lake, Windham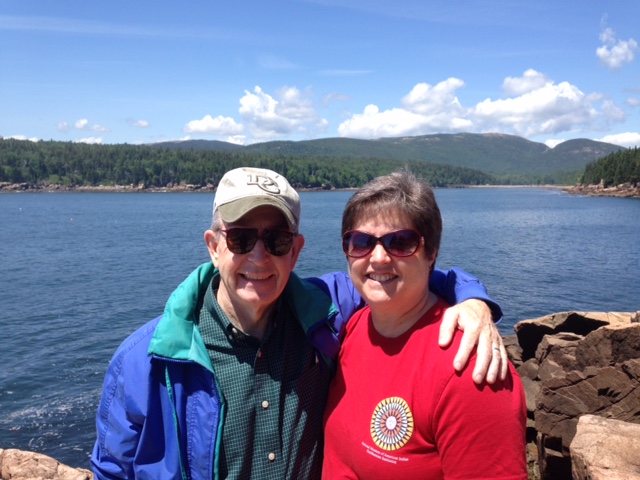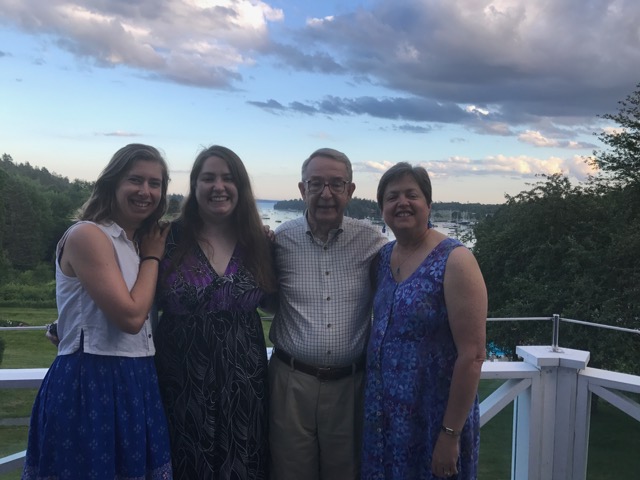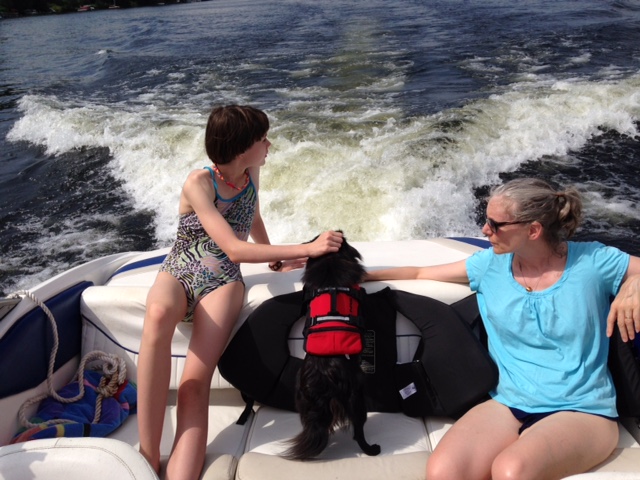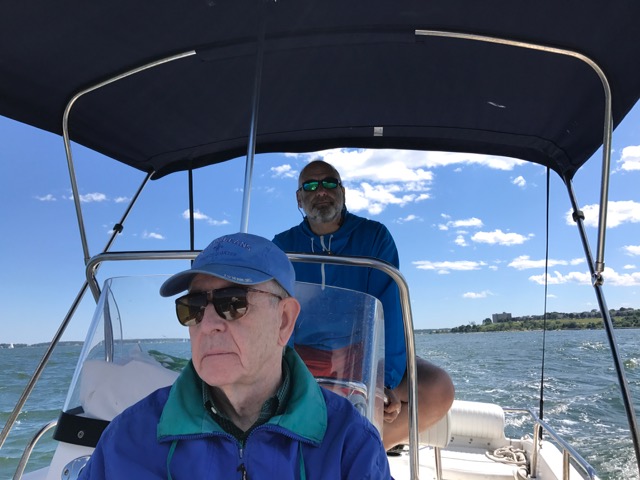 Send Us Your My Family & Me Photos!
Send full resolution, with details including location, a short quote/testimonial about why your family chose to visit that particular place, and any other information you would like to share.
Email photos to us at beth@nrcm.org. We look forward to seeing your photos!