Maine Trails to Explore
Great Reads by NRCM Members
Tips & Talk with Two Registered Maine Guides
Maine Wildlife Puzzle & More!
Find Your New Favorite Trail
We work hard together to protect the nature of Maine. Explore Maine celebrates this work by highlighting special places and activities that encourage us all to go outside and enjoy the state we are so fortunate to call home or to visit. Our 2023 edition puts the spotlight on Maine trails, with picks provided by NRCM staff, board, and members. Many of these places have been protected over the years as a result of our combined effort. This year's Explore Maine also features an interview with one Maine guide and tips from another, as well as opportunities for you to enjoy a guided trip or an adventure at a traditional Maine sporting camp, at a special NRCM member discounted price. This year's featured publications include three children's books reviewed by children, the latest in the Mike Bowditch series, and many more showcasing the beauty and natural history of Maine. There's even a Maine wildlife-themed "Find the  Differences" puzzle that we hope will be a fun way for people of all ages to explore Maine's native plants and animals. However you plan to spend your wonderful Maine summer, we hope Explore Maine 2023 inspires you.
—Allison Wells, Editor, Senior Director of Communications
The 50th anniversary of the iconic Clean Water Act is the perfect opportunity to celebrate the health and beauty of Maine's waters. Our lakes, rivers, streams, and coastline are central to what makes Maine so beloved. NRCM staff, board, and members have recommendations for some spectacular places to visit.
Time to start putting together your late summer reading list, and NRCM members can help. Find great books for you and your whole family, written by NRCM members. This year's books include fiction, children's books, a poetry book, and nonfiction. There's something for everyone!
NRCM Senior Director of Advocacy Pete Didisheim wrote this blog in celebration of the 50th anniversary of the Clean Water Act, a bill championed by Maine's own US Senator Edmund Muskie to clean up rivers across the country and right here in Maine. Learn the history of the Clean Water Act as well as what has been done and continues to be done to keep Maine's waters clean.
NRCM Board member Diana Roper McDowell studied art at the University of Maine and now paints at her home in Lamoine, where she has lived for the past 44 years. Learn more about Diana's art, her inspirations, and how she describes her work. 
Kevin Slater, co-owner of Mahoosuc Guide Service, participates in our member discount program. He is a Master Maine Guide with 40 years of experience, with a background of canoeing, fishing, mountaineering, hunting, and dogsledding. He served on the Oral Exam Board for Maine IF&W and has done safety reviews and risk assessment for nonprofit outdoor programs nationwide. Read his blog. 
Maine is known for its abundant plants and wildlife. Those of us who live among them can be lulled into taking them for granted. Many plants and animals are already at risk, which is why the Recovering America's Wildlife Act (RAWA) is so important. We hope you enjoy this fun way to "pay attention" to the nature of Maine by spotting 18 differences in the two pieces of art by Toki Oshima. We also encourage you to urge your elected federal officials to support RAWA. 
Cornelia "Fly Rod" Crosby might be the most famous Mainer you've never heard of. She was a skilled fly fisher and big promoter of Maine in the 1800s—and became the state's first Registered Maine Guide! Tune into our podcast with Maine Master Guide Roger Lambert and Brent West, Executive Director of the High Peaks Alliance, to hear about Fly Rod and why she remains so relevant today.
Use our Explore Maine map to find great places to hike, canoe, bird watch, snowshoe, & more on Maine's public lands and special places. This year we've added more Land for Maine's Future locations, with more coming soon! Do you know of an accessible trail we could add to our map? If so, please email us at nrcm@nrcm.org.
NRCM staff members share some of their favorite apps they use to explore Maine's outdoors. From birds to tides and stars to trails, there are apps for everyone looking for ways to get outside and enjoy the nature of Maine.
Be sure to get your NRCM t-shirts, caps, & totes in time for all of your adventures. Shop our online store to purchase tees, totes, and our made-in-the-USA caps! For winter adventures, check out our NRCM beanies.
Are you an author? Artist? Musician? Nature-based business owner?
If so, we invite you to send us information about your work so we can consider it for our 2024 edition of Explore Maine.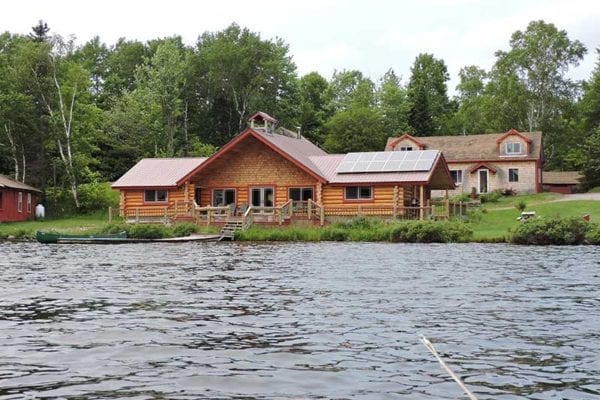 Enjoy a Great Maine Tradition
Maine Sporting Camp & Outdoor Recreation Partner Discounts for NRCM Members
There's nothing better than spending time in the woods or on a lake or pond this time of year. Many Maine sporting camps & guide services, and a rowing company in Belfast, offer great discounts to NRCM members as a way to promote their business while providing us an opportunity to thank our members for supporting our work. To receive a discount voucher, please email Beth at nrcm@nrcm.org or call her at (207) 430-0106. Here's more information about the camps and their discounts. Please note that to receive the discount, you'll need a voucher upon your arrival.
Banner photo: Mountain biking at Mt. Abram, by Andy Gagne