Exploring LMF & Other Public Lands
Enjoy Books, Blogs, & Other Good Reads by NRCM Members
Art, Wildlife-friendly Tips, & Our Summer Road Trip Playlist

Rediscover Maine's Great Outdoors
Have you started planning for your outdoor Maine adventures? Explore Maine 2021 can help! It features spectacular places that await your hiking shoes, paddles, fishing gear, and more—all recommended by our staff, board, and members. Maine's lakes, rivers, forests, mountains, and coast provide tremendous opportunities to spend time with friends and family or to rejuvenate alone. As a reminder of how important it is to keep our public lands programs funded, this year's edition puts the spotlight on Land for Maine's Future locations as well as State Parks and a few local gems. The Penobscot Nation's John Banks shares his thoughts about the Penobscot River restoration and a new book about it. We've got tips for a wildlife-friendly yard. The Good Reads section will keep a book in your hand all summer, and we've got much more: blogs, artwork, an endangered species coloring section, even a summer road trip playlist to help you get wherever you're going! As always, what we love most about our Explore Maine publication is that the real highlight is you, our members. You make it all possible, and that includes our work to protect the special places we all so enjoy. Thank you for all you do. Enjoy summer, and explore Maine!
—Allison Wells, Editor, Senior Director of Public Affairs & Communications
Maine's public lands have been good for us, providing safe places to explore and find solace. The pandemic was a reminder of just how important Land for Maine's Future and other public areas are for us. May these featured places, & all Maine public lands, inspire you.
Time to start putting together your summer reading list, and NRCM members can help. Find great books for you and your whole family, all written or illustrated by NRCM members. Also find great blogs & apps!
John Banks is Director of the Department of Natural Resources for the Penobscot Indian Nation, a key partner in the Penobscot River  Restoration Project. A new book detailing the Penobscot project was recently published by Islandport Press. NRCM invited John to share his perspective about the project as well as the book.
Along with NRCM members who are talented writers and bloggers, we have incredible artists, including Rick Osann. Also find some tips to make your yard wildlife-friendly, and don't miss our summer road trip playlist, compiled by our members & supporters!
We have compiled a list of six great apps to help you as you explore Maine this summer—or any time of year! Download these apps on your smartphone and start exploring!
Wildlife is an important part of Maine's identity, but many species are of high conservation concern. We're highlighting a few at-risk species in this printable coloring piece created by talented Maine artist Toki Oshima. 
Use our Explore Maine map to find great places to hike, canoe, bird watch, ski, snowshoe, & more on Maine's public lands and special places.
Be sure to get your NRCM t-shirts, caps, & totes in time for your summer adventures. Visit our online store to purchase shirts for the whole family, featuring beautiful artwork by Maine artist Jon Luoma.
Are you an author? Artist? Musician? Nature-based business owner?
If so, we invite you to send us information about your work so we can consider it for next year's edition of Explore Maine.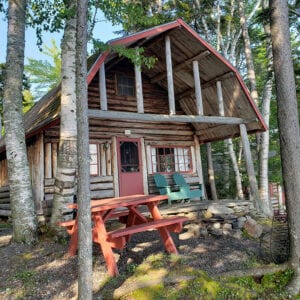 Enjoy a Great Maine Tradition
Maine Sporting Camp & Guide Service Discounts for NRCM Members
There's nothing better than spending time in the woods or on a lake or pond this time of year. Many Maine sporting camps & guide services offer great discounts to NRCM members as a way to promote their business while providing us an opportunity to thank our members for supporting our work. To receive a discount voucher, please email Beth at nrcm@nrcm.org or call her at (207) 430-0106. Here's more information about the camps and their discounts. Please note that to receive the discount, you'll need a voucher upon your arrival.
Banner photo NRCM Rising hike of Mt. Abraham. Photo by T.Martin/NRCM.