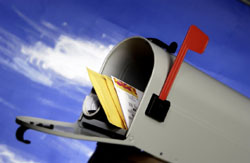 Are you sick and tired of receiving junk mail? Junk mail wastes paper, energy, and your time. You can do something about it! Take these eight easy steps to cut down on the junk mail.
1) Most direct marketers use the mailing lists of Direct Marketing Association. You can write to them, requesting your contact information be deleted, at:
DMA Mail Preference Service
P.O. Box 643
Carmel, NY 10512
A few direct marketers use mailing lists distributed by the following organizations:
Equifax Opt-Out Program
List Order Services
1621 18th Street
Dever, CO 80202
List Services Corporation
6 Trowbridge Drive
Bethel, CT 06801
Experian
Consumer Services Department
901 West Bond Street
Lincoln, NE 68521
InfoUSA
PO Box 27347
Omaha, NE 68127
Banks and credit card companies use credit bureau mailing lists, including these:
Experian Opt-Out
PO Box 919
Allen, TX 75013
Equifax Options
PO Box 740123
Atlanta, GA 30374
Trans Union 
Name Removal Option
PO Box 97328
Jackson, MS 39288
When contacting any of these organizations, give your name (be sure to list all the variations and misspellings that appear on your junk mail) and your address. Tell them that you want to be removed from the mailing lists used by direct marketers. They will add your name to a "delete file" that marketers access four times a year—so it could take a few months for it to take effect.
2) Call companies that send you unwanted or too many catalogs and ask them to stop or reduce what they're sending. For example, you can ask LL Bean to send you one catalog just four times a year (or less). When you order from a catalog, ask them not to send you ads and not to exchange your contact information with other companies. Companies will obey your wishes, since they don't want to lose your business! Visit www.catalogchoice.org to request companies to remove your name from their catalog mailing lists.
3) When you join or give money to non-profits, be sure to ask them not to exchange your contact information with other organizations.
4) Refrain from giving your address and phone number to companies. If they request this information, find out if it is required (often it is not). If you cannot avoid releasing this information, make the company agree not to send you advertising or to exchange your contact information with other companies.
5) Don't fill out warranty cards—warranties are effective even if you do not fill out the card. Warranty cards are just a way of getting personal information about you, both for the company's own marketing purposes and to sell to other companies. The exception is a registration card for a product that may later undergo a safety recall, such as a carseat. You are likely to hear about a recall in the most timely fashion if the company has your contact information.
6) Packets of ads or coupons addressed to "resident" should be accompanied by a card displaying your address and the address of the marketing company. If you do not live on a rural route, then you can write to the company and ask them to take your address off their list.
7) You can reject any junk mail that arrives via first class. Just write "return to sender—no unrequested correspondence allowed" on the envelope and put it back in your mailbox for the mail carrier to pick up. You cannot do this with non-first class mail, but if it has a post-paid return envelope you can put everything they sent you into it, along with a note requesting the removal of your name from their mailing list. These techniques cost the companies money and are likely to get their attention.
8) For junk mail that still manages to find its way to you, use 8 ½ x 11, one-sided pages for printing drafts of documents on your printer. If a particularly nice return envelope comes in junk mail, you can use mailing labels to cover the address up and reuse the envelope for your own purposes. If you do this you must cover up the bar code on the bottom, or the envelope will still go to the original addressee.
Taking any or all of these steps will significantly reduce unwanted material in your mailbox, and save trees, energy, and your precious time, in the long run.