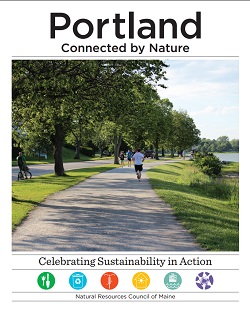 Portland is demonstrating how sustainability initiatives contribute to the quality of life of city residents, reduce environmental impacts, and inspire other Maine communities to follow suit. NRCM created this report to celebrate the great sustainability work underway in Portland, to help build momentum for those efforts, and inspire the city and its residents to do even more.
Portland – Connected by Nature provides a close-up view of the individuals and organizations that are working together in Portland to craft a future that's respectful of nature, in balance with nature, and connected to nature. The report is organized into five sections: Local Food, Waste Not, Livable Community, Positive Energy, and Sea Change. Within each section, we focus on Innovations that are particularly noteworthy in that subject area. We also feature Connectors—the individuals and organizations who are connecting people with each other, connecting people with nature, and connecting the world we live in today with the challenges of our future.
See a list of organizations and businesses promoting sustainability in Portland.
This publication is available for download only.
Download Portland—Connected by Nature
To download and/or order a free copy online, please enter the following information: