Thanksgiving is a wonderful time to pause and consider how fortunate we are to live in or visit the beautiful state of Maine.
Here at NRCM, we're thankful for the support of our members and friends like you, who help make our work protecting the nature of Maine possible.
What are you thankful for when you think of Maine?
Tell us and we'll post it here. Include a photo and we may post that as well. Send your "What I'm Thankful For" quote to Beth Dimond, public affairs coordinator, at beth@nrcm.org.
Happy Thanksgiving! From all of us at the Natural Resources Council of Maine. Enjoy these "thanks" from a few NRCM staff to help you feel inspired…
"I'm thankful for crisp clean air to breathe on a sunny autumn morning, for the chance to paddle the spectacular rivers and lakes of Maine's North Woods, for solitary campsites, dark skies and the call of the loon. I'm thankful for the chance to play Dvorak string quartets in an inn on the edge of the ocean and to cross country ski out my back door. And I am thankful for the opportunity to spend my days working to protect the landscapes of the largest undeveloped forest east of the Mississippi. – Cathy Johnson, North Woods Project Director and Staff Attorney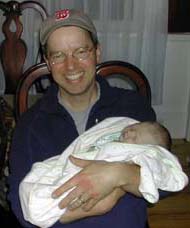 "On October 27 my wife and I were blessed with our first child, a daughter we named Lily. We are thankful—firstly—that she is here with us, healthy and growing, and also that we will be able to raise her in a town and a state that we love. We can't wait to introduce her to the places in Maine that we have been enjoying for years." –Mathew Scease, Major Gifts Director
"I am thankful for having two beautiful granddaughters living near enough to see every day!  Having a boat and lots of lakes to take them swimming, fishing and camping.  Maine is a wonderful state full of opportunities for outdoor activities and we enjoy them all." – Sandy Hutchings
Reasons You are Thankful: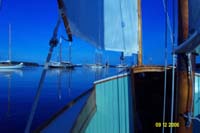 Sometimes you have to leave to realize how special the place you call home is. I left Sargentville Maine last December to sail around the world. Now, nearly a year later, I'm in New Zealand. I've seen many places on the way, and I've met so many people. Now I realize just how I am incredibly lucky to have Maine as my home. At the mere mention of Maine, sailors from around the world wax poetic about the islands, the people, the historic boats, and the often the fog. The natural beauty, the wonderful people, and the vision for the future in Maine are world class. I am thankful for the opportunity to carry that with me as I sail homeward…Ok homeward is a bit premature at this point… Debrae B., Whangerei NZ
I am thankful that I was born and raised in Maine at a time when I didn't have to lock the doors when I left my house, I could leave the keys in my car, and my dog could run loose. Also, there were plentiful deer and partridge and trout at where I still have a log cabin. Unfortunately, Plum Creek is doing everything in its power to ruin the isolation the I and my family have had for over 70 years. Get Plum Creek out of Maine. They are not friends. They are just greedy and have destroyed the land everywhere that they have ever been. – Franklyn M.
I feel blessed to live in the State of Maine, a land of pristine lakes, dense forests, rolling farmland bordered by a rocky coastline washed by a vast, open ocean. How fortunate we are to be able to experience all of this natural beauty in harmony and in perfect balance with the amenities and cultural activities found in our relatively small clean cities and towns. How much closer to paradise on earth can one get on a daily basis? – Thomas M., Bingham, Maine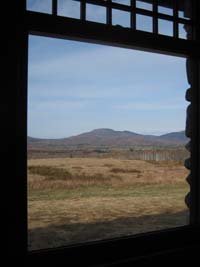 Coastal Mountains Land Trust is thankful for the generous donor support that helped make wonderful views of the Camden Hills visible again for the first time in decades from the newly restored windows in our historic sod-roofed, stone hut on Beech Hill, in Rockport. – Kristen L., Camden, Maine
I'm thankful for everything Maine's nature provides for my family. We pick berries, apples and mushroom, fish and hunt. We are entertained on our lakes and ponds, by our birds and wildlife, and on our beautiful trails. I'm thankful that my entire family lives here and is happy and healthy. –Robin F., Talmadge, Maine
I am thankful for the rich intoxicating beauty of Acadia National Park. – Stephen F., Old Orchard Beach, Maine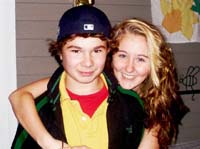 I am thankful for being a true "Mainer." Born in Maine, I went to excellent public schools in Portland, went to the University of Maine and now live in a small town where my two teenagers are also attending excellent schools! Maine has a lot of good people, good teachers and volunteers – all wonderful role models for our Maine youth, the future of our state! I am also extremely thankful for my two wonderful "Mainer" teenagers who try and keep me young and laughing!! – Jane D., Kennebunk, Maine
I am thankful for a pristine island in Maine that has been a family gathering place for over 40 years. I am thankful for clear cold water, loons calling, granite boulders, deep green fir trees and balsalm scented forests. I am grateful for seagulls wheeling over salt water and the smell of the ocean. I am thankful for my Maine roots and the reverence for nature with which I have been blessed to have been instilled. I am thankful for NRCM working so wholeheartedly to protect the irreplaceable and achingly beautiful natural resources of Maine. Thank you! – Judith S., member living in New Mexico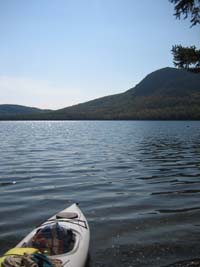 I am thankful for the quiet lakes that exist in northern Maine. I am thankful that I can kayak on a body of water in Maine and listen to loons and see beautiful mountains in the distance. It is a rare experience in our world of today to be able to experience the quietude and peace that we can enjoy on many Maine waters. We must all work to preserve this special place we call Maine. Our forebears knew what a extraordinary place this was and we need to do our part to ensure it will be special for future generations. Happy Thanksgiving! – Merrylyn S., Wayne, Maine
I am thankful for the complete beauty and solitude as I walk out my front door and for how that time in nature renews my soul in so many ways. If I was able to give this gift to all those that do not have this very important connection to the outdoors I would give that in a second. Maybe someday those folks will be able to make that connection because of people like you.
Thank You. – Deborah C., Chesterville, Maine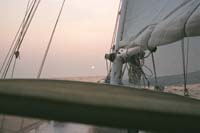 I'm grateful for the growing sensibility among Maine people that we must protect the rural character of Maine, from natural features to the people who make a living off the land and sea. I'm thankful that Damariscotta fought off a Super Wal-Mart, and schools are talking about buying food from local farms. I'm grateful for sunrises and sunsets and rain and fog and snow. My brother once said, Steve, you've got to like all kinds of weather, all year 'round. He's right, and I do. Other than sailing into a squall — although that makes a good fireside story when we're safe ashore. Paddling rivers in the spring, picking blueberries and raspberries in the summertime, pressing cider in the fall, cross-country ski-camping in the winter — there is no end to the list.
We live in such a special place it takes a lot of effort to pry me loose for a trip, although I admit there are other places almost as nice as Maine. I'm grateful for small communities, fall foliage, potluck suppers, contradances, stores where they know your name and dare to tease you.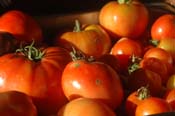 I'm grateful that people are thinking longer term, about what kind of life the next generations will have to sort out. I'm grateful for people with a sense of humor, because without that, we'd have to take life way too seriously, and my grandmother told me when I turned 16 that it's a big mistake to do that.
I'm grateful for ripe tomatoes, fresh from the garden, and the good sweet things that follow when you have time for these things.
– Steve C., Waldoboro, Maine
I am thankful to live in a beautiful, working fishing village on the coast of Maine. I am thankful that most each and every day, my two wonderful dogs, Shadow and Boomer pile in their dog car with me for a three minute ride to the Pemaquid Point where we walk the loop. In summer we meet visitors from all over the world as we enjoy the bracing, salty smell of the ocean interspersed with whiffs of rugosa roses……in autumn two of us chase chipmunks and squirrels into rock walls against the backdrop of brilliant foliage. In winter, I strap on my crampons and we carefully make our way around roads that are kept remarkably walkable no matter the weather. Sometimes we don't see another soul and it's as if the world is ours alone. And in spring- the three of us rejoice at the return of the peepers as the Pemaquid Point greens up for another glorious season. We are blessed and we are thankful! – Gail R., Pemaquid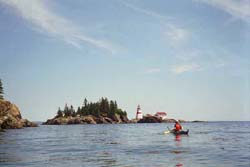 I am thankful for Cobscook Bay State Park and the waters it gives access to. Clark B., East Windsor, CT
I am thankful for the ways others view the natural beauty that most of us realize is a part of the way we like to live out our lives. And I hope for all the future generations, that they also try to preserve what great gifts nature has given us and not to be minimized by people who cannot see the forest, and want to cut down the trees. Happy Holidays.– Ray G., Kennebunk
I'm thankful for my family: my husband of 20 years, our daughter and son, and now our first grandbaby Lacey. We are all thankful for our beautiful state we live in, fresh water, the crisp in the air. – Shannon C., Holden, Maine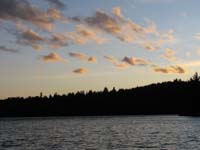 As a painter I draw my inspiration from Maine. The colors, shapes, air and feel of the state. Whether it is the remote areas of Down East or the North Woods I seek the solitude and quiet the state offers. My forefathers and foremothers planted potatoes in Aroostook, my grandfather helped build the Bangor and Aroostook railroad, my dad served as a county doctor in Gardiner for over 40 years. I am thankful for being born in the great state, being raised on Green Point Farm on Merrymeeting Bay, and for cherishing the vast unspoiled lands in Northern Maine where one can hear only a loon call and nothing else. –Giovanna L., Canaan, NH
Oh sweet Maine! So many thing to be grateful for. It is so true that you realize how amazing something/someplace/someone is when you don't have it/them. I have been living in South Florida for the last year and almost daily feel for the things in Maine that I miss, love, and am thankful for. 1.) The seasons, the mountains, the fall harvest, 2.) the small towns and feeling of community, 3.) a beach to sit on that is not over-run with noise, bars, and litter, 4.) independent store-fronts, 5.) Brunswick!, 6.) Bartering, 7.) environmentalists (such as NRCM), 8.) not being honked at in your car when you don't run a red light 9.) the smell of a warm fire and the sound of acorns falling, 10.) carhartts, and 11.) pumpkin patches. This is a good start. Oh yeah, I am also thankful for my great-grand parents who came to Maine to start their families – because of them, Maine is my place that feels like home. – Becky P. – Hiker, justice seeker, and aspiring midwife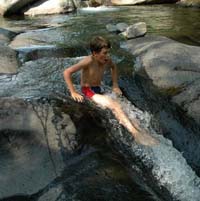 I am thankful that 10 year old boys can grow up sliding down freezing cold waterfalls in the Moosehead Lake region of Maine (Gulf Hagas), knowing that this is how life was meant to be. –Adam L., Cumberland, Maine
I am thankful for this time of year when we all slow down and spend more time with one another. I am thankful for the beauty and wildlife that Maine offers all year round. I am thankfull for my friends and my pets who have gotten me through the year. And last I am thankful to be a volunteer for an organization that cares for our state as much as I do. – Melinda I., Portland, Maine
When I think of Maine I think of the many species who inhabit the forests and waters and consider it a privilege to be a guest in their home when visiting. May it always be theirs. This photo is of my girlfriend and me at Little Lyford Pond AMC Camp this past September. – John M., Stockbridge, MA
I'm thankful that I live where I can travel down the peninsulas to Casco Bay, or in an opposite direction on country roads which take me where a new and colorful rural landscape shows itself at every turn in the road. Also I'm thankful for our great highways which allow me easy access to family and friends across the state. For these things and much, much more I give thanks. – Barbara T., Topsham, Maine
For Mr. Rockefeller's Carriage Roads on MDI. Thank you! Elise F., Southwest Harbor, Maine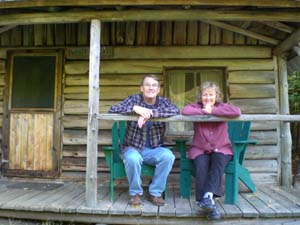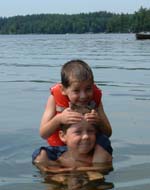 I'm thankful that my family can enjoy winter mornings that glisten when we walk out our front door, and spend summer days outdoors enjoying the beauty of Maine out at our camp out on Cobbosseeconte Lake. Here's a picture of fun in the water… – Judi K., Wales, Maine
I am very thankful for the opportunity to express my gratitude. It occurs to me that our nation, our very way of life as we know it today, sprang forth from nothing more than the bounty of the land – shared with us by our Native American brothers and sisters, whose capable stewardship enabled great blessings for all of us who followed. No one privileged group inherited the land…no aristocracy, no religion, no race. No appointed company, or political party inherited it. This nation grew to become what it has become despite the influence of those who've sought to control and/or exploit the land. We've all inherited a great gift – a gift that must be shared in order that it might be more fully appreciated, more fully honored, and more fully realized. Yes, I'm very thankful for the opportunity to express gratitude to those who came before us, and care for those who come after us. And I'm grateful for NRCM, as it is a manifestation of the kind of caring needed to ensure that those who inherit the Earth from us might enjoy the opportunity to be grateful for that which we helped to preserve.
– Thomas M., Bangor, Maine