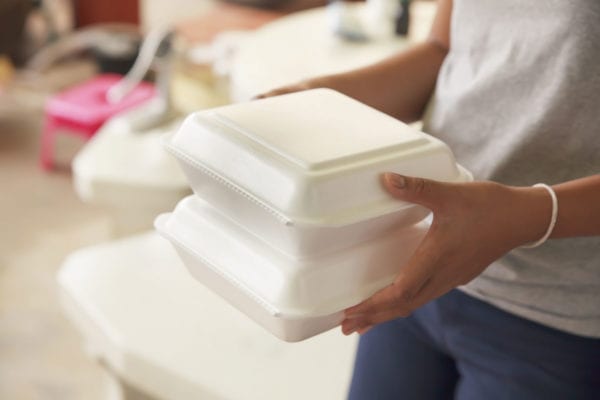 On April 30, 2019, Maine became the first state in the nation to ban disposable foam food containers under a bill signed into law by Governor Janet Mills. The law prohibits restaurants, caterers, coffee shops, and grocery stores from using Expanded Polystyrene (EPS) foam containers. One of the top 10 contributors to litter, polystyrene is both a concern for the environment and for human health. The bill was sponsored by Rep. Stanley Zeigler (D-Montville). Since the bill's passage, other states, including Maryland and New York, have joined Maine in banning the sale and distribution of polystyrene for food containers. 
Polystyrene foam has been in use since the 1960s, once prized by food establishments for being light weight, impact-absorbing, insulated, and cheap. These benefits are swiftly undermined by the impact they have on the environment and human health. It negatively impacts wildlife, waterways, and other natural resources, and is a big source of litter in our communities and natural areas. The material does not readily biodegrade, so when polystyrene foam ends up as litter in the environment, it can persist for a long time and likely become microplastic pollution. The U.S. Department of Health and Human Services' National Toxicology Program has listed styrene, a chemical found in polystyrene foam, as a "reasonably anticipated human carcinogen" that can be transmitted from polystyrene foam containers into food and beverages that people consume. 
Here in Maine, EPS is not accepted for recycling, and is therefore treated as trash. All of Maine's polystyrene foam, if not littered, is either burned or buried, the former method emitting toxic chemicals into our air, and the latter taking up exorbitant space in landfills. Misconceptions regarding the recycling capacity of polystyrene often result in the contamination of recycling loads, which costs municipalities money and reduces the value of recycled material. 
This statewide ban requires all businesses that meet the definition of a "food establishment" to no longer use polystyrene foam food service containers. At large, most stores, food packing facilities, and home meal delivery businesses meet the definition of a food establishment. The ban, alongside the plastic bag ban, was put into place on July 1, 2021. 
"Unless we were going to try to bundle all plastics together to be banned, we needed to start with the plastic that is the most difficult to reuse, recycle or put into the solid waste stream. If we can ban those items, then the market will come up with replacements that are more compatible to a healthy environment. Polystyrene was a plastic product that fit that description," says Rep. Stanley Zeigler. "Hopefully, this ban will show people that there are alternatives to plastic and that we need to move away from a throw away culture. This may be one of the first steps, but it certainly won't be the last one for society to clean up its act." 
Efforts to pass this bill were wholeheartedly supported by the Natural Resources Council of Maine. NRCM has led efforts to discourage the use of foam containers, including by providing public schools with grants to transition away from disposable foam lunch trays. Maine is a trailblazer of key environmental legislation, and NRCM continues to work constructively with this quest toward a more sustainable future. 
Enforcement began: July 1, 2021
Applies to: Restaurants, markets, nursing homes, and food trucks. No eating establishment may serve food in containers made in whole or in part from EPS foam products.
Does Not Apply to: Food packaged out of state and sold in Maine. Maine consumers may still see meat, fish, or eggs packaged in foam.
Does Not Pre-empt Any Existing Local Policy: This means that if your town has adopted a more restrictive ordinance regarding foam, then the affected business will have to comply with both laws—whichever is more restrictive.