When considering how to reduce plastic pollution, many people find compostable cups, containers, and utensils ("compostables") to be an appealing option. We understand why: these products often claim to be "earth-friendly," and ultimately that is what we all deeply desire. Unfortunately, the environmental impact of disposable compostable containers is not as simple and straightforward as these products lead people to believe.
When the Natural Resources Council of Maine's (NRCM) Sustainable Maine team helps schools and communities save money and reduce pollution by moving up the waste hierarchy, we are often asked if it is a good idea to swap plastic disposables out for compostable disposables. We wish it were that easy, but just like regular plastic and paper food ware, compostable products also present problems that communities must fully understand. For this reason, NRCM recommends that schools, businesses, and other organizations focus first and foremost on switching to reusables and use any disposable product, including compostables, as a temporary solution only.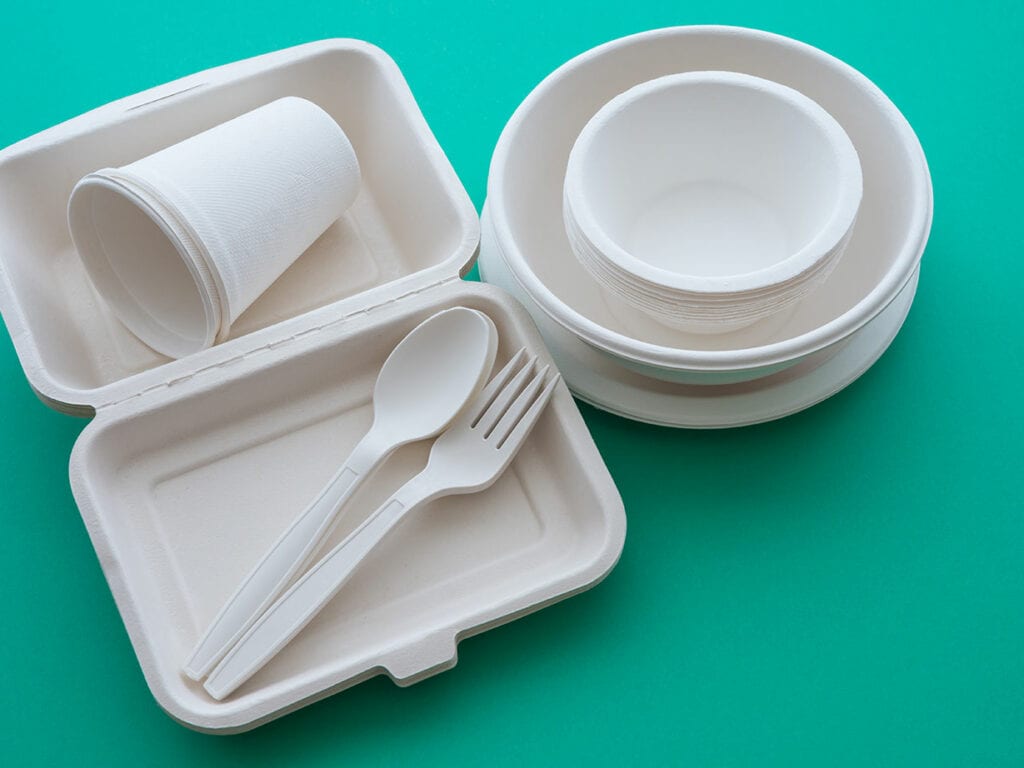 Here are 5 reasons why we're not crazy about compostable food ware:
Compostable products contribute to confusion. Institutional settings have a wide range of packaged foods and fast meal times, making confusion one of the primary barriers to successful composting and recycling programs. Disposable compostable containers are designed to look, feel, and act like recyclable paper and plastic products. As a result, they confuse users and often end up in recycling bins, where they don't belong. This means they are treated as contamination by the vast majority of recycling programs. They will get sent to the landfill or end up costing taxpayers. The fact that these compostables have the number 7 on them with the recycling symbol causes additional unnecessary confusion. Implementing reusables is the best way to reduce or eliminate this confusion. People instantly know where reusables belong—the dishwasher!
Composters and pig farmers don't want disposable compostables. The volume of compostables that most institutions like schools, hospitals, and restaurants produce far exceeds the volume of food waste they produce. That means compost bins can quickly get overwhelmed with a material that is low value to composters and pig farmers. Food waste is what makes compost nutrient-rich. At best, compostables are neutral; at worst they can degrade the quality of compost. In Maine, pig farms play an important role in keeping valuable food waste out of landfills, but pigs can't eat your compostables, making it difficult for pig farmers to accept waste that includes both food and compostables.
Molded fiber compostables contain toxic PFAS. Many compostables that look and feel like natural fibers molded together are made with toxic chemicals like PFAS to make them waterproof. These "forever" chemicals are linked to harmful health impacts in adults and children, and communities are finding PFAS in their compost piles from compostable food ware that was mixed in.
Disposable compostables still pollute our forests, waters, and ocean as litter. Just because a product claims to be compostable doesn't mean that it will be harmless to the environment if littered. Compostable products can only break down in the very specific conditions provided by industrial composting facilities. When littered by careless humans, scavenging animals, or windblown out of receptacles, they can cause harm to waters and wildlife, just like regular plastic. When they end up in the landfill, they don't degrade either.
Compostable disposables distract from what really needs to happen. We know the terrible effects of disposables on the environment—regardless of material type. It is a much more effective use of our time and resources to focus on using fewer materials and switching to reusable products. Switching to reusables is not only great for the environment, but also great for your wallet. After just a few reuses, institutions and businesses start seeing big savings by switching to reusables.
If you have to use disposable compostables make sure you do your research. Use this checklist to guide your decision-making:
√ Make sure the product you choose is certified compostable by the Biodegradable Products Institute (BPI). As of 2020, BPI is including PFAS standards in its certification.
√ Talk to your local composter to make sure that your product is actually compostable in their facility
√ Choose products that are clearly labelled so that your users don't get confused. Educate your users and be clear about which products you offer are compostable, recyclable, or trash.
√ Like with regular plastics, make your disposable compostables available only by request to reduce waste.
√ Perform a cost-benefit analysis to evaluate the cost-savings from reusables versus the cost of using compostables.
Food packaging is overwhelming our budgets, waste streams, and environment. Disposable plastics are terrible, and we must be equally critical of the alternatives. Switching to reusables is the only solution that addresses the problem of institutionalized wastefulness at its core. Switching to reusables can be tough. That is why we are here to help. Please reach out if you'd like help switching to reusables: Chrissy@nrcm.org
—Chrissy Adamowicz, NRCM Sustainable Maine Outreach Coordinator