Fiona Gordon, Director of Leadership Giving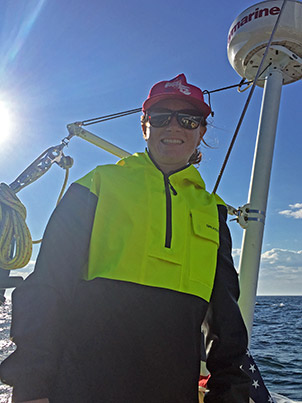 Fiona works to strengthen and grow NRCM's Katahdin Circle membership. She plans and implements communications, visits, and events, in recognition of the contributions of these major donors. Fiona was born and raised in New York and moved to Maine in 2012 after graduating from Boston University. Prior to coming to NRCM, she was assistant coach of the Bowdoin College sailing team and fundraised for the Bigelow Laboratory for Ocean Sciences. After a year of travel, including cruising to Labrador and mountain biking through Utah, Fiona is happily settled in Freeport. She is a member of the Portland Ballet Board of Directors and enjoys sailing, mountain biking, and skiing.
Favorite Ice Cream Flavor: Mint chocolate chip, but I'm really more of a candy person!
Dog or Cat Person? Dog! But I like all animals.
In the intro to the first Peterson Guide to North American Birds I was ever given, Roger Torey Peterson wrote, "The observation of birds leads inevitably to environmental awareness." That thought has always stuck with me, and it's so true! My early education of the natural world came from Peterson guides and looking around my own neighborhood. 
And: I have a deep love for lichen and cacti and am growing a collection of both.