Allison Wells, Senior Director, Communications & Public Affairs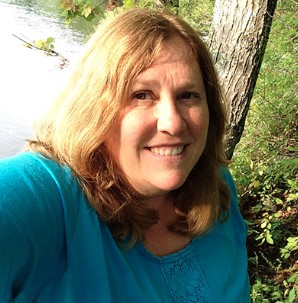 Allison is responsible for NRCM's organization-wide communications, leading the team that produces a range of materials, from Maine Environment newsletter and brochures to NRCM's website and social media. She works with like-minded businesses on co-branded initiatives designed to inform and engage the public about opportunities to make a difference protecting Maine's environment. Before coming to NRCM, Allison was the Communications Director for the Cornell Lab of Ornithology in Ithaca, NY. She received her BA from the University of Maine at Farmington and a Masters from Cornell University. A 12th generation Mainer, she and her husband Jeff are the authors of the books Maine's Favorite Birds (Tilbury House Publishers) and Birds of Aruba, Bonaire, and Curaçao: a Site and Field Guide (Cornell University Press), and they write a weekly birding column for the Boothbay Register. She lives in Gardiner with her family, their dog Loki, and two indoor cats, Jack and Charlotte.
My Favorite Way to Enjoy Maine: Birding! And kayaking Maine's lovely lakes and rivers, and exploring our ever-changing ocean beaches. Our state has so many beautiful natural areas—my family and I take every opportunity we can to enjoy them.
Favorite Ice Cream Flavor: Peppermint Patty at the Goose Rocks Dairy Bar in Kennebunkport
Favorite Quote:
"…For to come upon warblers in early May
Was to forget time and death:
How they filled the oriole's elm, a twittering restless cloud, all one morning,
And I watched and watched till my eyes blurred…"
—Theodore Roethke, from "The Far Field"
And: While at Cornell, I was the vocalist for a 20-piece jazz band that performed around Upstate New York and on the Caribbean island of Aruba.