Maine is home to a wide variety of wildlife. For some species, Maine provides habitat for a large part of the entire world population. NRCM works for initiatives that protect Maine's wildlife by advocating for policies that ensure the health of the environment upon which they rely. Maine is home to a wide variety of wildlife. Moose, deer, and loons are a few of the animals for which Maine is known and loved. For some species, like the Black-throated Blue Warbler, Maine provides habitat for a proportionately large part of the entire world's breeding population—nearly 20 percent. Others, like the Canada lynx, are rare in our state. For still other species, such as American marten, northern Maine is the southernmost extent of its range. Given the many threats wildlife populations now face, particularly habitat loss and degradation, Mainers must do all we can to ensure protections. Maine's North Woods is the largest undeveloped forest east of the Mississippi, providing vast acreages of crucial habitat for mammals, birds, and insects. Research has shown that the smaller and more isolated a forest patch, the less likely it will be to support a self-sustaining population of animals. Maine's North Woods provides "source populations" for adjoining regions—the only source of potential immigrants to areas where populations may be at higher risk of disappearing. Developments, such as those proposed by Seattle-based Plum Creek, put our North Woods at risk. NRCM has made protection of Maine's North Woods one of our highest priorities. Our children, grandchildren, and generations to come should be able to enjoy and wonder at the diversity of wildlife that call Maine home. We will continue to advocate for land protection, sound forest practices, for policies the prevent harm from toxics, and for other initiatives that protect the wildlife that help make Maine, Maine.
Banner photo: Moose in lupines, A My Maine This Week photo by NRCM supporter Bob Duchesne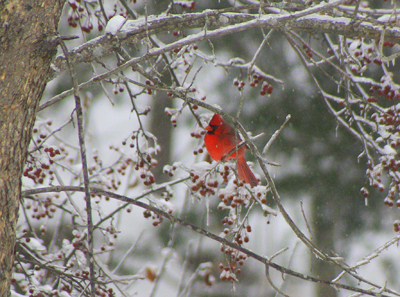 The sounds of nature are different in winter than in spring and summer. Birds call rather than sing. The steady drip of an icicle melting in the sunshine, the crunch of snow underfoot—take time to enjoy these special sounds of Maine in winter, since before you know it will be spring! To view more tips, click Read More
Read More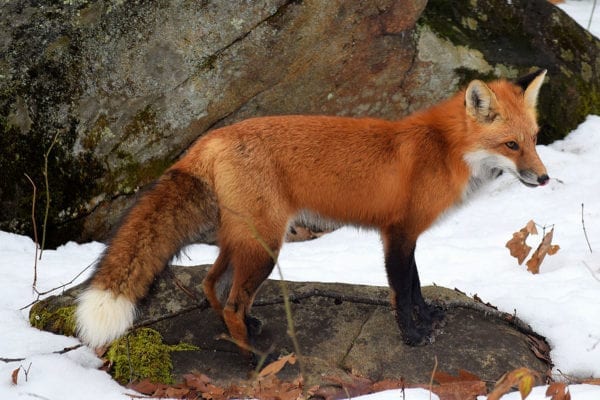 Did you know that the red fox is the most widely distributed carnivore in the world and one of the most common animals in the Northern Hemisphere?
Read More