I just attended my 20th high school reunion this past weekend.  20 years ago, I was graduating from high school. That is hard to believe.  What is harder to believe is that that was around the time that NRCM and its partners in the Kennebec Coalition started the decade of hard work to remove the Edwards Dam on the Kennebec River in Augusta.
And ten years ago tomorrow – on July 1, 1999 – I was sitting on the edge of the Kennebec River, along with hundreds of others as the first murky water flowed freely through the site of the Edwards Dam for the first time in more than 150 years.
I was a fairly new NRCM staff member at the time, and was still processing the excitement of having met Bonnie Raitt at Merrill Auditorium the night before.  She had done a benefit concert for us in celebration of the dam's removal – it was incredible!  And then, to get up early the next morning and head over to the other side of the Kennebec to sit and wait for the big event was almost more than I could bear.  I was SO excited.  I found a spot early and sat there for most of the day, looking through binoculars to see if I would have a good view of the spot where the first water would come rushing through.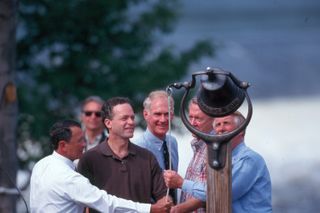 I remember listening to all of the speeches by Brownie, Governor King, and others that day – and then hearing them ring the bell, signaling that it was time (finally!) for the dam to come out.  St. Augustine Church rang its bells as well that day, in celebration of this historic event.
And then, to see the water come rushing through the first hole dug out of the dam, and hearing everyone cheer and clap…it is a moment in time that I will never forget.
Were you there that day?  What do you remember?  Please share photos and stories with us as we celebrate 10 years of a free-flowing Kennebec River.  And, if you can – join us on July 18 as we paddle this stretch of river from Sidney to Augusta in celebration of the rebirth of the Kennebec River!
Happy Anniversary! Watch a video of the 10th anniversary celebration.
—Beth Comeau, Communications Manager