Celebrating the Penobscot River's Revival: Removing Great Works Dam
June 11, 2012
Indian Island, Old Town, Maine
NRCM and our partners gathered on the banks of the Penobscot River for a a day of activities, as we witnessed the start of the removal of the Great Works Dam that has blocked the river for 200 years. Throughout the day there were a wide array of activities to celebrate this momentous occasion.
The day kicked off at Sockalexis Hall with a live broadcast from the site where dismantling of the Great Works Dam began. The Penobscot Nation then hosted a community-wide luncheon with ceremonial drumming and remarks by Project leaders. The celebration continued with opportunities to explore interactive and cultural exhibits, canoe on the river, and participate in other activities on Indian Island. The day culminated with a final community-wide celebration in the late afternoon.
About the Exhibits
There were a wide range of educational and interactive exhibits at Sockalexis Hall, including:
A dynamic history of the Penobscot River
A photography exhibit and other related artwork
A traditional birch bark canoe on display
Traditional Native American basket weaving and other traditional artisan crafts
About the Speakers
A wide array of dignitaries offered remarks at this event; both at the actual breaching as well as at Sockalexis Hall. These dignitaries include, among others:
Ken Salazar, Secretary of the U.S. Department of the Interior
Commissioner Pat Keliher, Maine Department of Marine Resources on behalf of State of Maine
Eric Schwaab, the Acting Assistant Secretary for Conservation and Management, NOAA
Maine's Congressional Delegation or their representatives
Lisa Pohlmann, CEO of the Natural Resources Council of Maine
Representatives from our partner organizations as well as the local business community
News Stories about the Great Works Dam Removal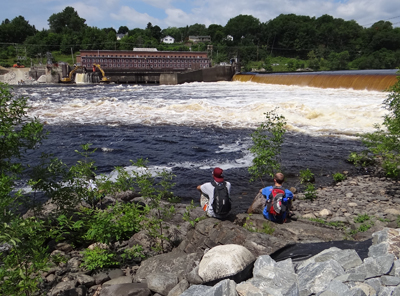 Veazie Dam Breaching Celebration & Commemoration
Hundreds of people joined us on July 22, 2013, as we Reconnected the Penobscot River to the Sea!
This event reopened the Penobscot River to the sea so that Atlantic salmon, sturgeon, river herring, American shad, and other species of sea-run fish can swim freely all the way to Old Town for the first time in nearly 200 years!
Breaching the Veazie Dam marked a monumental step in the Penobscot River Restoration Project, which sought to restore self-sustaining populations of sea-run fish to the Penobscot River watershed by opening migration paths between the ocean and upstream habitat critical to rebuilding fish populations. Reconnecting the river to the sea is revitalizing culture, recreation, ecological health, and economic opportunities for the region and Maine.
Media from Veazie Dam Breaching