Last year around this time, dozens of cars lined up along Route 126 from South Gardiner to Gardiner. Children, along with one or both of their parents, gazed out through the windows or stood nearby as two Coast Guard ice breakers plowed their way up the Kennebec River, slicing through thick layers of ice—an annual event to prevent jams and flooding as the ice melts and flows out to sea.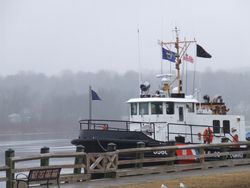 The cutters arrived at the Gardiner boat landing last week, but not one car stopped to watch.
That's because there was no ice to break up. The mighty Kennebec, typically snarled with jagged fangs of ice this time of year, was as clear and free-flowing on March 13th as it is on a mid-summer's day.
To those of us who live along the Kennebec, the widening ribbon of moving water correlates with the gradual arrival of spring. Each day, the frozen water shrinks a little more, and soon the last of the bergs bob their way down the current to Merrymeeting Bay. That's how spring happens.
But not this year.
For birders like me, the signs of spring began appearing even before the river thawed. In early February, a subscriber on the Mainebirds listserv reported seeing a Turkey Vulture in Bowdoinham. Although the majority of Turkey Vultures spend the winter in the southern U.S. and beyond, an individual bird now and then has been known to overwinter here. Such instances are rare, since vultures feed on carrion, and it's hard for dead animal carcasses to rot when they're frozen solid in a typical Maine winter. But they can occasionally make a living by hanging around near large farms where there are dead chickens or cattle, or else they take a liking to dumpsites. So the report in early February? Interesting, but not disconcerting.
But the vultures kept coming. Less than a week after that first Turkey Vulture, I saw one myself, and many other birders also saw them. Reports of Wood Ducks, Green-winged Teal, and American Woodcock soon followed. Like Turkey Vultures, there are occasional individuals of these species that attempt to winter in some years. The ducks might find an open patch of water. A woodcock might attempt to linger, surviving by finding some thawed ground along the edges of a stream to feed on worms or other invertebrates.

Then came the Ring-necked Ducks followed by obligate insect eaters like Eastern Phoebes (left) and Northern Rough-winged Swallows—virtually all at least two weeks earlier than usual. For example, a paper in Northeastern Naturalist by Colby College professor Herb Wilson gave the earliest arrival date from 1994 observers for Rough-winged Swallow of April 10. A bird was seen this year on March 10. The first Eastern Phoebe reported from Wilson's 1994 dataset was March 22; this year one was reported on March 14. In 1994 a Ring-necked Duck was first reported on March 24 while the first reported this year was March 8.
Being married to a scientist as I am, and working for an organization like the Natural Resources Council of Maine that puts a high value on science, I have long been aware that virtually all scientists studying climate change not only agree that it's real but that its rapid acceleration is directly tied to human-made pollution from oil, gas, and coal. They all agree that unless we make big changes, fast, the world will be hotter and dryer in some places, with flooding elsewhere—and overall, an ecological mess.
I love spring as much as any Mainer does. Who doesn't welcome brighter, warmer days after winter of cold, shorter days? However, while many of my Facebook friends blissfully post about the unseasonable 60-degree weather, I find myself mulling over the birds and the science with questions like these:
Will the timing of mayfly or stonefly emergence from aquatic habitats change because of the change in temperatures and impact the ability of swallows to feed their young?
Will the timing of flowering and pollination, and the ripening of natural fruits, change in ways that make food supplies less available for fall migrants trying to fatten up for migration?
My biggest question is this: Is this spring just an anomaly?
The data say no, it is not. Hundreds of scientific studies have now documented that bird migration, flowering times, insect emergence, and dozens of other biological events across the Northern Hemisphere now occur two weeks or more earlier than they did 50 to 100 years ago.
What will this mean in the years, and decades, to come? Short-distance migrant birds may be able to adapt their spring arrival dates, but will they be able to adapt in other parts of their life cycle as temperatures increase and entire ecological communities change?
As I've made my commute along the Kennebec over the last few weeks, I've occasionally thought of the glaciers melting, and the dramatic video footage showing vast chunks crashing into the waters off Greenland. Those images are disturbing, but the tug of life can quickly push them to the back of my mind. Not so with Maine's early birds. I see them, or read posts about them, often. I welcome their return with mixed feelings.
There's a saying that goes, "The early bird gets the worm." This spring, I can't help but be concerned about what, in the long run, that will really mean.
Learn more about the Wood Duck by visiting the Creature Feature page on NRCM's website.
Photo of Eastern Phoebe courtesy of Kirk Rogers. Visit his website here.