We look forward to meeting you soon—either on the trail, at the State House, or at a social event. NRCM Rising staffers are part of NRCM's 27-person staff. We work on all of NRCM's top priorities—tackling climate change, protecting the North Woods, restoring Maine's rivers, promoting more sustainable living, and keeping tar sands out of Maine. Please get in touch with us to learn more about NRCM Rising and how you can get involved, too!
Alexandra Fabian
Social Media and Creative Services Coordinator
alexandra@nrcm.org
Having summered on Long Pond, in Belgrade my whole life, I developed a love for the Maine way of life. Through my studies, including my time as editor-in-chief of my college newspaper, The Voice, I developed a passion for utilizing new media and creative design. Shortly after graduating with a B.A. in Mass Media Arts and a minor in Communication Studies from the University of Georgia, I moved to Oakland, Maine. I now live on Messolonskee Lake where I enjoy boating, swimming, and paddle boarding in the summers and skating and snowshoeing in the winters.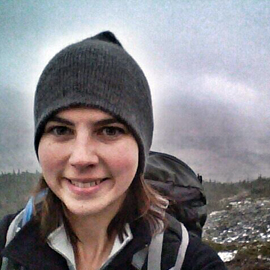 Emmie Theberge
Federal Project Director
emmie@nrcm.org I grew up on Orr's Island and have a deep affection for Maine's coast. Currently living in Hallowell, I'm also a big fan of the Kennebec Valley, which is full of top-notch swimming holes, fishing spots, and quiet places to sit by the water. Since graduating from Colby College in 2008, where I studied Government and Environmental Policy, I have been focusing on tackling climate change, fighting tar sands, and advocating for energy efficiency and clean energy policies. I was excited to help launch NRCM Rising, because it is helping us meet other young Mainers eager to do their part in protecting this beautiful state. I enjoy traveling; sea kayaking up and down the coast; hiking, skiing, and camping in the mountains; canoeing, fly and ice fishing on Maine's lakes and rivers; and all things Maine. Get in touch if you'd like to cast a line in Hallowell!  
Kristin Jackson
Federal Outreach Coordinator
kristin@nrcm.org
Born and raised on Peaks Island and in the greater Portland area, I developed a strong affinity to our oceans, mountains, and lakes here in Maine. The growing threat of climate change to our coastal regions led me to concentrate in Environmental Studies at Brown University, focusing on energy policy and politics. Before coming to NRCM, I spent four years as an organizer and organizing director mobilizing college students in Massachusetts and Maryland around environmental and public interest issues. A resident of Portland, I spend my free time biking on the Eastern Trail, swimming or paddling in Casco Bay, or going on self-guided brewery tours.  
Ryan Parker
Sustainable Maine Policy Advocate
ryan@nrcm.org
Growing up in the rural community of Litchfield, Maine and spending most of my time in the woods helped create a profound attachment to Maine's wilderness and its creatures, upon which all of us are interdependent. As a student at the University of Maine I studied engineering until ultimately deciding to return to my lifelong love of music and obtaining a Bachelor of Music Performance. When I wasn't practicing, performing, or traveling to Canada and Europe as a guest at music festivals, I was exploring everything Maine's natural heritage has to offer, from the most difficult bouldering route in Clifton to the rock-strewn plateau atop Katahdin. After graduating from the University in 2004 I worked as a Constituent Services Representative for Congressman Mike Michaud and further developed my love of the people and places of our state, particularly northern and western Maine. After leaving the House, I worked for a small alternative energy business helping to construct energy-efficient homes and install wind and solar systems. I've spent the last ten years owning and running my family farm in Newport where I live with my wife, two children, and several farm animals. When not engaged in protecting the North Woods and farming, I spend any free time I can enjoying all the outdoor activities Maine has to offer including swimming, whitewater kayaking, hiking, camping, cross country skiing, and boulder jumping.
Sarah Lakeman
Sustainable Maine Project Director
sarah@nrcm.org
Raised in Bath, I now live in Cumberland with my husband and our sons. I earned a bachelor's degree from UNH in Environmental and Resource Economics and a master's degree in Environmental Science and Management from UC Santa Barbara, where I specialized in Economics and Politics of the Environment and Water Resources Management. Before joining NRCM in January 2014, I spent three years providing education, training, and technical assistance to New Hampshire communities wanting to adopt programs that encouraged residents to reduce, reuse, and recycle. I enjoy travel, hiking, skiing, snowboarding, painting, and spending time with friends and family.
Sophie Janeway
Climate and Clean Energy Outreach Coordinator
sophie@nrcm.org
My love of the outdoors led me to Maine to study government at Colby College. Before joining NRCM, I had experiences canvassing and working on a wilderness campaign in New York State's Adirondack Park. I've traveled to and studied the impacts of climate change on fisheries in Vietnam, farmers in Morocco, and water accessibility in Bolivia. Though originally from the Adirondack Mountains of New York, I am so happy to be living in Hallowell and spending time biking on the rail trail, skiing, fly fishing, and exploring Maine's mountains and rivers.
Todd Martin
NRCM Rising Director and Grassroots Outreach Coordinator
todd@nrcm.org
I was born and raised in Portland and now call Waterville home. After graduating from Green Mountain College with a BA in Environmental Studies in 2010, I moved back to Maine. I worked as a field organizer and canvasser for a number of state and national non-profits. As NRCM's outreach coordinator, I engage NRCM members and supporters in our environmental advocacy work at the State House and beyond. As a native Mainer, I feel good knowing my work is helping to protect Maine's environment today and for the future. In my free time, I enjoy hiking and camping on Maine's mountains, picking wild berries, and tossing a frisbee at the beach.