We look forward to meeting you soon—either on the trail, at the State House, or at a social event. NRCM Rising staffers are part of NRCM's 30-person staff. We work on all of NRCM's top priorities—tackling climate change, protecting the North Woods, restoring Maine's rivers, promoting more sustainable living, and keeping tar sands out of Maine. Please get in touch with us to learn more about NRCM Rising and how you can get involved, too!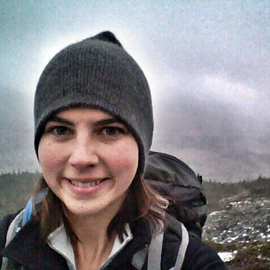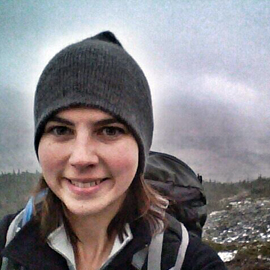 Emmie Theberge
Federal Director
emmie@nrcm.org
I grew up on Orr's Island and have a deep affection for Maine's coast. Currently living in Hallowell, I'm also a big fan of the Kennebec Valley, which is full of top-notch swimming holes, fishing spots, and quiet places to sit by the water. Since graduating from Colby College in 2008, where I studied Government and Environmental Policy, I have been focusing on tackling climate change, fighting tar sands, and advocating for energy efficiency and clean energy policies. I was excited to help launch NRCM Rising, because it is helping us meet other young Mainers eager to do their part in protecting this beautiful state. I enjoy traveling; sea kayaking up and down the coast; hiking, skiing, and camping in the mountains; canoeing, fly and ice fishing on Maine's lakes and rivers; and all things Maine. Get in touch if you'd like to cast a line in Hallowell!
Levi Hahn
Social Media & Creative Services Manager
levi@nrcm.org
I grew up in the Appalachian Mountains of Pennsylvania and witnessed firsthand the devastation that dirty industry caused to the land, waters, and the wildlife who called them home. From an early age, my parents taught me to appreciate my surroundings, to live minimally, and to respect the animals we live amongst. Prior to working at NRCM and moving to Maine, I worked for an animal welfare organization and wildlife rehabilitation center in Pittsburgh, PA, where my dedication to protecting the environment for all creatures was strengthened. It's an honor to use my professional talents in social media management and design to support my values, and to continue looking out for nature and the creatures that depend on it.
Sophie Janeway
Climate & Clean Energy Outreach Coordinator
sophie@nrcm.org
My love of the outdoors led me to Maine to study government at Colby College. Before joining NRCM, I had experiences canvassing and working on a wilderness campaign in New York State's Adirondack Park. I've traveled to and studied the impacts of climate change on fisheries in Vietnam, farmers in Morocco, and water accessibility in Bolivia. Though originally from the Adirondack Mountains of New York, I am so happy to be living in Portland, spending time biking, skiing, fly fishing, and exploring Maine's mountains and rivers.
Todd Martin
NRCM Rising Director and Grassroots Outreach Coordinator
todd@nrcm.org
I was born and raised in Portland and now call Waterville home. After graduating from Green Mountain College with a BA in Environmental Studies in 2010, I moved back to Maine. I worked as a field organizer and canvasser for a number of state and national nonprofits. As NRCM's outreach coordinator, I engage NRCM members and supporters in our environmental advocacy work at the State House and beyond. As a native Mainer, I feel good knowing my work is helping to protect Maine's environment today and for the future. In my free time, I enjoy hiking and camping on Maine's mountains, picking wild berries, and tossing a frisbee at the beach.