Climate Change Threatens Maine's Fisheries
Commercial fishing is one of Maine's largest industries, bringing in more than $600 million per year and employing thousands of people. Climate change now threatens this iconic Maine industry.
Climate Change is Warming the Gulf of Maine
The Gulf of Maine is warming faster than 99 percent of the world's oceans.
This rapid warming is affecting important fish species that have thrived here for all of recorded history and that Maine people have commercially fished for generations.
This warming is harming some of the state's most economically and culturally significant fisheries including lobster, shrimp, clams, oysters, scallops, and groundfish.
Lobsters, Maine's largest and most valuable fishery, are becoming more susceptible to shell disease and predatory fish because of warming water. Warmer waters are also causing lobsters to migrate north and farther offshore to colder waters.
Maine's shrimp fishery has been devastated. Warming waters led to the rapid decline of Maine shrimp, and the state's shrimp fishery was closed again this season—for the fifth consecutive year.
Other valuable species, such as clams, are shifting to deeper or more northern waters. Clams and mussels are vulnerable to a new predator: the invasive green crabs that are thriving in Maine's warming waters. Clam landings have plummeted in the past 30 years, with 2017 landings the lowest since 1930.
Groundfish that were once mainstays, such as cod, haddock, pollock, hake, flounder, and redfish, will be most affected by warming waters.

Climate-changing Carbon Pollution is Making the Ocean More Acidic
In addition to fueling climate change, carbon from burning coal, oil, and gas is causing ocean acidification that is transforming marine ecosystems. The world's oceans are absorbing excess carbon dioxide at an unprecedented rate and the actual chemistry of the ocean is changing.
When carbon dioxide dissolves into seawater it forms carbonic acid, making the water more acidic. The more carbon pollution we put into the air, the more acidic we make the ocean.
Ocean acidification makes it harder for shellfish like oysters, clams, scallops, and mussels to build strong shells. This in turn makes them more vulnerable to disease and predators.
Clam and oyster harvesters in Maine are particularly concerned about what ocean acidification means for their industry.
The Gulf of Maine is especially vulnerable to ocean acidification because colder waters can absorb more carbon dioxide.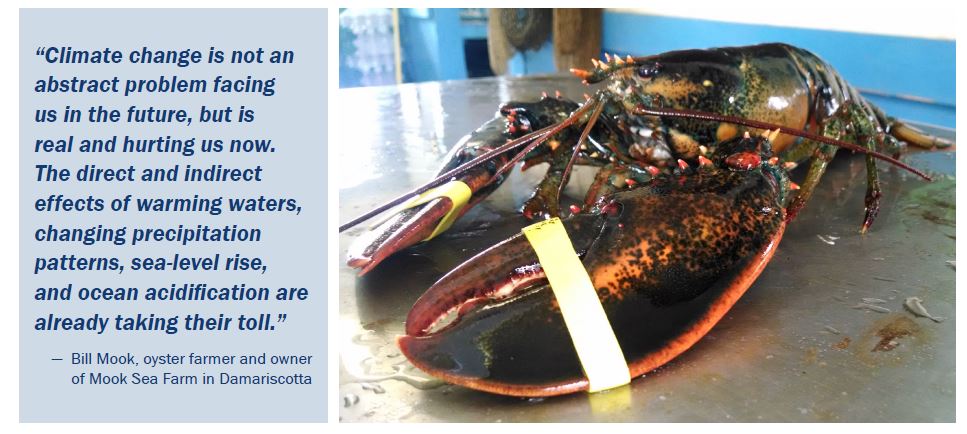 Banner photo: Cushing, Maine, by Allison Childs Wells