News release
Today, the Natural Resources Council of Maine launched a television ad campaign, urging Senator Susan Collins to oppose President Trump's nominee to head EPA, Scott Pruitt. Pruitt is unfit to head the EPA for many reasons, including that he is beholden to corporate polluters and sued the EPA 14 times to stop air and water protections that matter to Maine people.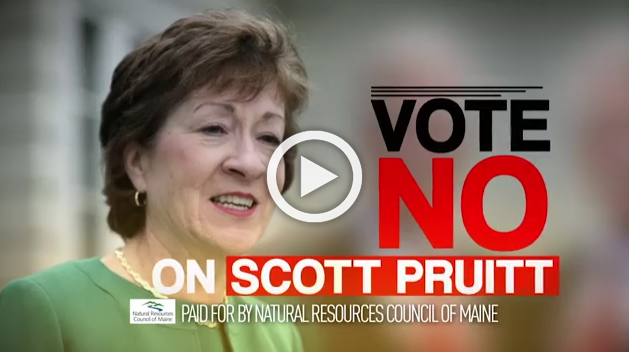 While Senator Collins, so far, has remained silent on her position on Scott Pruitt, last week Senator Angus King announced his opposition, saying, "I just can't, in good conscience, as somebody who's taken seriously environmental protection all my life, approve the appointment of someone who is so manifestly opposed to the mission of the agency."
The TV ad began airing today on seven Maine TV stations.
"Maine needs an EPA Administrator who will work to protect the clean air and clean water that are so vital to our economy, health, and quality of life. Mr. Pruitt is not such a person," said Pete Didisheim, Advocacy Director for the Natural Resources Council of Maine. "There is virtually nothing in his record showing an interest in protecting the environment. He is hostile toward EPA's mission and has relentlessly worked with the fossil fuel industry to prevent the EPA from doing its job."
"Mr. Pruitt's denial of the science of climate change is deeply troubling, and should be disqualifying for the position of EPA Administrator. Senator Collins and Senator King both know that climate change is happening now, that fossil fuel emissions are responsible, and that Maine is at risk. We urge Senator Collins to announce her position today, and lobby her colleagues so that the full Senate rejects this completely unacceptable nominee," said Didisheim.
The Bangor Daily News and Portland Press Herald both have editorialized against Scott Pruitt, and Mainers from all parts of the state have contacted Senator Collins office urging her to vote against his confirmation. NRCM works to protect and sustain Maine's environment and has 18,000 members and supporters.
The Senate Environment and Public Works Committee is expected to vote on the Pruitt nomination during the week of January 30, and the full U.S. Senate may vote within one week after that.
Ad Script
Meet Scott Pruitt…
An Oklahoma politician in the pocket of corporate polluters.
Now… Donald Trump's nominee to head the Environmental Protection Agency.
Pruitt sued EPA to stop air and water protections…fought to allow toxic lead and mercury pollution…even conspired with oil lobbyists to draft a legal opinion.
Bangor Daily News said Pruitt would move the country "dangerously backwards."
Senator Susan Collins is a champion for Maine's environment – we need her now – to vote no on Scott Pruitt.