Say ecosystems, public health, and economy all depend on effective Clean Air Act protections
NRCM News Release
Cadillac Mountain, Acadia National Park – With one of Maine's most famous vistas at their back—the mountainous rocky coast of Acadia National Park—diverse speakers urged support for two important air quality standards that are needed to protect the climate and air quality in the park and the region.
In recognition of Acadia National Park's 100th anniversary year, speakers described how the park's clean, healthy air and beautiful natural lands fit together to create one of the premier tourist destinations in the Northeast.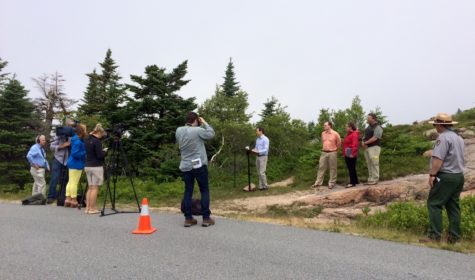 To help protect this gem, two federal Clean Air Act rules will need to take effect: the Clean Power Plan, which reduces carbon pollution to combat climate change, and proposed improvements to the Regional Haze Rule, which will require that clean air is protected at older national parks such as Acadia. The owners of polluting power plants are challenging the Clean Power Plan in federal court. Proposed changes to the Regional Haze Rule are officially open for public comment through July 5 (although the deadline may be extended).
"Acadia's 100th anniversary is a chance to celebrate this iconic place and recognize how important it is to Maine's environment, economy, and identity," said Stephanie Clement, Conservation Director for the nonprofit Friends of Acadia. "It is our obligation, and in our own best interest, to protect Acadia's air and climate, and these two rules are some of the best tools available to do that."
Acadia National Park typically currently hosts about 2.5 million visitors each year, making it one of the most popular national parks in the country and probably the most visited place in Maine. Overall, Maine's tourism industry creates about 100,000 jobs and generates about $5.6 billion in economic activity each year.
Rich Macdonald, registered Maine Guide and co-owner of the Natural History Center, an ecotourism business in Bar Harbor, described how the multitude of businesses in the region both contribute to and benefit from the treasure that is Acadia National Park. He described the importance of healthy ecosystems for maintaining a thriving tourism business in Maine.
"A clean environment, healthy air, and beautiful views attract people to visit Maine and to live here," said Dylan Voorhees, Climate & Clean Energy Director for the Natural Resources Council of Maine. "The natural beauty of Acadia National Park reminds us how important it is to protect these places we love with strong climate and air quality rules."
The U.S. EPA is currently considering proposed revisions to improve the Regional Haze Rule, which is designed to improve air quality over time at "Class I" national parks and wilderness areas. Class I areas are defined as large national parks or wilderness areas that were in existence as of 1977. Acadia is the only Class I national park in the Northeast.
"Haze" is made up of tiny particles in the atmosphere that come primarily from burning fossil fuels in power plants and vehicles. Air pollutants such as NOx and SO2 contribute to haze and also form ozone or smog. These pollutants intensify lung diseases, such as asthma, and are the ultimate cause for "bad air days." On these days, Maine health officials warn people to refrain from vigorous outdoor activity. Bad air days are especially dangerous for children, seniors, and those with respiratory disease. Maine has one of the highest rates of childhood asthma in the nation.
"Unfortunately, we see the effects of climate change all too often in the emergency department of MDI Hospital," said Dr. Nathan Donaldson, Director of the Emergency Department, Mount Desert Island Hospital. "Watching a child struggle to breathe due to the effect of air pollution on their asthma; caring for a severely dehydrated elderly patient during one of Maine's increasing heat waves; or even treating patients for Lyme disease caused by Maine's spike in the tick population are far too common events for the community of MDI.  Reducing air pollution that contributes to these problems is common sense, whether you are an area resident or a visitor to this beautiful island."
The Regional Haze Rule has already reduced pollution at scores of power plants, however without improvements to the rule, many polluters may delay or evade clean up. As a result, parks and people who visit them would not experience fully restored air quality for centuries. This is the final week of public comments on the proposed changes. The EPA will review the public comments and issue a final version later this year.
Warming temperatures from climate change cause more ozone smog to form, harming public health. Maine's warming climate also: increases the spread of insect-borne diseases like Lyme disease, disrupts the health of many beloved Maine species (from moose to puffins), and leads to more extreme weather that threatens ecosystems, homes, roads, and communities alike.
The Clean Power Plan is the EPA's keystone effort under the Clean Air Act to protect our climate by reducing carbon pollution from power plants. Corporate polluters from coal states have appealed the Clean Power Plan in federal courts. They will hear oral arguments in September from polluters and their allies, as well as those supporting the plan, including Maine Attorney General Janet Mills.
Two weeks ago, President Barack Obama and his family visited Yosemite and Carlsbad Caverns national parks to draw attention to our nation's iconic parklands and specifically the need to address climate change. In 2010, Obama and his family vacationed in Acadia National Park.
"Surveys show that 98% of Acadia's visitors believe that protecting clean air and visibility are 'extremely important' or 'very important' for Acadia," said Clement. "The EPA can act swiftly and with confidence to implement the strongest environmental protections possible for our park, knowing that they are supported by the millions of visitors who enjoy our park each year."
"On a summer day in Acadia, one just can't help but smile and think simply Maine is a beautiful state and a wonderful place to work, raise a family, and recreate," said Voorhees. "We've all had that feeling in places like this, and that's why we need to act now to protect it for tomorrow and future generations. Few things are as critical as protecting the air we breathe, and few tools are as effective at doing that as the Clean Air Act."
Additional resources:
Facts about the Regional Haze Rule