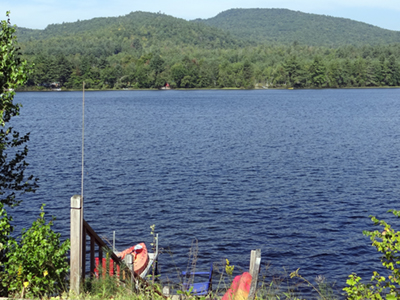 Worthley Pond, a 375-acre great pond 10 miles west of Livermore Falls, offers boating and angling opportunities in an attractive setting near Black Mountain.
Recreational access to this pond is now guaranteed, through the state's acquisition of a small boat access site. Grants from the Land for Maine's Future Program and the U.S. Fish & Wildlife Service's Sport Fish Restoration Program enabled the Maine Department of Inland Fisheries & Wildlife to purchase a shorefront site and make the necessary improvements for trailering boats and parking vehicles.
Closest Town
Peru
Activities
Bird & other wildlife watching, fishing, trailer boat access, swimming, canoeing, and kayaking
Region
Western Mountains – Oxford, Franklin, Somerset
Acres
1
Directions from nearest town
DeLorme Maine Atlas and Gazetteer Map 11, A-3. From Peru, take Route 108 east one mile to East Peru, turning right onto Worthly Road. Travel south 1.5 miles to the Pond's outlet, then continue south for one mile along East Shore Road. The access site is on the right just past Hamann Road (fire lane).