In hot, summer weather, Bethel and Rumford area residents seek out Frenchman's Hole to swim in a clear and powerful mountain stream. The only other options for public swimming are at lakes more than 16 miles away that have minimal public access. The unspoiled stretch of stream at Frenchman's Hole, rushing down through steep terrain and interesting geological formations, draws visitors as well. Tourism in the region, once confined to winter months, is now promoted year-round—with hiking, mountain biking, and swimming nearby part of the lure.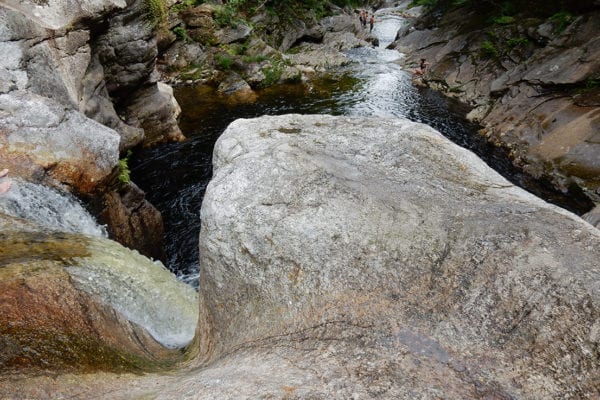 This community swimming hole, and the hiking trails in surrounding hills, will remain accessible for generations of local residents, thanks to their purchase by the State with Land for Maine's Future funding and support from the Mahoosuc Land Trust. The property is now managed by the Bureau of Parks and Lands as part of its Mahoosuc Unit Reserve which includes 9,974 acres of mountainous land just west of Frenchman's Hole.
In addition to its many recreational values, the Frenchman's Hole property is adjacent to a State-designated ecological reserve, a large wild area known to contain documented rare plants and natural community types. The newly acquired acreage includes more than 1.2 miles of frontage along Bull Branch Stream and 0.75 miles along Sunday River. Keeping this land wild helps to protect water quality in Sunday River, which is considered one of the most threatened watersheds in Oxford County due to runoff pollution from logging and increasing development in and around Newry.
Two state-owned roads pass through the property, offering seasonal vehicular access to hiking trailheads, picnicking sites and the swimming hole. Hurricane Island Outward Bound Center, which has an outdoor education center located close by, routinely uses the property in spring and early summer to teach kayaking, canoeing and rescue training in the Class 3-4 whitewater.
Closest Town
Newry
Activities
Bird & other wildlife watching, hiking, snowshoeing, cross-country skiing, hunting, fishing, swimming, canoeing, and kayaking
Region
Western Mountains – Oxford, Franklin, Somerset
Acres
385
Directions from nearest town
DeLorme Maine Atlas and Gazetteer Map 18, E1-2. From Bethel, take Route 2 north for 2 miles, turning left on the Sunday River Road and follow it about 7 miles to the twin bridges in Ketchum. Turn right and proceed north 1 mile, looking for a 15-foot waterfall in the river.