For years, I have wanted to see the Atlantic Puffins that breed off the coast of Maine. Every summer for the past four of five years,  I've said,  "THIS is the year I am going to see the puffins." At the end of the summer, I had to say, "Next year is THE year I am going to see the puffins."
Well, I finally did it!
On Friday night, 80 NRCM members, board, staff, and families gathered on the dock in New Harbor to board the Hardy Boat, along with Project Puffin founder Dr. Steve Kress, and off we went  to Eastern Egg Rock, about five miles from shore.
On our way out, Steve told us about some other birds we might see (complete with flash cards!) – and shared the history of puffins off Maine's coast. Some of this was familiar, having read about it in our new Atlantic Puffin Creature Feature. Still, it was hard to hear about how puffin hunters would kill the birds for food, and how they would destroy existing eggs so the puffins would lay new ones, which the hunters would then collect and eat. Such is the sad history of many of Maine's seabirds, and it is amazing that their numbers have rebounded so well. Did you know that at one time, there was only one nesting pair of puffins left in Maine? They were on Matinicus Island. Last year, Dr. Kress and Project Puffin interns and staff counted 148 nesting pairs of puffins on Eastern Egg Rock, which is a very small island. It was wonderful to hear about their history and their increased populations after many years.
I took a lot of photos of the trip, helped out by the fact that once we got out into Muscongus Bay, the ocean was calm, the sky was blue, and the boat didn't rock as much as I had thought it might. Many guests were peering through binoculars or snapping away with their cameras to capture the beauty of our surroundings as well as the birds and other ocean life (including two harbor porpoises) that greeted us on our journey. We saw Black Guillemots, a Razorbill, cormorants, many Herring Gulls, Great Black-backed Gulls, and lots of Laughing Gulls, and then….as we neared the island, there it was…the first Atlantic Puffin I have ever seen in real life. They are much smaller than I had imagined (about 10 inches in length) but no less breathtaking than I had seen in pictures (including the photo of several puffins that is featured on this month's NRCM Nature of Maine calendar, taken by NRCM member Gerard Monteux).
The boat took us close to Eastern Egg Rock, close enough to see cormorants, terns, gulls, and Black Guillemots (and their bright red feet!) and we were treated to several puffins flying overhead. A few puffins had fish in their mouths, freshly caught and headed back to their nests in order to feed their new babies. There was a lot of bird activity on and around the island, and Steve said he thought the puffins were putting on quite a show for us. We all enthusiastically agreed!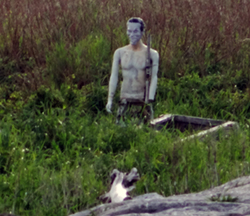 While we got close to the island but kept a respectful distance, and no visitors are permitted on it. The only people allowed to be there are Project Puffin staff and interns. Five interns live out on the island and sleep there, as much as they can with birds calling to their mates and their young at all hours of the night. The other "person" on the island is a robot sporting an Arnold Schwarzenegger face mask, used to scare off predators.
The trip was a wonderful way to kick off the summer. Everyone was excited about the weather, the information shared with us by Dr. Kress as well as NRCM's own Allison Wells and her husband Jeff, authors of Maine's Favorite Birds, who helped us identify birds throughout the trip, and especially by the puffin sightings throughout the hour-and-a-half trip.
If you haven't seen a puffin, I strongly encourage you to drive to New Harbor to take this trip, which runs every night from 5:30-7:00 p.m. while the puffins are here breeding (until late July). The staff and crew of Hardy Boats were fantastic!
This was my first puffin cruise, but will definitely not be my last. In the words the masked robot on Eastern Egg Rock, "I'll be back!"
—Beth Dimond Comeau, NRCM Public Affairs Coordinator
Related Links:
See more photos from our trip.
Dr. Kress' new book: Project Puffin: The Improbable Quest to Bring a Beloved Seabird Back to Egg Rock
Hardy Boat Cruises—puffin cruises, seal cruises, fall foliage cruises, and more