The City of Portland is developing a well-deserved reputation as one of the most sustainable cities in the nation. This reputation hasn't happened overnight, or without the help of many of the citizens, businesses, and progressive thinkers in and around Maine's largest city.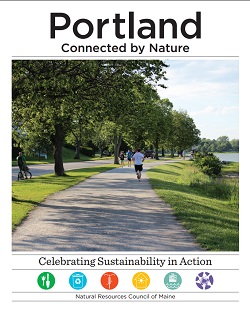 A few months ago, the Natural Resources Council of Maine released an important report highlighting many of the incredible initiatives and projects that are helping to make Portland a more sustainable city where people can live and work while reducing their impacts on the environment.
Portland: Connected by Nature – Celebrating Sustainability in Action truly is a celebration of the great steps the City of Portland has taken toward a more sustainable future. The report covers several important aspects showcasing the people of Portland's commitment to a better tomorrow.
Portland – Connected by Nature provides a close-up view of the individuals and organizations working together in Portland to craft a future that's respectful of nature, in balance with nature, and connected to nature. The report is organized into five sections: Local Food, Waste Not, Livable Community, Positive Energy, and Sea Change. Within each section, we focus on Innovations that are particularly noteworthy in that subject area. We also feature Connectors—the individuals and organizations connecting people with each other, connecting people with nature, and connecting the challenges of the world we live in today with the solutions of our future.
Portland continues its successful and well organized efforts to increase the overall sustainability of the city, making life better not just for current residents and visitors but for generations yet to come. All of this makes Portland a city that is helping lead the way for Maine and the nation, a city to which others can look for inspiration as we take the necessary steps to transition away from past practices and toward a sustainable future.
To request a hard copy or to download the report to your computer, visit the publication request page here.
Our sustainability radar is always on, and we love to share. Do you have information about a great project helping to make Maine a more sustainable place to call home that you would like to see featured on NRCM's blog? Guest posts and alerts about interesting sustainability stories are always welcome! If it is good news for our environment and involves Maine or Mainers, it belongs in the spotlight. Please contact Sarah Nichols, NRCM Sustainable Maine Director at snichols@nrcm.org or (207) 430-0170.