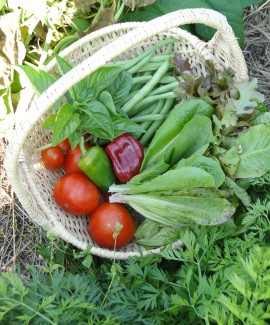 Community gardens foster community pride while also growing healthy, local food, some of which is often donated to food banks or other charities. Those who have a garden are able to learn lessons in both gardening skills and environmental stewardship. In addition to the personal benefits of having a garden plot, these gardens will help to reduce storm water runoff, reduce air pollution, and recycle large amounts of compostable waste back into the soil, benefitting all of Portland. With demand still high for Portland's coveted 358 plots, the number of community gardens in Portland will likely continue to grow, giving future community members the chance to reap the benefits of their own garden.
Read about Portland's latest "permablitz" here! (And don't be alarmed, a permablitz is merely a contraction of the words  "permaculture" and" blitz," an informal gathering where a group of people build community through working on edible permaculture gardens)

Our sustainability radar is always on, and we love to share. Do you have information about a great project helping to make Maine a more sustainable place to call home that you would like to see featured on NRCM's blog? Guest posts and alerts about interesting sustainability stories are always welcome! If it is good news for our environment and involves Maine or Mainers, it belongs in the spotlight. Please contact Sarah Nichols, NRCM Sustainable Maine Director at snichols@nrcm.org or (207) 430-0170.