My coworker Leisa and I were interested in learning more about ways to stay safe and warm during our polar plunge, happening on Thursday in Portland. The first rule is:  DON'T sign up to do the plunge.  We wish we had known that rule sooner.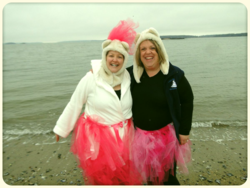 We did find some helpful "Polar Plunge Tips" on NaBloPoMo.com.  They are:
Strip down to a bathing suit. Wet clothes hold the cold water on your skin
Get in. Get out. Quick! Cold water can cause exhaustion and unconsciousness in as little as 15 minutes.
Don't ever dive; water could be shallow
Wear shoes to protect your feet in the water.
Beware of ice floating in the water … it will cut you
Don't completely submerge yourself; the cold water may be too shocking to the system
If you have heart problems you should consult your doctor before plunging
Don't run over fellow plungers on the way in or out of the water
Keep a look out for those in distress
Change into warm clothes as soon as possible after you leave the water
Finally, relish the fact that you have done something extraordinary! Enjoy yourself and stay healthy!
Well, those rules seemed helpful, but we also decided to brainstorm a few of our own.  They seem to more directly impact us – and those people taking the plunge with us.  So, here are "Additional Tips from Leisa and Beth":
Stay out of our way
No photos unless they are of our faces only
No splashing
Did we mention…stay out of our way!
No taunting the plungers
If you are holding our towels and warm clothes…get as close to the water as possible.
Don't speak to us for at least 10 minutes before the plunge or after
Please be trained in CPR (and first aid in case we are cut by floating ice – see tip #5)
NEVER ask us to do this again!
Bring us hot coffee and cocoa immediately!
If you didn't take the plunge, we advise you not to say, "See…that wasn't so bad."  You may be harmed…by us and the floating ice.  You might unexpectedly find you are taking the plunge…round II.
And finally…don't get in our way.  We MEAN it!
Thanks for your support.  Stay tuned for our polar plunge tales…coming as soon as our hands thaw out enough to type!
—Beth Comeau, NRCM Communications Manager