Let's be honest: The easiest time to fall in love with Maine farmers' markets is amidst the luscious towers of tomatoes and melons in August, not the coolers of meats and crates of root vegetables in January. You might not have even realized that there IS a farmers' market near you in January! But every year, more winter markets are popping up all across Maine, and, shopping at a winter market offers you the chance to experience the full circle of Maine's farming seasons. In addition to vegetables, winter markets feature all kinds of local meats, dairy products, bread and baked goods, prepared and fermented foods, coffee, tea, yarn, crafts, you name it.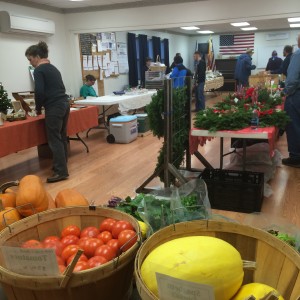 This winter, I am experiencing winter markets for the first time myself—from the farmer's side of the stand. My wife Joy and I just completed our fourth season as owners of Wise Acres Farm in Kenduskeag. We grow MOFGA-certified organic vegetables and berries, nearly 100% of which we sell within 50 miles of the farm.
In the summer, we attend the Ellsworth and Bangor Farmers' Markets, but prior to this winter, we finished our market season in the late fall and I focused on off-farm work and planning for the next farm season until May. This year, we decided to join the "winter market wave" and we're attending the Hampden and Bangor Winter Farmers' Markets.
Here are some things to know if you want to keep buying local all winter:
There are lots of veggies! Just different kinds than you'll see in the summer. Most of what you'll see are "storage" vegetables, which farmers harvest in September and October and carefully store until well into the winter, like carrots, onions, potatoes, beets, and winter squash. It can be a fun challenge to adjust your cooking style to feature the produce that the winter season has to offer. At our farm, we cook daily with our storage veggies and have lots of ideas for how to prepare them.

There might be greens (and eggs)! I have been following the lead of other Maine farmers and experimenting more and more with season extension techniques to keep harvesting greens like kale, lettuce, spinach, and baby salad greens through the winter. The scarcest time is in January and February when it's coldest and plants stop growing until the days get longer again. But some farmers harvest right through these months, and even more have an abundance of frost-sweetened greens in December and early spring. Local egg availability corresponds pretty closely to greens availability…plan for lots of spinach omelets in March and April!

There are MORE than veggies! Just like in the summer, our farmers' markets have a tremendous variety of local products—all kinds of meat, dairy products, bread and baked goods, prepared and fermented foods, coffee, tea, yarn, crafts, you name it. During the holiday season, there are also wreaths and lots of gift possibilities.
Watch the weather. In the summer, nearly all farmers' markets are rain or shine—really! Joy and I set up in a tropical storm once, and we still thank the customers who came to market that day from the bottom of our hearts. But markets have different approaches to handling winter weather and slippery roads. If your market has a Facebook page, that's a good place to check for storm updates (or a phone contact you can call). Some markets also announce cancellations via TV and radio listings. Ask what your market's policy is so you'll know when to make the trip.
Know where to look. A few markets continue outdoors through the winter, but most, like Bangor and Hampden, move to a different indoor location where everyone can stay warm and dry. You may not see the rows of pop-up canopies that help you find us, so look for roadside signs or check the market's website for location info.
Don't be afraid to stock up. Some markets continue on a weekly schedule, but many switch to a twice-monthly schedule or something similar to allow farmers time to travel and rest. Holidays can sometimes jumble up the schedule a bit as well. Almost all the produce sold at a winter market can be safely stored in the fridge or a cool room for several weeks, and many baked goods and other market products can be frozen. Don't be afraid to ask your farmers for storage pointers and stock up before your favorite veggie is sold out for the season!
Enjoy the slower pace. During the peak season, markets and market farmers can get a little hectic! Some markets stay quite busy during the winter (and we'd like it if all of them did!), but in general you can expect a more relaxed pace and more opportunities to ask farmers questions or catch up with your neighbors.
I love the ebb and flow of the farming season. For every long, sweaty day of hard work in July and August, I know there will be a quiet, restful day by the woodstove in February. Winter markets follow the same pattern…but there is still a lot at stake. Our farm is doing winter markets to help even out the financial highs and lows of the season, grow and sell more of the storage crops that do well on our land, and get the word out about the CSA shares we'll begin offering in 2016. We need our customers to come out to the market just as much in the winter as they do in high summer, and we think the variety and value you'll find at winter markets is well worth the trip.
See you at market!
Click here to find a market near you.
– Guest post by Brittany Hopkins of Wise Acres Farm