As winter storm warnings flashed across our phones and televisions last week, my friend Ellis and I were hatching plans to get to the mountains for what we knew would be a truly stellar ski day. Faith in my snow tires and an acute case of powder fever put winter driving considerations on the back burner as we justified our expedition to each other.  
"The roads won't be a problem in the morning, there isn't supposed to be accumulation until at least noon." 
"If we leave early we can absolutely beat the storm and get there right when the flakes start falling." 
Dead wrong. Rain turned to snow the instant we got north of Portland at 6:00 a.m. Monday morning, and within half an hour of leaving we were in the midst of a bona fide blizzard. A slow pace, white knuckles, and benevolent snowplows got us safely through the drifts, and we rolled into Sunday River just before the chairlifts started up. During COVID times, ski lodges are sensibly closed to visitors, which left Ellis and I in a mad scramble in and around the car to get into our boots and gear before we lost out on fresh tracks to other eager skiers. 
Our ski mania was partially fueled by a discouraging reality. Put bluntly, the ski season thus far has… sucked. Warm temperatures interspersed by brutal cold snaps combined with a lack of snow have left lift lines empty and ski mountains struggling to put a positive spin on conditions. So, the prospect of real snow after having skittered along limited frozen hardpack through most of December and January was exhilarating.  
As the Coloradan next to me in the lift line shrewdly asserted about downhill on East Coast slopes: "It's like skiing, but harder." Gritty Maine skiers and boarders have long taken pride in their ability to handle icy conditions, but warming winter seasons caused by climate change may be testing the boundaries of that tolerance. With average annual precipitation intensity and frequency increasing along with temperatures, Maine's ski mountains are being exposed to more rain in place of fluffy powder. Over the past century Maine has seen its average depth of annual snowfall decrease by 20%, yet average annual precipitation has increased by 15% over that same period. Higher temperatures also mean more irregular freeze and thaw patterns, reducing snow base and creating slick slopes. 
Even in the skiing mecca of the Colorado Rockies, climate change is taking its toll. A 2018 study shows that snowfall decreased by 41% in the American West between 1982 and 2016, shortening the ski season over that period by a full 34 days. We aren't faring much better in the East. Projections show that southern New England ski mountains will no longer be viable by 2040, and while higher-altitude destinations such as Sugarloaf are still holding their own, long-term trends aren't looking great. The Northeast is warming more quickly than other regions on the globe, with Maine averaging 3.2°F of warming over the last century compared to a global average of around 2°F. This warming disproportionately happens over the winter season, which has resulted in a typical Maine winter looking 5°F warmer and three weeks shorter than Maine winters a century ago. 
Skiing and winter recreation are a cornerstone of Maine's cultural identity, but also represent a critical sector of our economy. 1.3 million skiers and boarders hit the Maine slopes each year, a number equal to the entire population of Maine. This herd of recreationists support an industry that has been estimated at $1 billion, a figure rarely seen outside of the lobstering industry in the Pine Tree State. With worsening conditions shortening ski seasons by the year, larger downhill ski resorts like Sugarloaf and Sunday River are trying to make up the difference by making snow, a costly operation in both environmental and monetary terms. Smaller operations don't have the capital for snowmaking and thus suffer from increasing economic shortfalls.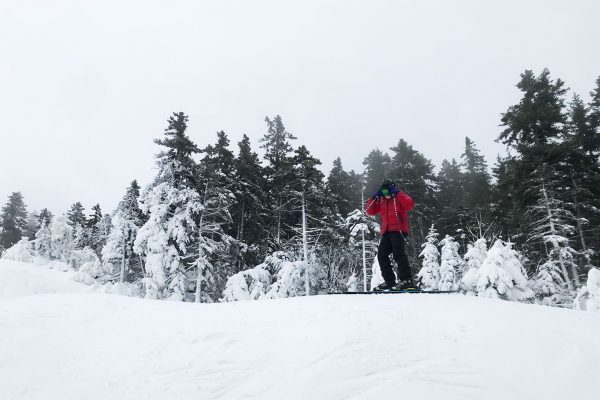 Snowmaking is expensive, energy-intensive, and ecologically damaging, but ski mountains are increasingly turning to this technology to keep runs open throughout the season. Sunday River's 2,000 snow guns have been hard at work this year to combat poor snow yields, but even with added capacity in recent years, it is estimated that snowmaking will have to increase by 80% to keep runs open through 2050. Western Maine has faced a series of droughts over the past decade, and the drawdown of groundwater caused by snow making isn't helping. On the bright side, snowmakers are now 60-90% more energy efficient than they were a decade ago, and the entity that owns and operates Sunday River and Sugarloaf has committed to carbon-neutral operations by 2030. It remains to be seen whether snowmaking can sustainably make up for climate-induced weather irregularities, but the sheer volume required makes that prospect unlikely. And, no matter what, ticket prices will continue to increase along with snowmaking. 
Historically, resource scarcity has been an inherent byproduct of humanity's consumptive practices. From the extinction of large mammals in the Pleistocene due to overhunting to the more recent depletion of marine resources due to overfishing, the tragedy of the commons has plagued societal life for millennia. Some theories of generational change point to a failure of collective memory as a reason for this trend. Grandpa's stories about seas leaping with fish are waved off as nostalgic reminiscence rather than a true measure of resource depletion over time. So, each generation manages with fewer and fewer resources until a certain breaking point or new technology enters the scene.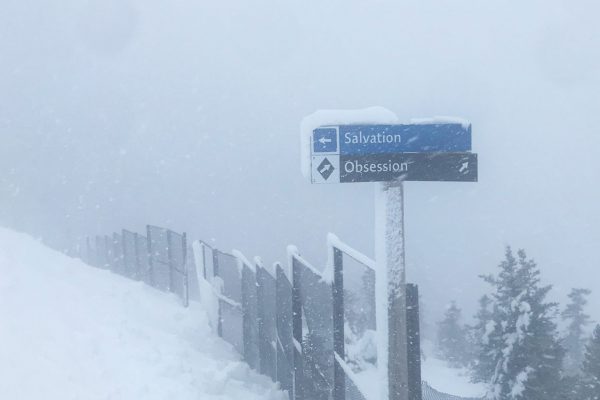 Climate change presents a new reality. Now, people are experiencing a warming climate in real time, and individuals can remember colder temperatures and more regular snowfall within their lifetimes. I haven't yet hit the quarter-century mark, and this is already true of my life experience. As climate change accelerates, these changes will become more and more apparent. Winter recreation provides a useful, if discouraging, medium through which to experience this change, with annual snowfall and skiing conditions serving as a proxy for global climate change. 
We also now have the data and record-keeping to show what has happened and what will likely happen if trends continue, thanks in large part to people like my dad, a recently retired Hydrologic Technician with the U.S. Geological Survey who has been measuring snowpack in Maine since 1996. It is imperative that we recognize the value of this scientific perspective and use it to plan for our future. I have chosen to do so by becoming a climate advocate with the Natural Resources Council of Maine, and I am grateful to be surrounded by fellow activists at every level. 
I'm not ready to give up on our winters. My whole life has been shaped by the snow, the cold, the dark, and my community's remarkable ability to turn those conditions into fun and enjoyment. Last Monday, as snow accumulated around us for more than seven hours, each run better than the last, I battled internally between unadulterated joy and a clawing sensation that days such as this one may be limited. In truth, they don't have to be.  
Current projections show that Maine could look like the Mid-Atlantic by mid-century, but we have the tools to respond to climate change and mitigate its effects before that time. Already, Maine is seeing incredible progress on the state's Climate Action Plan, and national and international players are moving swiftly to reduce carbon pollution and develop sustainable clean energy systems. There are still many obstacles to overcome, including pressure from the fossil fuel industry and a track record of extractive practices, but action now may just be able to head off catastrophic climate outcomes and preserve our winters for generations to come. 
There are many, many reasons to act on climate. Last week, my reason was to ensure that Mainers of the future will be able to feel the unparalleled sensation of fresh snow dumping down around them. 
—Josh Caldwell, NRCM Climate & Clean Energy Outreach Coordinator