A local radio station asked the question earlier this week, "What have you done this summer that you have never done before?"
My answer: My husband, Chris, and I bought a boat.
Yup. That's right. We spent a day out on my brother- and sister-in-law's pontoon boat and decided that was the life for us! So, a couple of weeks later, we own a small pontoon boat that we keep in a slip at Brandy Pond in Naples, right near the Causeway. It's the area where my husband grew up, and we have access to Brandy Pond, Long Lake, and Sebago Lake if we go through the Songo Locks.
When you buy a boat, you realize how many friends and family members you have because you spend the first few weeks inviting them to join you on the boat to see how relaxing and fun it is. This past weekend, we invited my sister and dad to join us for a day on Long Lake.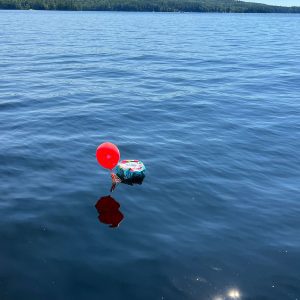 Before they arrived, Chris and I spent an hour touring around Brandy Pond, anchoring at times so we could take our two small dogs (in their lifejackets, of course) for short swims to cool off. As we headed to a small inlet, I noticed something floating in the water. As we got closer, I saw that it was a hard seltzer can. Chris drove the boat close enough to use his new long-handled fish net to scoop up the can, and we moved on.
Later, after picking up my sister and dad at the dock, we motored over to Long Lake, which lives up to its name…it took us quite a while to travel the full length of the lake. As we made our way down the lake toward Harrison, we once again saw something floating in the water. This time, it was a water bottle. So, once again, Chris scooped it up as we continued on our way, marveling at the number of loons (at least 10 on that day) swimming in the lake with their babies in search of food.
About halfway down the lake, I saw something in the water and knew it wasn't a can or bottle. This time, it was two nearly deflated balloons tied together with ribbon. One of the balloons read "Happy Birthday." Well, "happy" wasn't the word I would use when I saw them floating in the lake. I knew from my work at the Natural Resources Council of Maine that balloons are a danger to birds and other wildlife. The plastic can choke them or they can get tied up in the long pieces of ribbon attached to the balloons.
This time, it was MY turn to use the fish net to get rid of the plastic pollution floating on the lake. Scooping up two balloons into a net isn't as easy as one might think, but after encouragement from everyone on board and a few missed attempts, I was able to retrieve the balloons from the lake.
Chris and I bought this boat to relax and get away from work and other responsibilities, but when I see trash in nature, I can't stop thinking about my work – and the work everyone involved in NRCM has done and continues to do to protect Maine's environment. This work includes helping to pass several laws to reduce plastic pollution in Maine, from single-use plastic bag bans to making it illegal to release large numbers of balloons at one time.
—by Beth Comeau, NRCM Communications Manager
Additional note: No blog about our boat is complete without a photo of our dogs, Maggie and Daisy, in their lifejackets. Here you go: