The Sebago Elementary School students had a very special Maine harvest lunch. The wonderful kitchen staff prepared roasted root vegetables made from locally sourced beets, carrots, and potatoes. For dessert, apples from Douglas Hill Orchard, owned by the Lucy family, were made into a delicious apple crisp. The most special part of this fantastic meal was the amazing roast pork. This portion was special because part of the ration the pig received was food waste from our school cafeteria. The food had come full circle, and it was amazing.
The project began a number of years ago when Ryan Parker (a former Sustainable Maine Policy Advocate at the Natural Resources Council of Maine) started working with the students and staff at our school to find ways to better understand how food waste has an impact on their lives. The complexity of many environmental issues are beyond what most elementary age students can comprehend but sorting food isn't one of them. After we did a food audit to explore the volume of food being dumped in trash, we started sorting food waste into compost bins to see if students could actually complete this task.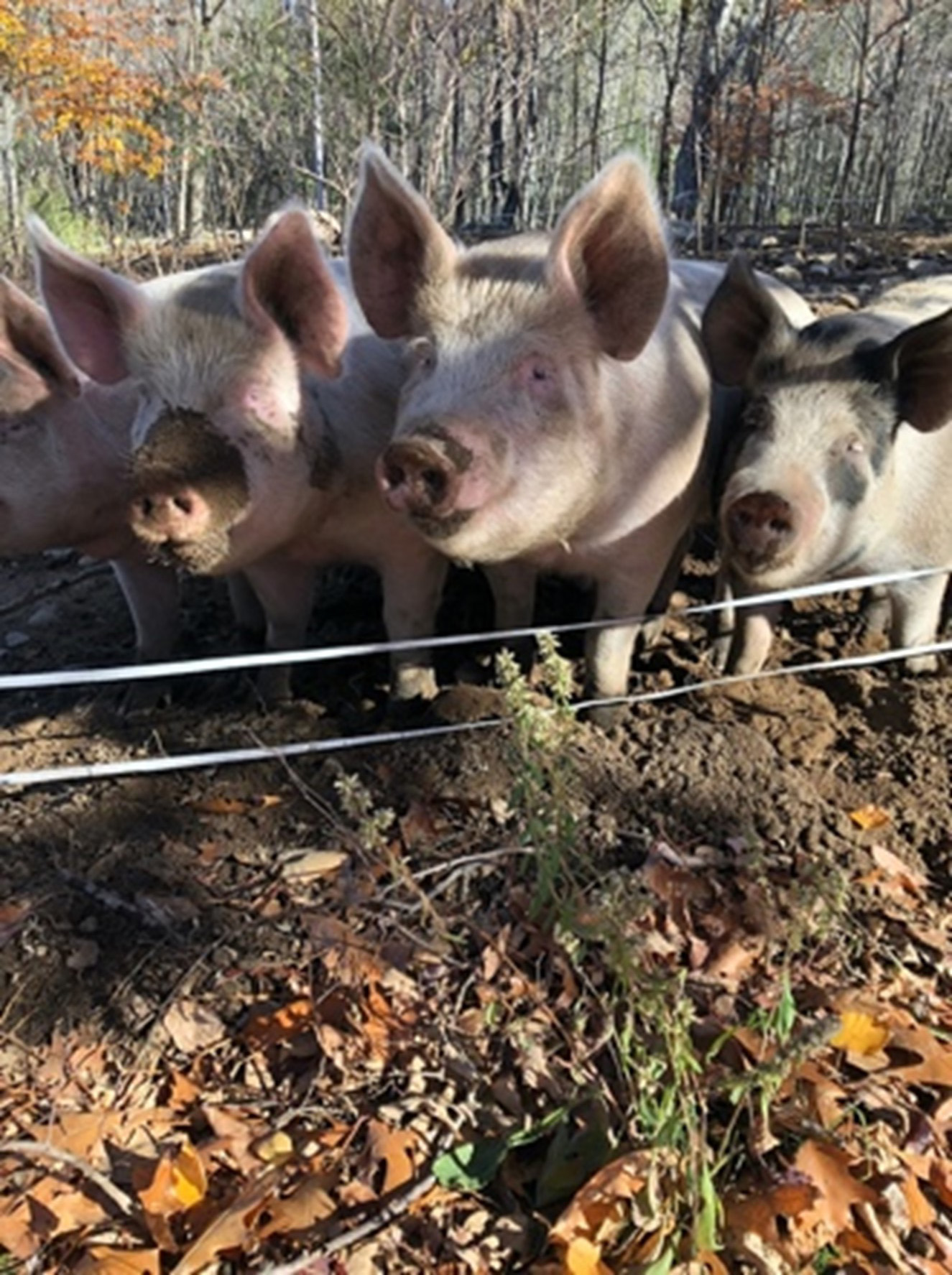 Early in the spring we met Tammy Robinson, a local farmer who was interested in diversifying the options of feed she could give to her growing pigs. To make sure Tammy was getting quality food waste for her pigs, everyone at our school needed to learn to sort the food from the plastic and paper trash. At about the same time, we switched from plastic utensils to metal washable utensils so making sure everything landed where it needed to was very important. The COVID-19 pandemic caused the school to temporarily switch to disposable, but we have overcome that. We are excited to be using metal utensils at both breakfast and lunch again and have transitioned from tiny juice containers that require a plastic straw to larger ones that can be used without a straw.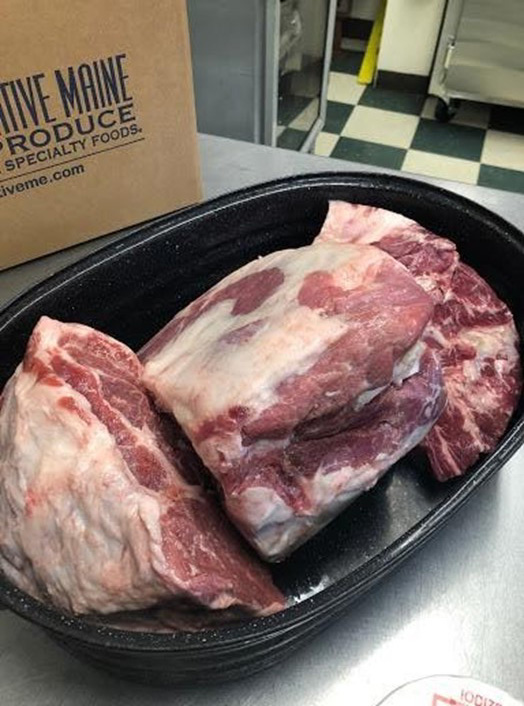 The Robinsons needed the food waste, and we had lots—and they didn't need metal utensils so we had lessons on how to sort items on the tray. Then we had posters showing the process so everyone knew how to take care of the food waste. Fifth grade students have a variety of jobs around the school; an important one is scraping trays. Initially a teacher would stand near the area where trays were scraped to help and, if necessary, speed things along. Almost automatically, students as young as six were able to take care of their trays so teachers could move on to other places where they were needed. One issue early on was the size and height of the container the food was being scraped into. We settled on a wide bucket raised up on a milk crate so the height was appropriate.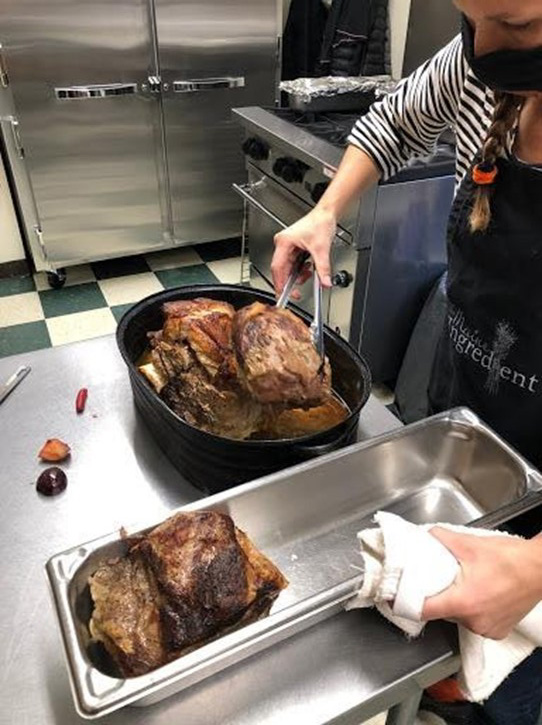 Another problem we learned to address was sticky food on the tray—banging the trays makes more of a mess and therefore was discouraged. Rubber scrapers work really well. Each day Tammy would pick up a five-gallon bucket with the lid attached. She would drop off a washed bucket and lid for the next day. The system works smoothly, and everyone benefits from sorting the food waste.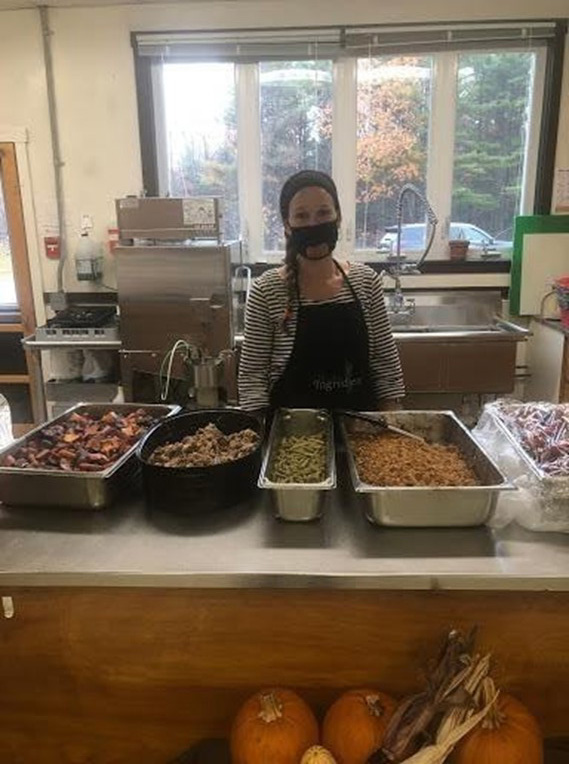 Tammy Robinson now works at SES in the food service department. She and Morgan Therriault developed the menu for the Maine Harvest Lunch and prepared the meal. This full circle meal was more than delicious, it was special because students were part of solving a real problem in a uniquely Maine way. Please contact Morgan Therriault and Tammy Robinson at Sebago Elementary for more information on the full circle lunch.
—by Ted Bridge-Koenigsberg, Fourth Grade Teacher at Sebago Elementary School