Greener Easter Traditions
Easter falls on April 1st this year. It is one of my favorite times of year because it marks a time of rebirth and renewal. The images of eggs, colorful flowers, lambs, nests, and baby bunnies are like a breath of fresh air for those of us in the North who have suffered through a long, dark winter. Besides, who doesn't like baby animals and warmer days?!
Although "Easter" is a Christian holiday, it is pre-dated by Eostar, the pagan holiday named after the Germanic Goddess of fertility and spring. It marks the time when day and night are of equal length—spring equinox (March 20th).
As a nod to the rebirth of Earth, I invite you to consider some greener Easter traditions this year.
Instead of buying oodles of chocolate and plastic toys for the children in our lives, consider these fresh, eco-friendly ideas.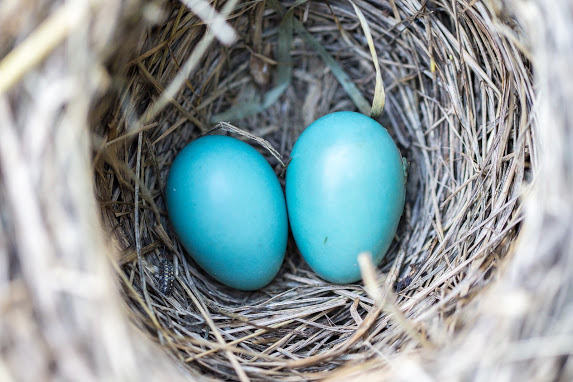 Easter Traditions with Nature in Mind
1. Sow Seeds in Eggshells.
Many seeds are fast growing, and are easy and inexpensive to grow—and what better way to celebrate spring than sowing some seeds? Because you are a friend of wildlife, sow some special seeds for pollinators in eggshell planters—and start a new family tradition! The containers are biodegradable, supply the growing plant with nutrients, can be placed directly in the soil at transplant time, and are free to those of us that already eat eggs (or if you have laying hens, even better!).
Starting seeds in eggshell planters at Easter time is such a sweet and traditional symbol of the season, and growing flowers in them over many weeks is so much more satisfying and eco-friendly than a Cadbury cream egg (although, who doesn't like one of those?!).
For the seeds, I recommend sourcing organic seeds from Botanical Interests which can be purchased at Skillins (pick up some seeds after attending one of my classes at your choice of their three locations this month, see events list below FMI). If you can't find them locally, you can purchase them here.
Botanical Interests in a great company because they sell organic, non-GMO, untreated seed – and even their conventional seeds are untreated.
The following are great choices for pollinator plants to start indoors: Mexican Sunflower, Zinnias, Calendula, and Nasturtium.
Did you know many seeds that are marketed to home gardeners are treated with neonicotinoids (a class of chemicals that are harmful to pollinators)?
For instructions, inspiration, and more information about starting seeds in eggshells, I recommend this blog post How to: Plant Seeds Using Eggshells from 17 Apart.
2. Give "Save the Bees" Seed Packets.
The Easter baskets of today are typically overflowing with plastic "grass", hollow chocolate bunnies, jellybeans, and plastic toys.
Instead, give the children in your life and your brunch host a beautiful packet of pollinator seeds. With a pretty ribbon around the packet, I guarantee this will make the recipient smile with the promise of colorful flowers.
I recommend these untreated Save the Bees or Precious Pollinators seed packets from Botanical Interests.
If you want to create a greener Easter basket, include kid's gardening tools and gloves, some brown crinkle paper, and other more eco-friendly options. There are many great ideas on Pinterest and beyond.
3. Transplant your Easter Lily Outside.
Ah, the Easter Lily – I can smell it now! Before we know it our local grocery stores and shops will have large displays of this gorgeous tropical flower.
If you buy one, try transplanting it after it has "gone by". You'll be rewarded with more seasons of bloom (maybe even another bloom this summer). Watch the blooms and let me know if you see any pollinator activity!
This idea came to me from Mike Skillin, a great partner of ours from Skillins Greenhouses. Thanks, Mike!
For more info on transplanting click here.
Sometimes protecting the earth can seem overwhelming. But there are things people can do in their own yard to make the world a better place for native wildlife. Several times each month, Deborah Perkins will be sharing her 25 years of knowledge and experience with readers of this blog. The tips she provides here are just a small sampling of what she provides to clients interested in creating habitat for birds, bees, butterflies, and other wildlife. Visit her First Light Wildlife Habitats for more information about how Deb can help you enhance your property for the benefit of native wildlife.