This is the second blog post in a series that will illuminate the ways federal funding has allowed Maine to successfully complete climate and clean energy projects; the projects that are underway with funding coming down the pipeline; and the needs that still exist for continued climate and clean energy work. Read the first blog here.
We are already feeling the effects of climate change in Maine, and given the continued daily release of carbon emissions into our atmosphere, we know that some degree of additional warming is inevitable. However, scientists have made clear we can make a difference if we act now. We need to pair new clean energy sources with projects that bolster community resilience to keep Maine's people and wildlife happy and healthy.
Maine has set clear goals for responding to climate change, but our cities, towns, and Tribes rely on federal support to help make it happen. Here are some recent examples of how federal investments have supported natural climate solutions and community resilience.
The Town of Damariscotta received $3 million from the federal Economic Development Administration in 2021 to conduct flood-protection and infrastructure improvements in the downtown waterfront area. Town Manager Matt Lutkus estimates that the project will protect upwards of 300 local jobs and help preserve the historic downtown and business center. Maine towns up and down the coast will need similar support to counter sea-level rise caused by climate change.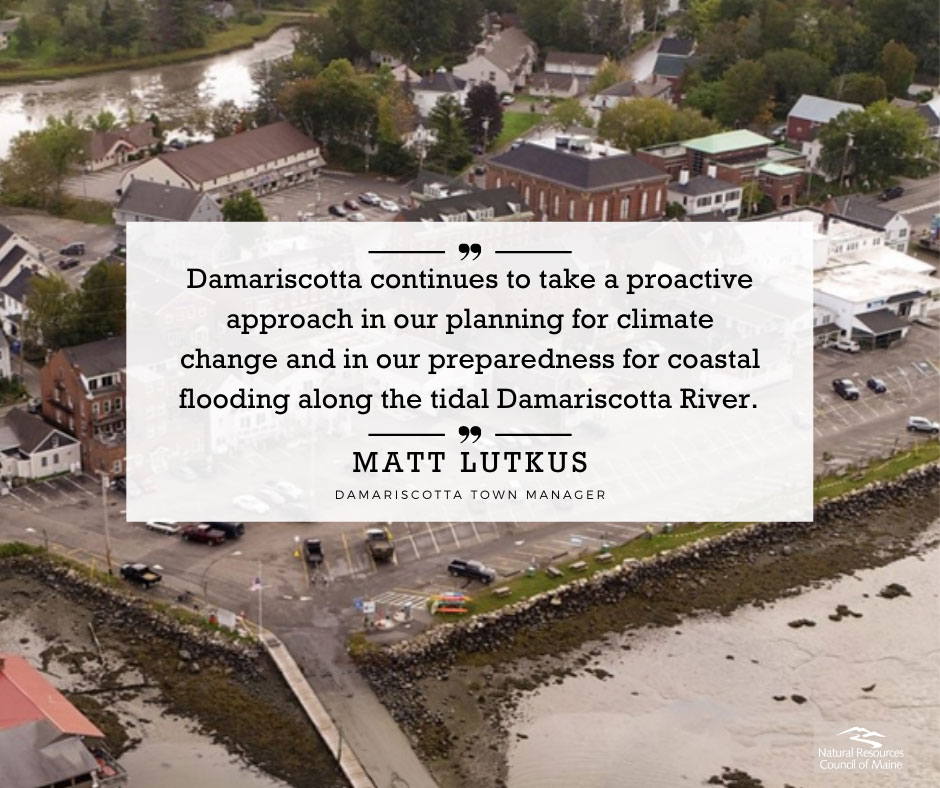 The Town of Eastport is setting an example for other remote and island communities in Maine when it comes to energy efficiency and sustainable backup power. As an island community, Eastport is particularly exposed to sea-level rise and extreme weather, and the rising cost of electricity disproportionately impacts residents. The town is participating in the federal Energy Transition Initiative Partnership Program (ETIPP) to explore options for local, sustainable backup power. They've also teamed up with the Maine Council on Aging, The Island Institute, and the Maine Municipal Association to implement the Weatherization and Home Improvement Project to weatherize homes for older residents. Eastport is still seeking additional funding for the weatherization project but hopes that the $25 million provided through the American Rescue Plan will help to push the initiative forward.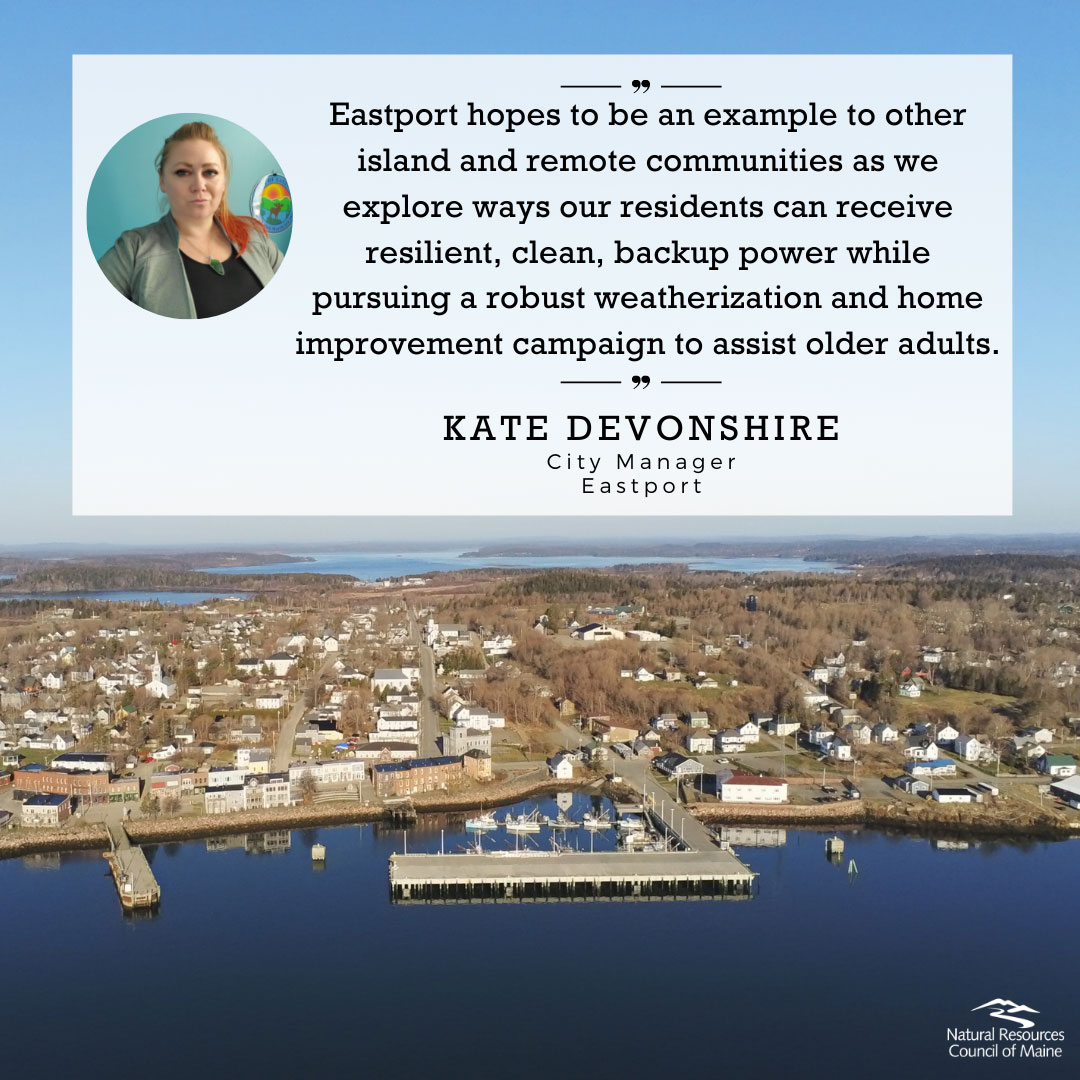 In Aroostook County, the Mi'kmaq Nation used federal dollars to protect the native black ash tree from the emerald ash borer, an invasive species of beetle that thrives in warmer conditions induced by climate change. The loss of the black ash trees, from which Tribal members have made baskets for generations, is a serious blow to the Mi'kmaq community, both economically and culturally. A grant from the Federal Bureau of Indian Affairs funded a drone project to study the effects of the emerald ash borer and protect black ash trees in the region, bolstering natural climate resilience. The Mi'kmaq Nation has also conducted simultaneous natural resources education and climate planning projects to ensure that Northern Maine's environment remains healthy for generations to come.
We are lucky to have an abundance of fresh water in Maine, but pollution and increasing extreme weather events have strained our aging water infrastructure. The Rumford-Mexico Sewerage District has long needed facilities upgrades and recently received $22.1 million through the USDA Rural Development program to revamp equipment, reduce pollution, and improve energy efficiency. These types of improvements are needed across the state to maintain healthy watersheds and mitigate the impacts of climate change.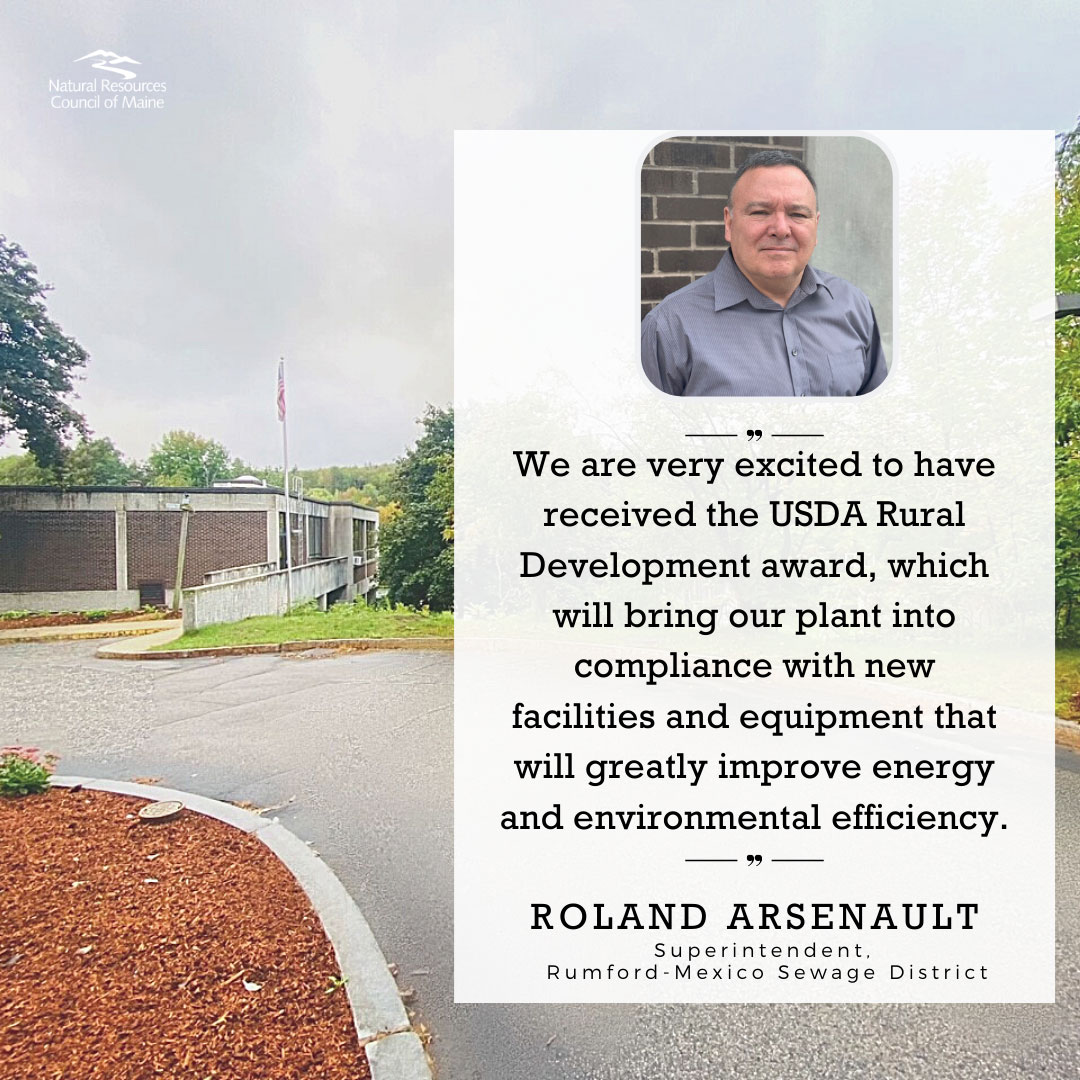 Maine's transportation sector produces more than half of the state's carbon emissions. Electrifying transportation, investing in public transit, and expanding active transportation opportunities will be critical in the coming years to turn this trend around and reduce air pollution.
Mount Desert Island High School set a precedent in Maine by purchasing the state's first-ever electric school bus, saving the school $5,000 per year in fuel costs and improving air quality for student riders. The purchase was made possible through the Volkswagen Emissions Fraud Settlement, the result of more than 500 federal lawsuits against the car corporation for misleading the public about its carbon emissions. If schools throughout the state follow suit in the coming years, they will save a combined 4.75 million gallons of gasoline per year and save Maine taxpayers $20 million a year in maintenance and fuel costs.
In order to reduce carbon pollution and ensure that everyone in Maine has access to economic opportunities, it is also essential that we expand broadband to every household in the state. In 2021, more than 83,000 households in Maine did not have access to broadband and therefore were not able to work or attend school remotely during the pandemic.
Recent funding from large federal investment packages is looking to change that. The Climate Action Advisory Committee (CAAC) in Dover-Foxcroft played a central role in bringing broadband to the rural town following the $128 million in broadband funding allocated to Maine from the American Rescue Plan. That funding enabled the formation of the Highlands Broadband Coalition, a group dedicated to expanding broadband access in Dover-Foxcroft and surrounding communities.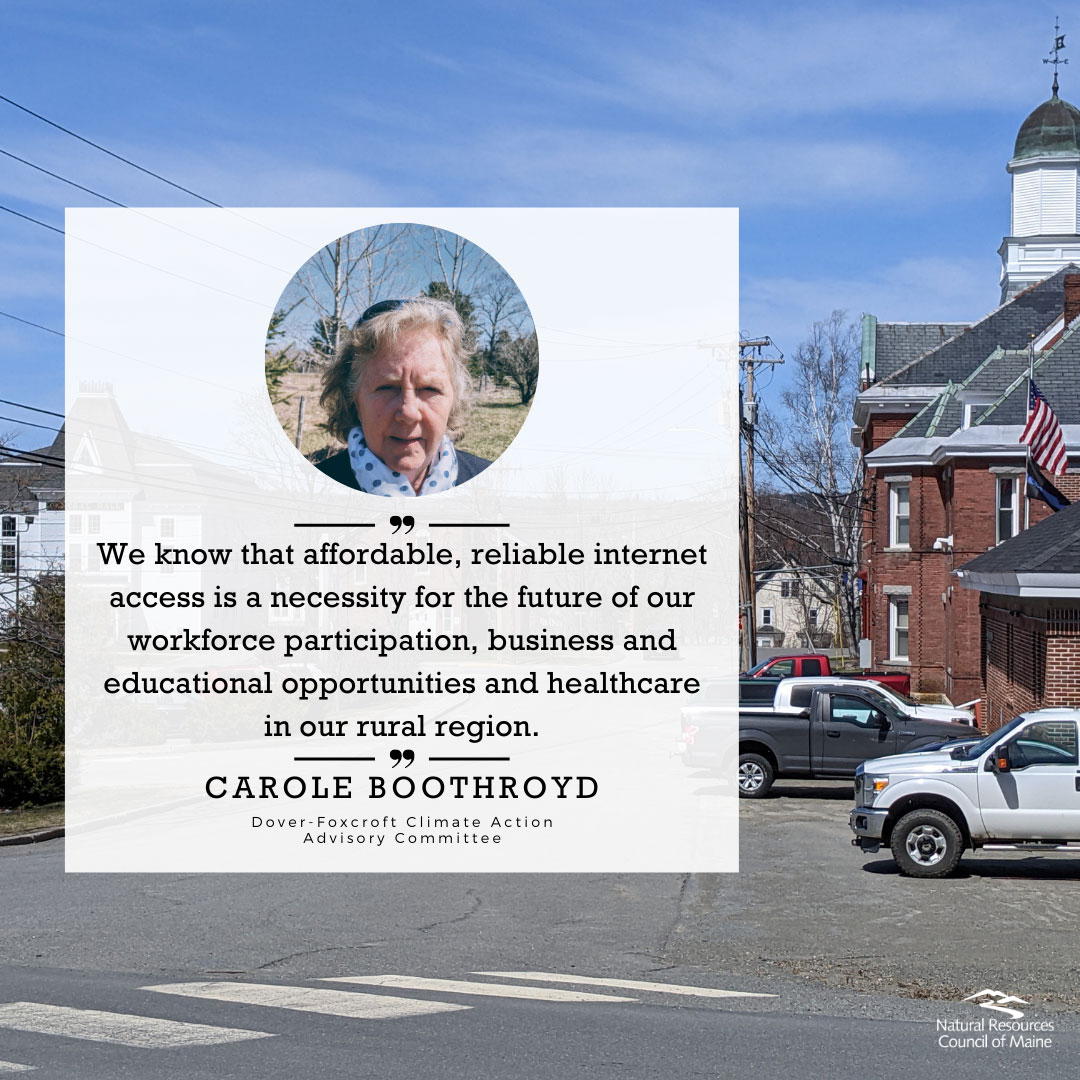 Maine's federally funded climate projects have proven to be valuable to communities in every corner of the state. Whether developing new clean energy sources, boosting climate resilience, electrifying transportation, or expanding access to the internet, these initiatives have provided cost savings, health benefits, and improved quality of life for Maine residents.
The Natural Resources Council of Maine is working with people and organizations across the state to encourage Maine's Congressional delegation to continue supporting federal climate funding so we can implement Maine's Climate Action Plan with ambition. Stay tuned for our next blog post featuring the potential provided by the most recent federal investments!
—by Anya Fetcher, NRCM Federal Policy Advocate and Josh Caldwell, NRCM Climate & Clean Energy Outreach Coordinator
Banner photo: Eastport, Maine, by Leo Kowal