This is the first blog post in a series that will illuminate the ways federal funding has allowed Maine to successfully complete climate and clean energy projects; the projects that are underway with funding coming down the pipeline; and the needs that still exist for continued climate and clean energy work. 
The processes and negotiations in Congress around the proposed $550 billion in federal climate funding have created a lot of noise, but through it all, one fact has remained undeniable: we need to invest in climate, and we need to do it now. 
The world's scientists, including those at the University of Maine, have made clear, with increasing urgency, that we must transition to clean energy from fossil fuels immediately in order to avoid the worst outcomes of climate change.  
Federal action on climate is imperative because it will give Maine the tools and resources we need to meet the state's ambitious climate goals set by bipartisan majorities of lawmakers. Fortunately, the American Rescue Plan and the Bipartisan Infrastructure Law have laid the groundwork for progress, both of which have provided critical funding to states that have proven that federal investment in climate delivers a wide range of benefits to Maine's people, environment, and communities.  
Below we highlight how Maine has already put federal funding to work on clean energy development to benefit local businesses and entrepreneurs. Maine's Climate Action Plan sets goals to achieve 80% renewable energy use by 2030 and 100% by 2050. We have work to do to get there, but solar and offshore wind are rapidly on their way to providing the local, reliable, and affordable clean energy Maine needs to replace fossil fuels. 
Let's take a look at some recent clean energy projects to celebrate in Maine.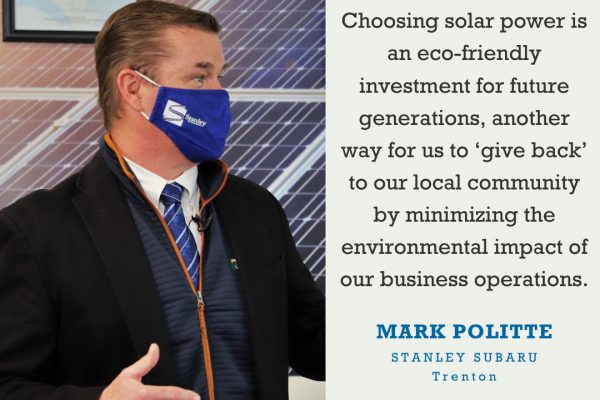 Stanley Subaru received a Rural Energy for America Program (REAP) grant in 2021 that enabled the installation of 343 solar panels on its dealership in Trenton. The panels now produce 168.88 MWh of electricity per year, fully offsetting the business's energy usage without producing climate-polluting carbon emissions. Stanley Subaru is proud to be a leader in sustainability amongst the Maine business community and hopes to see other businesses follow suit in the coming years.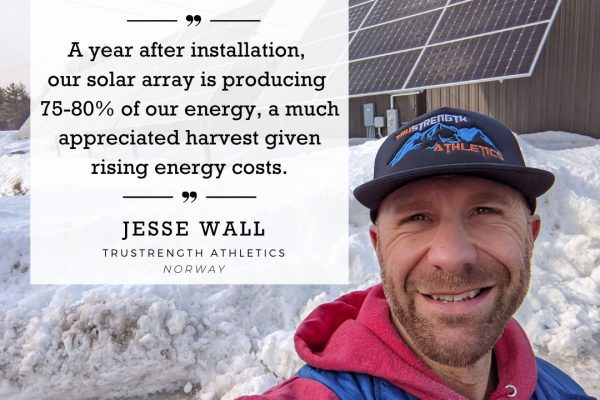 TruStrength Athletics in Norway, Maine, also chose to go solar through the REAP program, providing renewable energy for its members as the company seeks to emphasize the important connection between clean energy and personal health. Clean energy is an important part of a healthy lifestyle and a productive business, reducing air pollution and lowering monthly electric bills.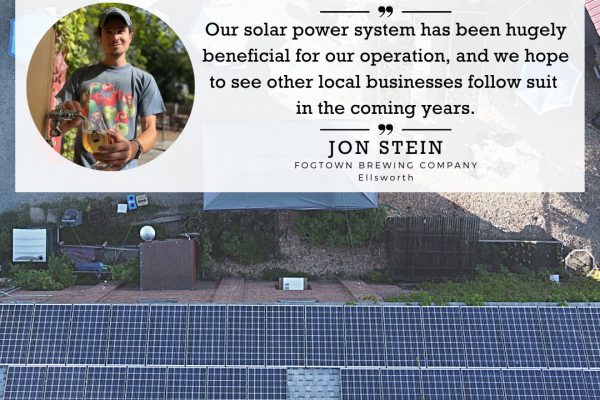 Fogtown Brewing in Ellsworth now boasts 57 rooftop solar panels thanks to the 2019 round of REAP grants. The panels generate about 20 MWh annually, offsetting 73% of the brewery's electricity usage and saving more on electric bills than the business's loan payments, essentially zeroing out purchase and installation costs right from the get-go. Maine breweries have emerged as a beacon of social and ecological responsibility, and Fogtown has stepped into the spotlight as a leader in the clean energy business community.
In Maine, we are already feeling the effects of climate change, and we know that some degree of additional warming is inevitable given our historic emissions. So, we need to pair clean energy development with strategies to bolster natural and community resilience to keep Maine's human and environmental populations happy and healthy. Keep an eye out for our next blog featuring successful, federally funded community and natural resilience projects around the state!
—by Anya Fetcher, Federal Policy Advocate, and Josh Caldwell, Climate & Clean Energy Outreach Coordinator