Now, more than ever during these troubling times, we should look for opportunities to remind ourselves of our valuable community and of what we can accomplish together.
Today, we want to take a moment to recognize the one-year anniversary of an exciting collaboration we launched last year with Maine's craft brewers. On March 27, 2019, 13 Maine breweries and the Natural Resources Council of Maine came together to create the Maine Brewshed Alliance with the goal of leveraging the power of partnerships to protect the waterways that make our state a great place to live, work, brew, and enjoy great beer.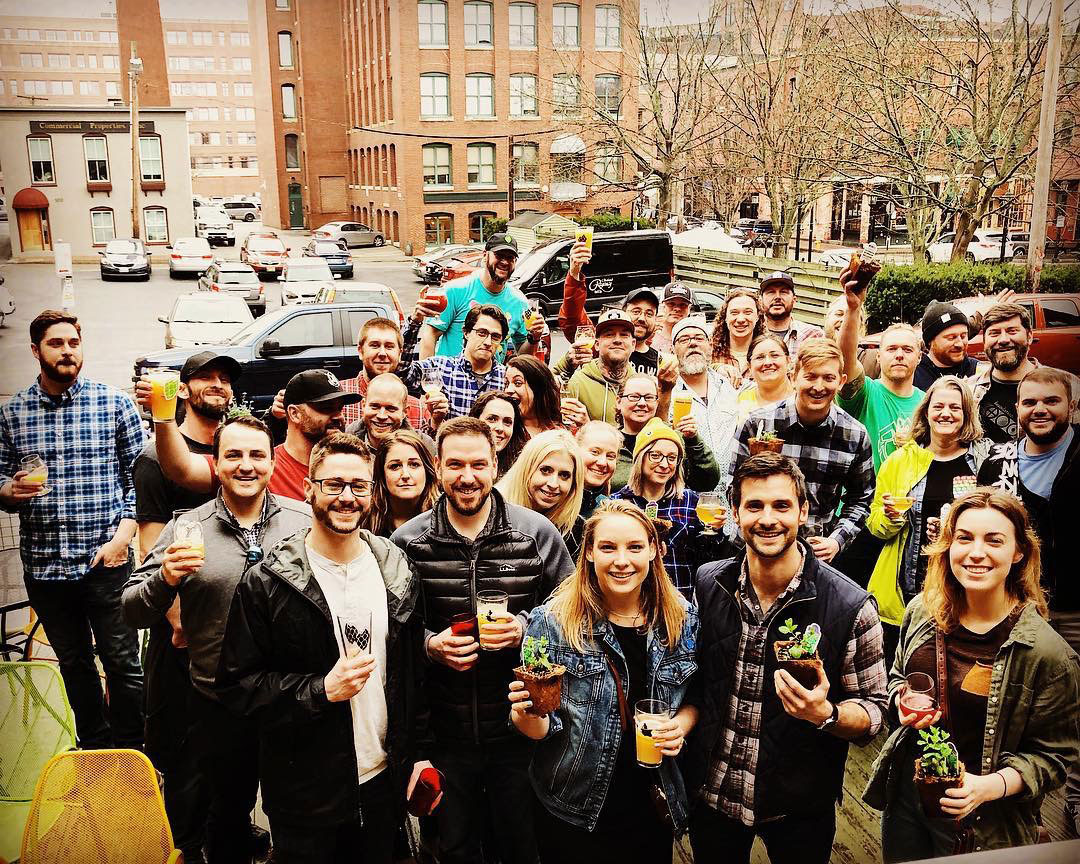 Before we highlight what the Maine Brewshed Alliance has been doing over the past year, we wanted to recognize that Maine's craft brewers, like all small businesses, are struggling during this pandemic. If you're able to, please support local small businesses and leaders like our Maine Brewshed Alliance members by enjoying one of their amazing local beers while staying home and staying safe. Many of the Maine Brewshed Alliance members breweries are offering curbside pick-up and delivery right now.
In the time since we held our launch event at Maine Beer Company, the Maine Brewshed Alliance and our members have accomplished a lot together:
We expanded from the inaugural 13 founding member breweries to 36 breweries throughout the state and growing. Maine's craft brewers have been excited about joining and working together to protect clean water.
Produced a mini-documentary, "For Beer's Sake" with Shipyard Brewery. The video features nine brewers and our friends at Sebago Clean Waters as we trace water through the Sebago Lake watershed. The Maine Brewshed Alliance also educated the public about the Lake Auburn Watershed at an event with the Lake Auburn Watershed Protection Commission and Baxter Brewing Company.
Launched the Maine Brewshed Ambassador program. We now have nine talented, creative, and dedicated Ambassadors who help run activities and events to educate people about the importance of clean water. Thank you Meg, Gabe, Jeremy, Andy, Scott, Mariel, Jess, Katrina, and Justice for all that you do! Apply to join us and become an Ambassador.

Continued recognition of Maine breweries for their sustainability leadership and quality beer.
Kicked off Earth Month 2019, led by Allagash Brewing Company with their Spring Greening, an annual series of events focused on sustainability. And held many clean water and environmentally-themed happy hours at various breweries during Earth Day.
Held a river clean-up with volunteers along the Presumpscot River led by Mast Landing Brewing Company.
Helped support National Drinking Water Week events with partners the Portland Water District and Sebago Clean Waters.
Educated customers with our partners the Saco River Collaborative and The Ecology School about clean water and community efforts at a Neighborhood Night hosted by Banded Brewing Co. Last summer we also educated attendees about clean water at the  Beers in the Barn festival organized by Wolfe's Neck Farm.
Brewed some great collaboration beers celebrating clean water. Orono Brewing Company and Foundation Brewing Company collaborated on two Earth Day-inspired IPAs, Love Your Planet and Pale Blue Dot. Proceeds of the beers went to the Maine Brewshed Alliance and our partner Sebago Clean Waters. Tributary Brewing Company released a Gose made with sea water. This brew is made as an annual fundraiser for the protection and conservation of clean water. Side by Each Brewing Company released a special beer highlighting the importance of clean water in collaboration with our partner Lake Auburn Watershed Protection Commission.
Led a tour with Hidden Cove Brewing Co. and Congresswoman Chellie Pingree at the Rachel Carson Wildlife Refuge.
Held multiple environmental events at Maine Beer Co (MBC) including the MBA launch and Earth Day happy hour. We will also hold an upcoming (postponed for now) pizza social at MBC, with proceeds going to our clean water efforts.
Celebrated with Oxbow Brewing Company, who put on the amazing Pils and Love festival. They generously donated their proceeds to protect clean water.
Advocated for legislation to protect our clean water. Abe Furth, the owner of Orono Brewing, testified in January this year for a bill to protect clean water. This important bill will protect Maine's rivers, lakes, and streams. Governor Janet Mills signed it into law last week.
Thank you Maine Brewshed Alliance members for your passion, dedication, and love for clean water.