A strong and effective Climate Action Plan is a vital opportunity to build a stronger, healthier, more prosperous and resilient future for Maine and to protect the way of life we all cherish.
In 2019, Governor Janet Mills and bipartisan majorities of the Maine Legislature passed new laws aimed at improving public health and strengthening the economy by reducing greenhouse gas emissions to at least 80% below 1990 levels by 2050.
The Maine Climate Council (MCC) was established to create a new Climate Action Plan by December 2020, which will provide recommendations for achieving the state's bold climate targets. A recent poll showed 76% of Mainers view the work of the Climate Council as a top priority, even during the COVID-19 crisis.
The Natural Resources Council of Maine (NRCM) is working with people and organizations across the state to press for a strong and effective Climate Action Plan that includes concrete steps to bolster Maine's economy, reduce air pollution, and build healthy, resilient, and equitable communities.
What are Some of the Issues that the Climate Action Plan Must Address?
The Maine Climate Council's six Working Groups are tasked with identifying recommendations that will:
Deliver safe, clean, and affordable transportation options for moving people and goods throughout the state, while dramatically reducing carbon emissions;
Expand local renewable energy projects and while creating new, long-lasting clean energy jobs for Maine workers;
Increase the energy efficiency of homes and businesses;
Give Maine people, communities, and resource-based industries such as farming, forestry, and fishing the tools to become more resilient, and promoting solutions that will reduce carbon pollution; and
Ensure equity by providing solutions that are fair and accessible to all Mainers.
Maine Climate Council Structure and Timeline
The MCC is a statewide, 39-member group created by Governor Mills and the Legislature to help Maine achieve bold climate targets that were set in 2019.
The MCC and its Working Groups are comprised of more than 250 leaders from towns, social sector organizations, businesses, natural resource-based industries like farming, fishing, and forestry, and other entities from across Maine to ensure that the Climate Council's recommended solutions are can be readily applied across industries and our geographically diverse state.
While still responding to the COVID-19 pandemic as a top priority, Working Group members are continuing to meet online and develop recommended strategies for the Climate Action Plan.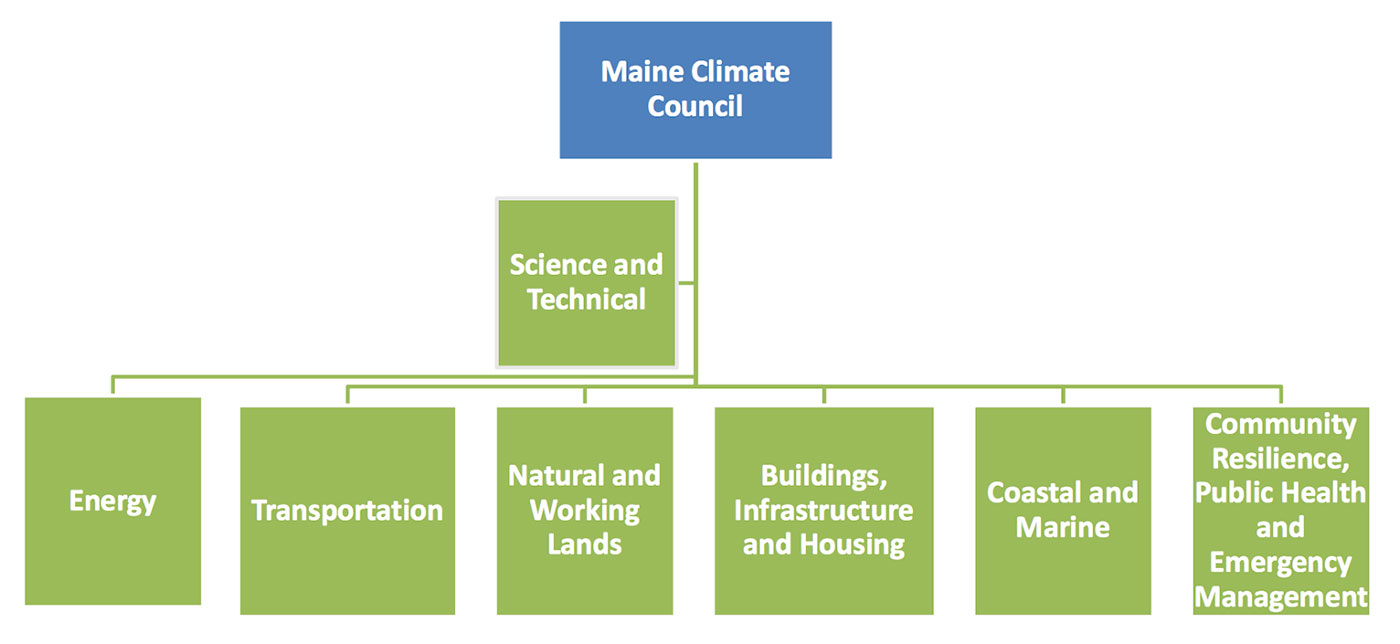 September 26, 2019 – Maine Climate Council launch
January 29, 2020 — second Maine Climate Council meeting
October 2019–Summer 2020 – Climate Council Working Groups meet, propose solutions.
All meetings are open to the public. Please see the Public Meeting Calendar for the full schedule of upcoming virtual meetings
December 2020 – Four-year State Climate Action Plan due to the Maine Legislature
Ongoing Work: MCC to meet quarterly to monitor progress and Working Groups to meet at least twice a year to monitor progress; greenhouse gas (GHG) emissions reporting every other year by Maine Department of Environmental Protection and Climate Action Plan updates every four years.
Ways You Can Get Involved and Have Your Voice Heard
Other Resources
Technical Documents