To reduce the most severe health, environmental, and economic impacts of climate change, the world must reduce greenhouse gas emissions as quickly as possible. That's the position of the overwhelming majority of scientists, health professionals, and economists across the world, including at the University of Maine.
Fortunately for Maine, Governor Mills and a bipartisan majority of state lawmakers have been heeding the advice of economists and scientists and are working diligently to address the causes and consequences of climate change. They are doing so in ways that will hasten Maine's economic recovery and contribute to our long-term health and prosperity.
On December 1, 2020, Governor Mills released Maine's new statewide Climate Action Plan, the result of more than a year of challenging work by the 39-stakeholder Maine Climate Council, more than 230 working group members, and informed by comments from more than 4,400 Mainers across the state.
The Climate Action Plan makes a strong case for implementing ambitious action that could help Maine meet its legal targets of reducing greenhouse gas emissions by at least 45% below 1990 levels by 2030 and at least 80 percent below 1990 levels by 2050. When fully implemented, these actions will help protect Maine people from the impacts of climate change, improve public health outcomes, create new jobs, and expand opportunities for local business to grow.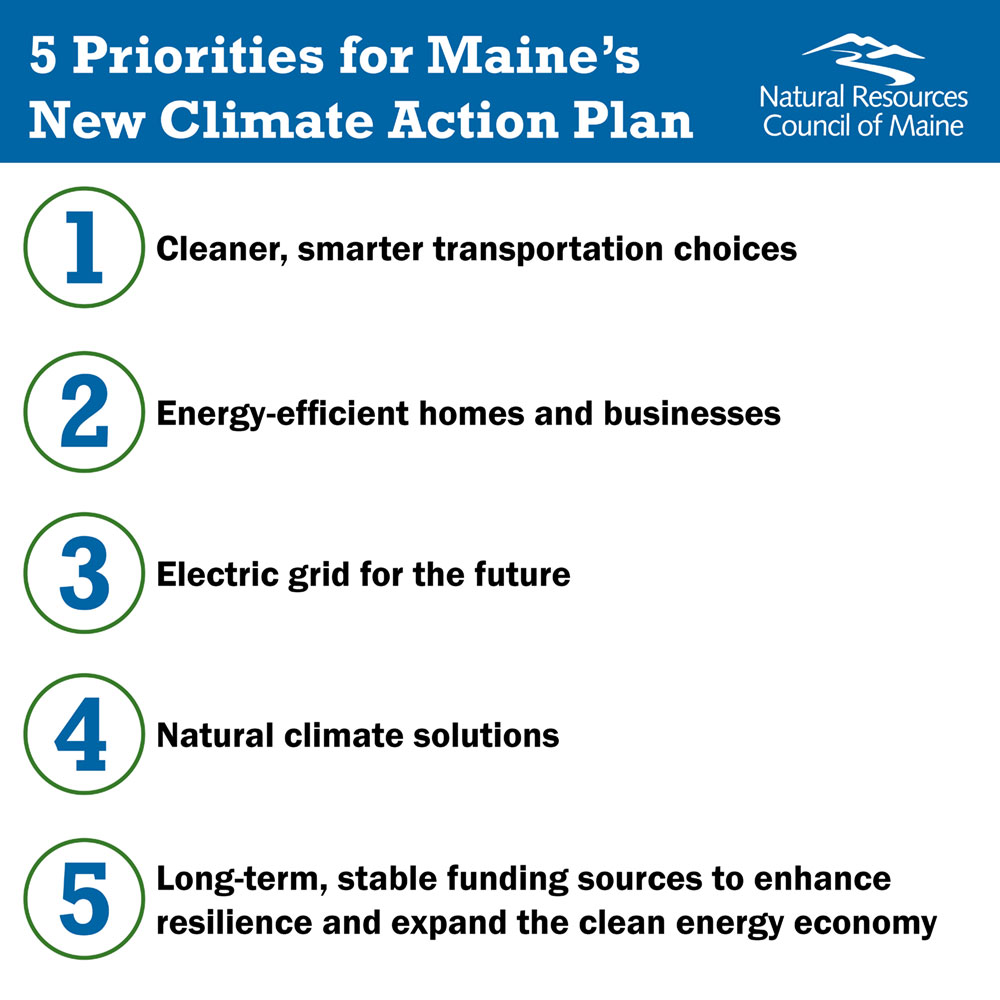 In the months ahead, we look forward to the governor and Maine lawmakers working closely with stakeholders, Maine's Congressional delegation, and the incoming Biden-Harris Administration to implement key components of the new Climate Action Plan. We also look forward to the governor and state agencies providing more detail about how they will prioritize and implement the elements in the Plan that will deliver the most immediate and broadest combination of benefits to our economy, health, and environment.
The Natural Resources Council of Maine will be focused on actions, like those outlined below, that will support the greatest number of new jobs; reduce the most pollution; ensure the highest level of public health and community protection; and do the most to ensure that the benefits are effective and equitably distributed.
Cleaner, smarter transportation choices. Pollution from cars and trucks is Maine's largest and fastest-growing source of carbon pollution (54%). To address this problem, Maine will need to invest in projects and programs that expand the capacity, geography, and frequency of public transit across the state; increase electric vehicle infrastructure and purchases; expand a safe network of public sidewalks and bikeways; and encourage development in existing downtown areas. To do so, Maine will need to secure more funding from the federal government and from innovative initiatives like the regional Transportation and Climate Initiative (TCI).
Energy-efficient homes and businesses. Reducing Maine's second largest source of carbon pollution, buildings (30%), will require tightening the standards for appliances and space-and water-heating systems and updating building codes for residential and commercial buildings. It will also require the State to dramatically scale up its incentives and funding for home energy efficiency improvements, including heat pumps and low-income weatherization programs.
Electric grid for the future. Accelerating Maine's transition to a future powered by local, clean energy will necessitate significant upgrades to the state's electrical grid and increased investments in solar and wind energy generation and storage.
Natural climate solutions. We will need to invest in Maine's valuable forest, agricultural, and coastal lands to sequester and store more carbon, increase ecological resilience, protect biodiversity, and preserve and grow Maine's vital natural resource industries. The Climate Action Plan calls for dedicated, sustained funding for land conservation and sets the target to conserve 30% of Maine's landmass by 2030 (currently 21% of land is under some form of conservation).
Ensure long-term, stable funding sources to enhance Maine's climate change resilience and expand Maine's clean energy economy. The Climate Action Plan lists possible funding sources and mechanisms but avoids recommending any specific solutions. This may change in 2021 as the governor proposes bond initiatives and seeks support from Maine's Congressional delegation and the incoming Biden-Harris Administration. It is unlikely that Maine or any other state will achieve its science-informed climate objectives without significant regulatory and financial assistance from the federal government.
Maine's new Climate Action Plan provides a science-based path that will benefit Maine as we implement its actions. Everyone involved in its drafting should be commended for laying out a vision for transitioning to a more sustainable clean energy economy that works for all. The Plan advances a vision to build a better future for all Mainers. A future that strengthens our communities and protects the natural resources we all value. A future that expands our economy and creates thousands of new, high-quality jobs. A healthier, more equitable, and prosperous future for everyone who lives in Maine.
Now that the Climate Action Plan has been released, we look forward to partnering with Maine people, the Mills Administration, elected officials, and state agencies to move the proposed climate strategies into action. By working together, we can ensure that Maine is delivering a clean energy future that serves all its residents.
—David Costello, NRCM Climate & Clean Energy Director